September 15, 2014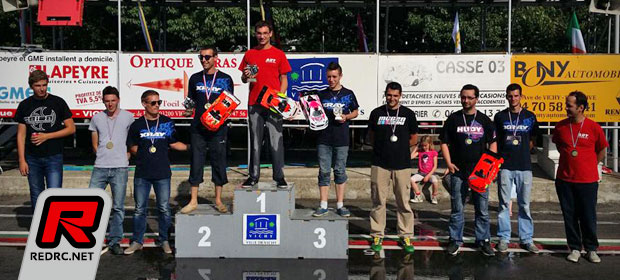 The 5th and final round of the French 1/10th 200mm Nitro On-road nationals took place at the Vichy track with over 40 drivers in attendance. In the Elite class Michael Derderian took the TQ from Basile Concialdi and Quentin Leroux while in the Nationals category David Petit scored the fastest time in the qualifiers.

In the final of the Elite class Quentin Leroux took a maiden win while Michael Derderian finished 2nd which was enough to take the French national title for the second year in a row. Kevin Rasquin completed the podium in 3rd.
Elite class final result:
1. Quentin Leroux – Capricorn/Orion – 140L 45:18.48
2. Michael Derderian – Xray/Gimar – 139L 45:04.76
3. Kévin Rasquin – Xray/RB – 138L 45:10.75
4. Basile Concialdi – Capricorn/Nova – 134L 45:08.17
5. Thomas Desmaries – Mugen/na – 132L 45:17.63
6. Jonathan Gergen – Xray/RB – 128L 45:17.06
7. Léo Arnold – Capricorn/Orion – 124L 39:41.04
8. Brice Turco – Xray/RB – 118L 45:01.65
9. Julien Colas – na/na – 80L 30:00.74
10.Thomas Guillon – Xray/RB – 21L 6:46.51
In the National class Maxime Legay dominated the race on his home track. Behind him Romain Mestiri and Ludovic Long finished 2nd and 3rd after a lovely fight for the national title.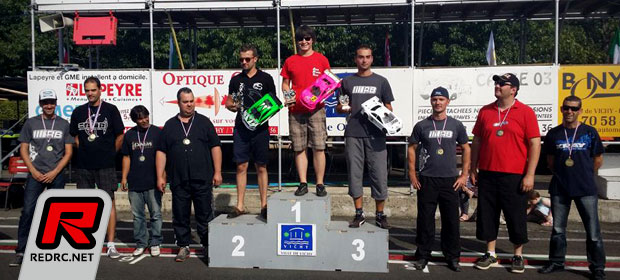 National class final result
1. Maxime Legay – Capricorn/Orion – 91L 30:15.94
2. Romain Mestiri – Capricorn/XRD – 89L 30:04.46
3. Ludovic Long – Xray/RB – 89L 30:15.52
4. Stéphane Campourcy – Xray/RB – 89L 30:18.89
5. Jérémy Debez – Xray/RB – 88L 30:18.01
6. Gabriel Chatelus – Capricorn/Orion – 84L 30:10.18
7. Jeff Dumont – Xray/RB – 81L 30:03.78
8. Philippe Martineau – na/na – 72L 27:11.96
9. Mathieu Delfour – Xray/Nova – 55L 19:36.32
10.David Petit – Xray/Orion – 27L 9:54.08
Source: RB [rbproducts.com]
---