September 15, 2014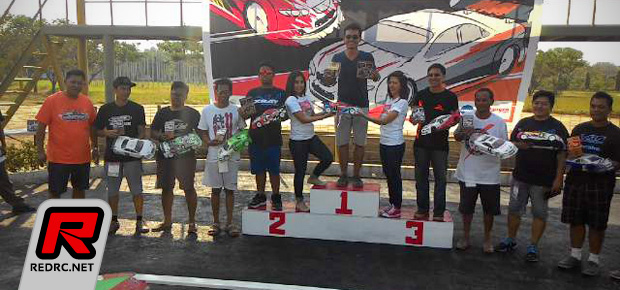 The Red Carpet track in Semarang, Central Java played host for the 2014 Indonesia National Electric On-road championships that were held in the 3 classes of Touring Car modified, Touring Car 13.5T boosted and FWD 13.5T non-boost. Following regional qualifiers the championship now culminated with the country's best racers in attendance. The Modified TC class, run on Volante V3 hand-out tyres like the two other classes, had Teddy Syach TQ-ing in front of M.Hijrah in 2nd and Bayu in 3rd place. In the Touring Stock class, run with Speed Passion MMM motors, young Izzah took the TQ from Ade in 2nd and Ronald in 3rd spot. The FWD class, again run with hand-out Speed Passion MMM motors saw again 13-years old Izzah lead the scoring sheets in front of Imam Liyanto and Reynaldi K.

The Modified class finals were dominated by TQ driver Teddy Syach (Tamiya) who sweet the triple A-mains to take the 2014 championship title. Behind him Dandy I (Xray) and M. Hijrah (Xray) completed the podium in 2nd and 3rd respectively.
Modified class final result:
1. Teddy S – Tamiya
2. Dandy I – Xray
3. M. Hijrah – Xray
4. Udin Swg – Tamiya
5. Bayu – Xray
6. Dhanny – Xray
7. Yoko – Tamiya
8. Bintang AP – Tamiya
9. Yoga R – Team Associated
10.Yomoho – Yokomo
In the 13.5T boosted class TQ Izzah was able to conserve his performance from the qualifiers while the others only could watch. Behind him Ronald and Ade tried to follow in the opening A-main. A2 had again Izzah winning the leg, while Ronald and Ade again came in 2nd and 3rd respectively. Unfortunately for Izzah during scrutineering the wing of his car's body was found 0.5mm too high meaning the win wound went to Ronald. Now the 3rd and decisive final would determine the Stock class winner. Again Izzah jumped into the lead and never looked back to take the win in the leg and with it the overall title from Ronald and Abe.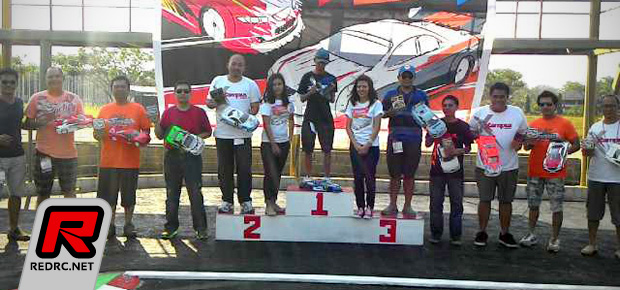 Stock class final result:
1. M.Izzah – Xray
2. Ronald K – Yokomo
3. Ade – Xray
4. M.Hijrah – Xray
5. Imam L – Tamiya
6. Handoko – Tamiya
7. Donnie W– Serpent
8. Iwahara – Serpent
9. Andre G – Spec R
10.Imam P – Team Magic
In the FWD class it was again young Izzah who left the field behind. After winning A1 and A2 he took the championship title early but he still competed in A3. At the end Reynaldi was able to grab the runner-up spot after moving one position up. Imam L, loosing on position compared to the qualifiers ended the race in 3rd place.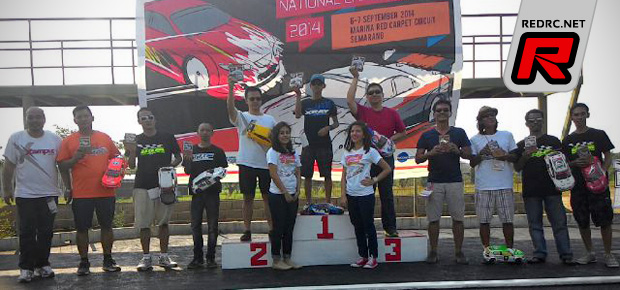 FWD class final result:
1. Izzah
2. Reynaldi
3. Imam L
4. Teddy S
5. Agung
6. Bimo
7. Gerry
8. Bima
9. Phoa PH
10.Fauzi
Thanks to Teddy Syach for sending the report.
---