September 7, 2014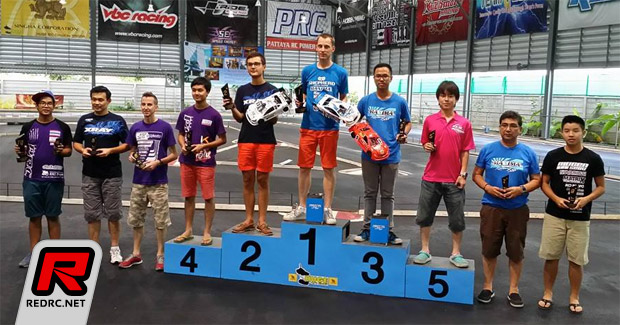 The official 2014 1/10th 200mm Pre Worlds took place this weekend at the Huge RC circuit in Bangkok, Thailand which will host the Worlds event in November. A small but quality field would attend and it was reigning World Champion Meen Vejrak who took the pole position for KM Racing, to secure the only direct spot in the final ahead of Xray's Alexander Hagberg, Shepherd's Jilles Groskamp with Chavit Singupta and Takaaki Shimo completing the top 5. In the first semi final it would be Jilles Groskamp that took the win by 2 laps ahead of HB driver Andy Moore in 2nd with Mongkolpan Lomrose 3rd and US driver JJ Wang (Mugen) in 4th, bumping into the main after a troubled qualifying. In the second semi Hagberg would take the win, his faster time giving him 2nd on the grid behind Meen, with Sinnosuke Yokoyama in 2nd, Suruth V in 3rd, Ongsanit Simaraks 4th with Chavit Sirigupta taking the final main position in 5th. In the final it was Hagberg who jumped into the lead at the start and lead for the first third of the race, in what was very difficult high traction conditions, in front of Groskamp before his car became difficult to driver and started to spin out. This allowed the Dutch driver Groskamp to the front where he could win by 3 laps ahead of Hagberg with Thai driver Mongkolpan Lomrose 2 laps further back in 3rd.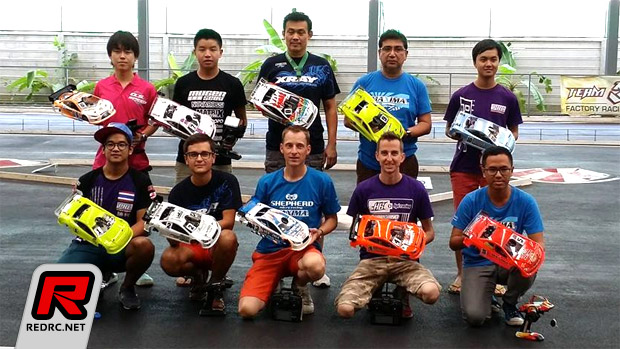 Final Results
1. Jilles Groskamp – 241L 1:00:10.050
2. Alexander Hagberg – 238L 1:00:09.802
3. Mongkolpan Lomrose – 236L 1:00:05.883
4. Chavit Sirigupta – 234L 1:00:10.508
5. Sinnosuke Yokoyama – 230L 1:00:14.417
6. Andy Moore – 229L 57:32.273
7. Ongsanit Simaraks – 215L 1:00:04.349
8. Suruth Vataniyapramote – 213L 1:00:15.206
9. JJ Wang – 207L 1:00:00.609
10.Meen Vejrak – 164L 49:29.099
Thanks to Rick Wang for the photos.
---