September 30, 2014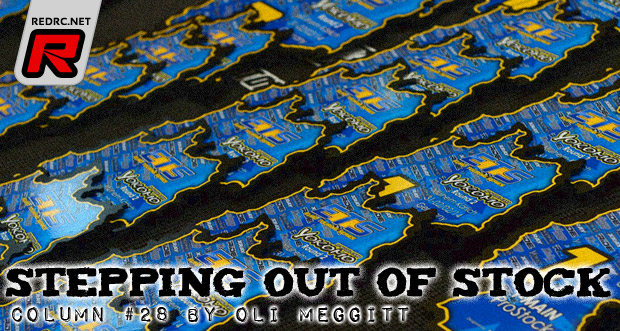 Contrary to what many of you will think, my inspiration for this column came not originally from me thinking about an R/C race, but about full-size racing. I was reading an article (and the subsequent comments beneath it!) recently, discussing whether top driver should be 'forced' to move up the racing ladder, or prevented from competing at certain levels based on their results. For those of the guys who race regularly with me at a track, you'll all groan at the following – specifically this came about whilst I was watching NASCAR, where a number of the sports top drivers compete in their 'second tier' series too, primarily to promote sponsors or gain additional seat time or track knowledge. I realised there was a lot of synergies to R/C racing, with the same discussion flaring up seemingly every year about the state of "Stock" class racing.
I find it really interesting the differences between the different R/C classes, and the differences between racing in Europe and America. If we take, for example, 1/8th there's one class. That's it. An event may have 150 or even 180 entries, all in the same class. Yet it seems almost every race I see advertised in the USA has at least 6 classes. Even an all-1/8th event would split the drivers up into "Factory", "Pro", "Sportsman", "Over 35"…… May as well just give everyone a trophy and call them all winners?!
But in all seriousness, if we look at classes where we have a separation based on the car speeds, rather than an apparent, arbitrary non-specific skill factor, then (unsurprisingly!) I've got some strong views. As a race organiser, I personally would find it very difficult to force anyone to race in any particular class. At the end of the day, for the vast majority of people, racing is a hobby and something they do because they enjoy it. There can be a huge range of factors why people race the class they do – the speed, knowledge they have, that their friends race it, their friends don't race it (so they can pit or mechanic for them), or perhaps they are just trophy hunting (should that be replaced by Red RC Headline Hunting now??).
Yes, there are a few drivers who are paid to race, and they should be racing in the top division, and I believe they all do. But behind that, everyone is supporting their racing from their own pocket to some extent (even the fully expensed drivers give up a day of work or holiday). What I therefore believe the right thing to do is, is to make sure there is enough of a divide between classes, so that the good drivers are 'encouraged' to move up as the lower class becomes seen as too slow or too easy. Getting that balance right is incredibly difficult – I know as I've tried it so many times. Creating an obvious difference between the classes helps too, which is why I think the stock classes have practically all now moved to 'zero timing' or 'blinky' over the last few years. Not only does that bring the speeds down, but also means that speed control tuning also becomes a feature of the class to add further differentiation.
All of that means that drivers still get the opportunity to decide themselves which class they race, and are generally encouraged to be competing in the "right" class too. And with the top drivers moving up, it does encourage others to enter, which continues to expand our hobby and the events we race at. Sounds win-win to me?
Have an opinion on the topics discussed? Leave them in the comments below.
Oli Meggitt is a race organiser, announcer, RC racer and has also been known to stand and talk in front of a camera. Now a columnist for Red RC you can read his thoughts, insights and ramblings fortnightly.
The views and opinions expressed in this column are those of the author.
---