September 12, 2014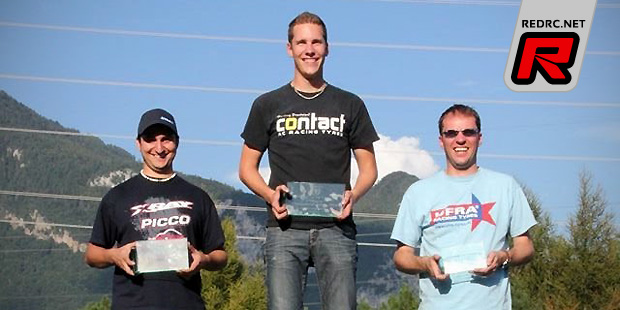 The final round of the Swiss Nitro On-road Championships took place in Aigle, in the French speaking part of Switzerland. In the 1/8th class Simon Kurzbuch had a very swift 3rd qualifying round that handed him the overall TQ in front of championship favourite Mattia Pesenti. In the 1/10th class, Traugott Schaer dominated the whole qualifying and he was followed by Nuno Santos in 2nd and Michael Schaefer in 3rd.

After the 1/8th scale semifinals on Sunday Christophe Pethoud and Simon Kurzbuch were in control of things with Mattia Pesenti in 3rd. As the final went on Mattia ran into tyre wear troubles but he managed to take the runner-up spot ultimately behind Simon Kurzbuch which was enough to get him the win of this year's championship in front of Simon Kurzbuch and Christophe Pethoud.
1/8 A-final result:
1. Simon Kurzbuch
2. Mattia Pesenti
3. Remy Hasler
4. Christophe Pethoud
5. Luca Martinelli
In the 1/10th 200mm class there was a close fight between Schaer, Santos and Schaefer but Santos ran into problems and Traugott could manage to spare tyres so he could finish the 30 minute final without changing tyres unlike Schaefer who was in 2nd but he had to pit for rubber loosing some 2 laps on the winner. In the overall championship Traugott Schaer took the title in front of Marco Rizzo and Michael Schaefer who completed the year in 3rd place.
1/10 A-final result:
1. Traugott Schaer
2. Michael Schaefer
3. Nuno Santos
4. Marco Tanner
5. Donato Larocca
Source: Xray [teamxray.com]
---