September 11, 2014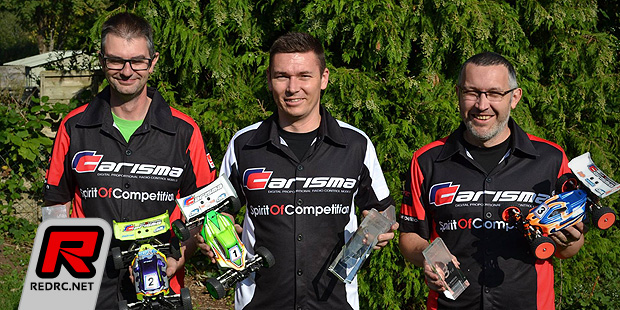 What do 1/10th scale off-road electric drivers get up to in the UK when the weather starts to turn towards winter? Well quite a lot of them have taken to racing indoors with 1/16th scale buggies and nowhere more so than at Caldicot RC Racers who hosted the season-opening UK Micro X 2014 event at their fantastic venue in South Wales. A host of well-known names from the UK scene made their way to the spiritual home of this class of racing for what has become a must-attend event for anyone in the Micro know. Those names included the likes of recently crowned 1/10th off road F2 Champion Andy Jones, former European A-finalist Phil Sleigh and current UK Micro Champion Craig Harris.

This season the dominant manufacturers in the class are going to be Carisma with their GTB Belt drive buggy and LC Racing with their EMB-1 shaft drive buggy. The Micro section has been in existence for a good few years now and from its humble beginnings it has become one of the fastest growing sections in the BRCA and this was shown with a fantastic turnout of 54 drivers making the journey to Wales. The format of the event would be 2 rounds of practice on Saturday morning followed by 6 rounds of qualifying being completed before the end of the day. Sunday saw a practice round, 3 further rounds of qualifying making 9 rounds in total. Scored on a round by round system with the best 5 rounds to count for each driver there was a lot of great racing on offer. The event would then climax with 3-legged 8 car finals for everyone from G-Final right the way through to A-Final.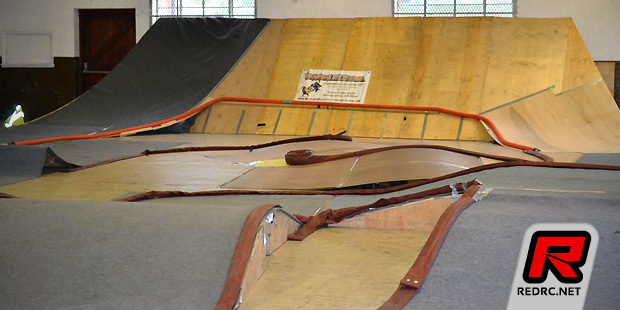 The Caldicot team of Mike Baldwin, Andy Nancollis and Tom Owen worked throughout the day and into the night on Friday to build what everyone agreed was an awesome track. With a 60 degree wall ride at the end of the straight and a banked turn resembling something from a US NASCAR circuit, this was a truly fantastic and incredibly fast track to drive. The racing surface was a mixture of carpet, slippy floor and wooden features and the tyre choice was fairly straightforward with the majority of drivers opting for the Schumacher Rally Block tyres in white compound. These tyres, which were originally developed for 1/10th on road racing have become the most popular tyre on the micro scene.
As qualifying got under way it was clear to see that one man was going to be hard to beat, 2012/13 UK Micro Champion and Team Carisma driver Phil Sleigh was on a mission to put down a marker for the forthcoming season and register his intention to regain the title he lost to team mate Craig Harris in the 2013/14 season. Behind Phil and in the same heat Craig would battle for most of the day with his team mate Tony Bishop with Tony showing some great pace to keep the local man at bay. LC Racing drivers Rob West, Andrew Funge and Andy Jones put in some good runs but Jonesy would be dogged by some mechanical issues throughout the day, which severely compromised his qualifying effort. Further down the order there were some stand-out performances, in particular from 2 of the young rising talents of the Micro scene with 12 year old local racer Ben Young and 14 year old Moly Brindle exercising their lightning-fast reactions to out-perform some seasoned racers. Saturday would end with Phil Sleigh on top having taken a perfect score of 0 winning all 6 rounds of qualifying on the first day and securing pole position with 4 rounds to spare. Behind him though all was still to play for making for a few sleepless nights as the contenders searched for that elusive setup change that would give them an edge.
The micro section is well known now for its relaxed and fun atmosphere and this was evident on Sunday morning as a few of the guys were renamed on the heat listing as Ming the Merciless (Chris Mills), Harry Potter (Jason Potter of CML), Old Macdonald (Stu Macdonald) and The Bearded Lady Boy (Tom Owen) to name a few. Craig Harris' wife Penny kept everyone well fed and catered for with an excellent effort in the kitchen all weekend, the smell of bacon on Sunday morning was enough to awaken even the most hungover of racers.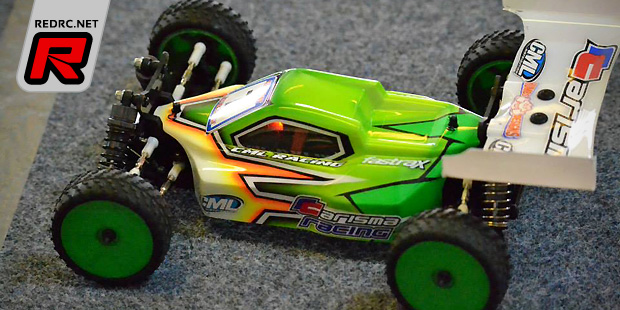 As qualifying resumed Phil Sleigh maintained his dominance taking the top spot in all 9 rounds to register a perfect score of zero, in second place Tony Bishop made it an all Carisma front row with a score of 10 points with third place on the A-final grid going to LC Racing's Rob West, those three were joined in the 8-car A-final by Craig Harris (Carisma), Andrew Funge (LC Racing), Andy Jones (LC Racing), Mark Hancock (Carisma) and Stephen Davies (Carisma) taking the last A final berth. Just missing out on the A final was newcomer to the Micro scene Chris Bowater who secured pole in the B at his first competitive Micro meeting.
In the A-final Phil Sleigh continued his utter domination to take all three legs and the title of UK Micro X 2014 Champion as the chasing pack behind him battled it out in some of the closest racing ever seen with current micro national champion Craig Harris and Tony Bishop being part of the mix. Leg 2 would see these two go hammer and tongues for the entire 5 minutes with a race to the line on the final lap being won by Tony to secure second place from Craig. The two drivers were separated by just 1/100th of a second at the finish line and the resulting crash almost claimed the life of Caldicot RC Racers' Chairman Mike Baldwin as Craig's car clipped Tony's with Tony keeping the throttle pinned and launching his car off the entrance of the wall ride into Mike as he gamely filmed this epic battle. Behind that Carisma 1-2-3 was the first of the LC Racing drivers Andrew Funge in 4th, with Mark Hancock (Carisma) 5th, Rob West (LC Racing) 6th, Andy Jones (LC Racing) suffered from more of the mechanical issues which blighted his qualifying effort to finish 7th after DNF's in 2 legs and Stephen Davies completed the A final lineup in 8th.
Thanks to Shaun Thompson for sending the report. | Images: Howe/RC Images
---