October 21, 2014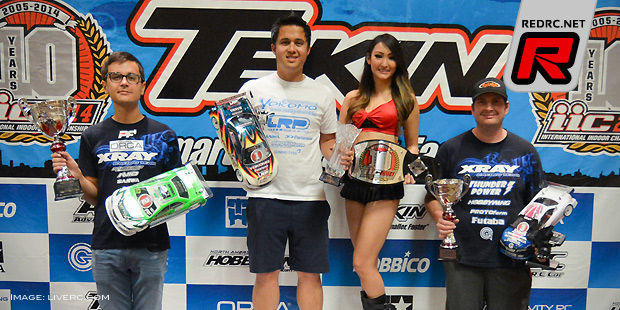 The 10th annual International Indoor Championships was held at the Riviera Hotel & Casino located on the Las Vegas strip this past weekend. More than 400 entries, the biggest entry count in a while, split in many different electric on-road classes. The temporary carpet track laid out was a bit bigger than the previous years with grip levels rising quickly and getting very high. Many drivers made their way over directly from the IFMAR World Championships, making for busy travelling schedules. Qualifying in the premier class of Touring Car Modified therefore was an extremely close affair as Ronald Völker took TQ just 3 tenths of a second in front of Alexander Hagberg, and Paul Lemieux in 3rd, a few more tenths back.

In the final Alexander was challenging Ronald throughout the race, and the Swede managed to set the quickest lap of the entire event as well, but in the end it was not enough as Ronald made no mistakes for those 5 minutes and Alex had to settle for 2nd place, with Paul on 3rd.
TC Modified top 10:
1. Ronald Völker
2. Alexander Hagberg
3. Paul Lemieux
4. Andy Moore
5. Keven Hebert
6. Mike Haynes
7. Juho Levänen
8. Josh Cyrul
9. Kody Knudtson
10.Francesco Martini
In the TC Super Stock class, qualifying saw a very fast run by Art Scrimo, to 2nd place on the grid, just behind the pre-event favourite Keven Hebert. Art managed to hold on to the podium to take the 3rd place in the main final behind winner Keven Hebert and runner-up Mike Gee.
TC Super Stock top 10:
1. Keven Hebert
2. Mike Gee
3. Art Scrimo
4. Kody Knudtson
5. EJ Evans
6. Kyle Klingforth
7. PY Tang
8. Antoni Caretti
9. Sandro Kuriger
10.Robbie Dodge
Eric Anderson took the runner up spot in the TC Stock class, chasing down the winner Kyle Klingforth at the late moments of the race. Craig Xavier rounded out the podium in 3rd.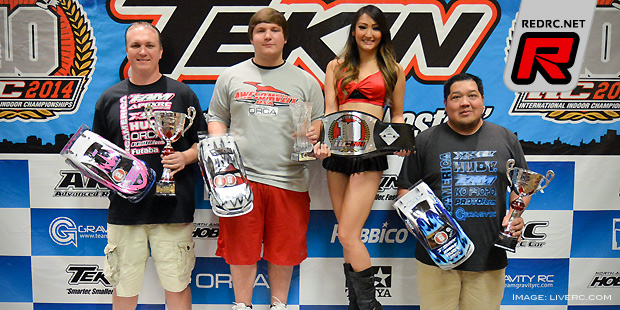 TC Stock top 10:
1. Kyle Klingforth
2. Eric Anderson
3. Craig Xavier
4. Art Scrimo
5. Bill Sydor
6. Brent Klingforth
7. Michael Herald Jr
8. Michael Hanulec
9. Mike Gee
10.Sandro Kuriger
The 1/12th Modified class was pretty much dominated by Alexander Hagberg. In qualifying Alex had a close battle for the overall TQ with Josh Cyrul, however in the end he managed to take the pole position in Q4 after a flawless drive. Alex then went on to win the main final in a controlled fashion where the others got into problems early on. Keven Hebert ended the race in 2nd place while Mike Haynes grabbed the last remaining podium spot.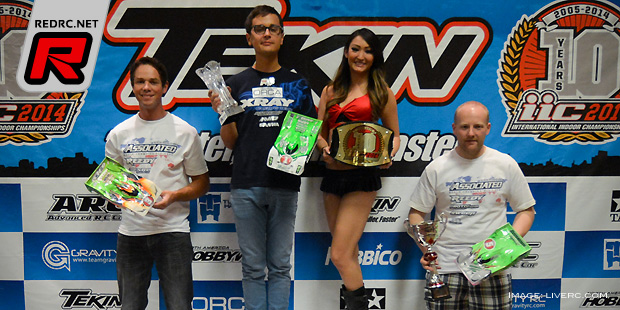 1/12 Modified top 10:
1. Alexander Hagberg
2. Keven Hebert
3. Mike Haynes
4. Ray Darroch
5. Hupo Hönigl
6. Josh Cyrul
7. Paul Lemieux
8. Max Kuenning
9. Andy Moore
10.Juho Levänen
The 1/12th scale Super Stock class had Josh Cyrul coming out successful in front of Ray Darroch and Hupo Hönigl.
1/12 Super Stock top 10:
1. Josh Cyrul
2. Ray Darroch
3. Hupo Hönigl
4. Brian Wynn
5. Max Kuenning
6. Tony Block
7. Lawrence Fairtrace
8. Eric Anderson
9. John Wiita
10.Andrew Knapp
Last but not least in 1/12th Stock Craig Xavier ended the even sitting on top of the podium in front of Andrew Knapp and Kyle Goodwine.
1/12 Stock top 10:
1. Craig Xavier
2. Andrew Knapp
3. Kyle Goodwine
4. John Wiita
5. Mark Smyka
6. Tony Block
7. Danny Jenkins
8. Mario Ficco
9. Rod Canare
10.Michael Herald Jr
Source: Xray [teamxray.com]
---