October 27, 2014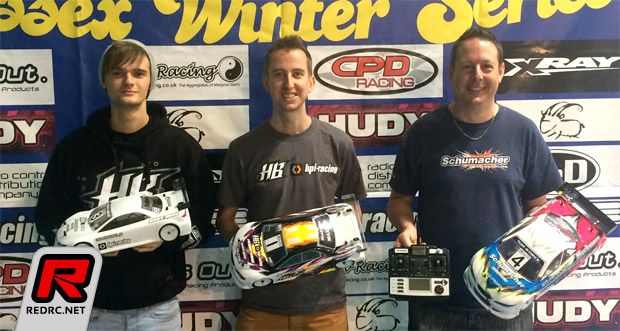 The first round of the 2014-2015 Essex Winter Series took place this weekend. A capacity entry of 120 drivers kicked off the championship, which featured a change in the class structure and a move to the new Ride REX 30 carpet tire. The Zen Racing Modified class featured a stacked entry, with everyone out to wrestle the title from Team Durango's Elliott Harper. The opening qualifying round saw 2006 World Champion Andy Moore, making his UK debut with the new HPI HB Pro 5, top the timesheets, narrowly ahead of Elliott, and multi-time UK National Champion Chris Grainger.
That order was repeated in round 2, with International Carpet Challenge winner Kyle Branson taking fourth. Kyle was looking like he had the fastest car, but a few mistakes kept him outside the top three. Andy wrapped up the pole position by setting the fastest time again in round three, Elliott again second and Kyle now third. A close final round saw Andy retire, leaving Elliott to take the top spot after a mistake from Kyle on the final lap. HPI/HB driver Stefan Chodzynski, who hadn't been able to get hold of his Pro 5 in time for the event, so was running an older Yokomo, came through to take second, with Kyle ending the round third. That meant Elliott would line up second on the grid, Stefan third, Kyle fourth and Chris fifth.
The A Final saw the top four break away slightly from Chris, and two battled developed – one between Andy and Elliott for the lead, and one between Stefan and Kyle for third. Elliott remained glued to the bootlid of Andy's car, but unable to find a way past. At around the half distance marker, Elliott made a move on Andy at the hairpin turn. The two cars touched, and whilst Elliott had to wait for Andy to recover, Stefan and Kyle got through. It was now a four way battle for the lead, with Andy quickly passing Kyle and setting after his team-mate. With just three laps left, Andy passed Stefan and held on to take the win. A final lap incident allowed Chris Grainger to nip past Elliott and Kyle and take third.
ZEN RACING Modified A Final Result
1. (1) Andy Moore – HPI/HB / Hobbywing – 21 / 300.66
2. (3) Stefan Chodzynski – Yokomo / Thunder Power – 21 / 301.42
3. (5) Chris Grainger – Schumacher / Hobbywing – 21 / 302.75
4. (4) Kyle Branson – Capricorn / Reedy – 21 / 303.35
5. (2) Elliott Harper – Durango / ORCA – 21 / 303.65
6. (6) David Spashett – ARC / G Force – 21 / 304.90
7. (9) Ashley Wiffen – Xray / ORCA – 21 / 310.53
8. (7) Paul Pinkney – Schumacher / Hobbywing – 21 / 314.09
9. (8) Phil Chambers – Capricorn / Reedy – 20 / 305.15
10.(10) Brian Eldridge – Yokomo / MuchMore – DNF
The Super Stock class, supported by VBC Racing, combined the old Stock and Pro Stock classes, and now switched to the world-wide standard of 13.5 turn motors with "blinky" (zero timing) speed controllers. This proved to create extremely close racing on the large EWS circuit. The battle for pole position was between VBC driver Jimmy Maddison and the Xrays of James Baker and Tony Broad. Jimmy took the first round, ahead of Tony and James, whilst Tony took round two in front of James and Jimmy. The third round saw the third different TQ driver, as James went fastest in front of Jimmy, with Zen Racing/ARC's Will Vertigan taking third. Jimmy secured pole position by topping the final round, with Tony second, Will third and James fourth. James lined up second on the grid, beating Tony on the tie break.
The A Final saw the first four make a clean start and the cars circulated in grid order. Just to prove how close the class is, it seemed like no one was able to make significant ground on anyone else, as they each lapped within a tenth of a second of each other every time. James, however, was the first to make a mistake as the race approached the three minute mark. Tony didn't need any second invitation and was through into second. That left Jimmy to take a comfortable win, Tony not having enough time to close the gap in the final part of the race.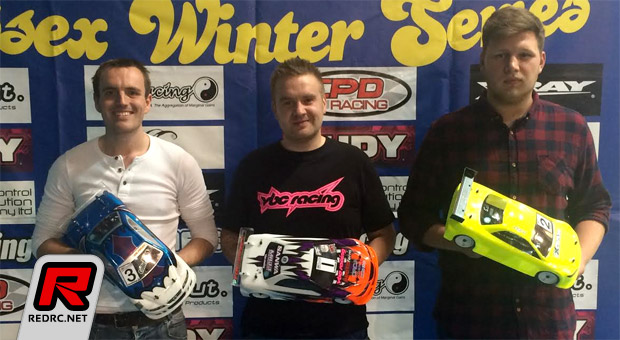 VBC RACING Super Stock A Final Result
1. (1) Jimmy Maddison – VBC / ORCA – 21 / 314.48
2. (3) Tony Broad – Xray / ORCA – 20 / 301.85
3. (2) James Baker – Xray / LRP – 20 / 302.51
4. (4) Will Vertigan – ARC / Trinity – 20 / 304.70
5. (6) Luke Hobson – Yokomo / Thunder Power – 20 / 305.65
6. (5) Nathan Morgan – Xray / Hobbywing – 20 / 308.92
7. (7) Darren Tickner – Xray / Tekin – 20 / 309.22
8. (10) Mason Weston – Xray / ORCA – 19 / 300.33
9. (8) Gavin Clinch – ARC / G Force – 19 / 300.90
10.(9) Dominic Skinner – Yokomo / ORCA – 19 / 311.62
Alongside the two classes, the top Juniors will be recognised throughout the 2014/15 championship. Will Vertigan's A Final place saw him take the lead in the Super Stock class, whilst Harley Eldridge made the B Final in Modified to be the fastest Junior.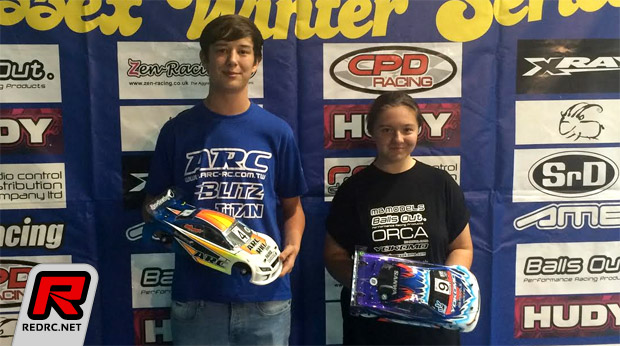 Thanks to Oli Meggitt for the report.
---