October 8, 2014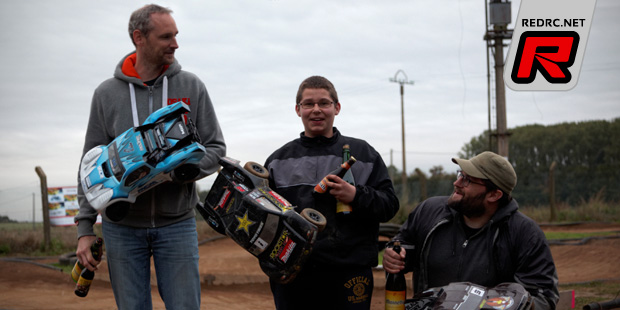 The penultimate round of the Belgian SCT Cup was held at the BRTC club's track, the place SC racing started in Belgium some years ago. The race marked the final outdoor event of the year and despite a sunny start into the weekend, on race day the track was very wet. A few brave drivers tackled the first qualifier anyway only to find that the trucks would collect loads of dirt but as time went by the track started to dry, making for better conditions and allowing more drivers to start into the second round of qualifiers.

In Pro2 qualification, Julian André (Team Associated) swept the qualifying by winning three out of the three rounds. He was followed by Tom Pierard (TLR) with two 2nd places who scored his best qualification position ever. Nicolas Evens (TLR) completed the top 3. In Pro4, mud caused a lot of DNF with the trucks overheating. In the end, Christophe Leurquin (Tekno) got a maiden TQ from 2nd placed Jean-Christophe Biefnot (TLR), who also achieved his best result ever. Series leader Thierry Matthieu (Tekno) completed the top 3.
The opening Pro2 A-final had Martin Vierin (Team Associated) taking the win coming from 4th position on the grid. Nicolas Evens and Julian André rounded out the top 3 so far. Julian then took the second A-final, followed by Tom Pierard and Philippe Hautecoeur, with the latter coming from 7th on the grid. Before the final and decisive leg, Julian, Martin, Nicolas and Tom all have a chance for the overall win. At the end Julian came out successful after a tight battle with Nicolas, while Laurent Halluin (Team Associated) completed the top 3 in A3. The result handed Julian the day's win in front of Nicolas and Martin.
Pro2 A Main
1 André Julian – Team Associated
2. Evens Nicolas – TLR
3. Vierin Martin – Team Associated
4. Pierard Tom – TLR
5. Halluin Laurent – Team Associated
In Pro4, Nicolas Evens took the day's win coming from 6th on the grid by winning the second and third A-final. Thierry Mathieu took the first A-final to end up 2nd overall in front of polesitter Christophe Leurquin.
Pro4 A Final
1. Evens Nicolas – Losi
2. Mathieu Thierry – TeknoRC
3. Leurquin Christophe – TeknoRC
4. De Keersmaecker Philip – TeknoRC
5. Biefnot Jean-Christophe – Losi
With one race to go, both the Pro2 and Pro4 titles are now decided with Thierry Mathieu winning the all-wheel class and Nicolas Evens coming out successful in the 2WD category.
Pro2
1. Evens Nicolas – 598
2. André Julian – 594
3. Hautecoeur Philippe – 585
4. Gustin Philippe – 569
5. Michez Edouard-Benoît – 565
Pro4
1. Mathieu Thierry – 602
2. Evens Nicolas – 597
3. Leurquin Christophe – 584
4. De Keersmaecker Philip – 583
5. Vandeuren Alain – 572
Source: Belgian SCT Cup [belgiansctcup.be]
---