October 20, 2014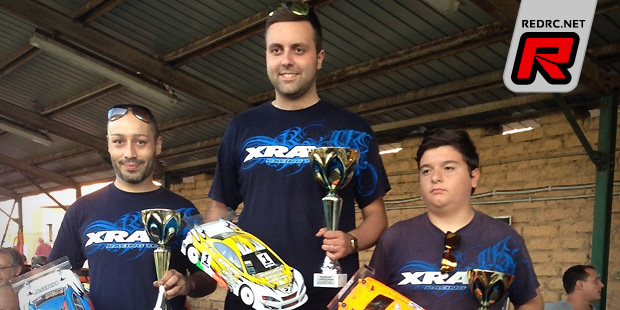 The opening round of the Italian Capricorn Championship was held at the Big Model track in Ciampino. The series is run in a Touring Car Modified and 13.5T Stock class and in Modified it was Alessio Menicucci who took the pole position for the finals in front of Diego Macchioni and Alessio Valentini. The Stock class had Massimo Fabiani and Andrea Attura fighting for the TQ with the better end for Massimo who grabbed the pole in front of Andrea Attura and Maurizio Bicchi.

For the Modified finals Alessio Menicucci was able to conserve his performance to take the win from his Xray team mates Diego Macchioni and Alessio Valentini.
Final result Modified:
1. Alessio Menicucci
2. Diego Macchioni
3. Alessio Valentini
4. Daniele Petriagi
5. Giordano Bonfatti
6. Simone D'Ottavio
7. Flavio Buzi
8. Nicola Cuturi
9. Alessandro Manciocchi
10.Giancarlo De Caro
In the Stock class it was again the pole sitter who took the day's win. Massimo Fabiani brought home the win in all of the 3 A-mains while Andrea Attura (Yokomo) and Maurizio Bicchi (Yokomo) had to settle for 2nd and 3rd respectively.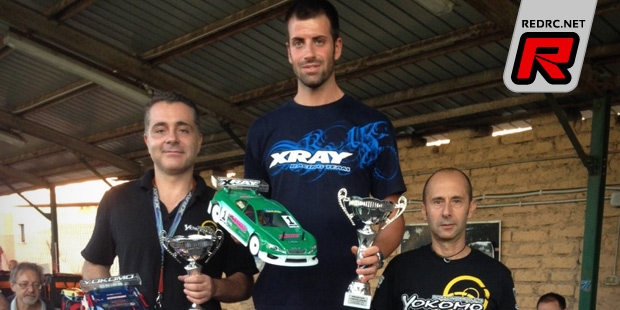 Final result Stock:
1. Massimo Fabiani
2. Andrea Attura
3. Maurizio Bicchi
4. Antonio Cassarino
5. Mauro Fabiani
6. Pierluigi Calcatelli
7. Franco Argir
8. Maurizio Di Sarra
9. Davide Morgagni
10.Nicola Caserta
Source: Xray [teamxray.com]
---