October 8, 2014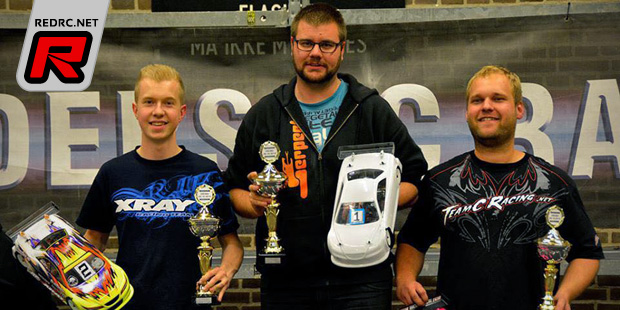 Round 1 of the Danish Touring Car Indoor Nationals was held in the city of Randers using a purpose built track in a sports hall. The track itself had a nice and flowing layout but the long pile carpet made for some strange car behaviour, low grip and loads of broken ball bearings. During Saturday's practice Mike Gosvig was able to pull the fastest laps but come race Sunday he started to make some mistakes allowing Patrick Hornum to take the TQ and the pole position for the A-mains.

On the start of A1 Patrick made a mistake in the first corner allowing Mike to pass into the lead. Some two and a half minutes into the race both drivers crashed while battling for the lead with Mike spinning and Patrick suffering a body tuck on his car. Both continued with Mike in the lead but soon after he got too wide in a corner sending the car on the carpet's long hair section allowing Patrick to pass for the win in the opening final.
A2 saw a bad start of Patrick Hornum which allowed Mike Gosvig to take the lead until he got hit from behind, resulting in a tucked body which later happened again sending him down the field. Patrick took advantage of this and scored a second win in the finals to take the overall win.
Despite having already won the event Patrick started again in A3 to chase after some fast laps. In 2nd Mike Gosvig brought home the overall 2nd place while Morten Iversen, following a good second A-main, secured himself the overall 3rd place.
Final result:
1.  Patrick Hornum
2. Mike Gosvig
3. Morten Iversen
4. Patrick Folman
5. Frederik Hovgaard
6. Johnni Andersen
7. Frederik Brolos
8. Palle Hornum
Source: Xray [teamxray.com]
---