October 23, 2014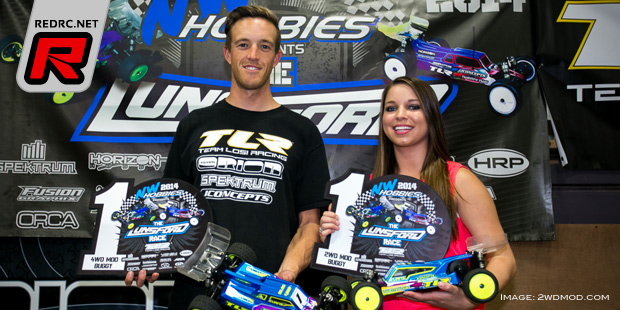 North West Hobbies hosted the 1st ever Lunsford Race in Albany, Oregon to celebrate one of the most influential individuals in the hobby today, Kelly "Mr. Titanium" Lunsford of Lunsford Racing. Like the metal, he's no ordinary personality and after a quick chat you'll come to realize what a stand up individual he is. Positive, light-hearted, and always willing to help, he's given more to this sport than ever asked of. Because this was the 1st ever Lunsford Race, a few special guests were invited to make this event even more spectacular. TLR/Orion drivers Ryan Maifield and Dustin Evans were scheduled to come, but because of sickness Maifield wasn't able to make it however the former nation champion Dustin Evans did.

Having been here just 2 weekends prior for the Gold Cup, Evans made another trek out to the Northwest and this time joined by Team Orion's team manager Joe Pillars. As one of the coolest Pro drivers on tour, it was a pleasure to have Dustin in the house once again to show us how it's done. The track layout was fast with a twist of technical that featured a 5 pack section that devastated a lot of racers as it was hard to be consistent for a complete 6 minutes. Sections like these are heart breaking and definitely serve as the x-factor as it is possible to do perfectly for 6 minutes. Challenging? Yes, but if there is a car that crashes in the section then chances are it will reek havoc for everyone else and often results in a big multi-car pile up. All in all the track was the best seen at NW Hobbies and made for great racing. The flow and challenge was a fast paced, no hold bars attack with grip for days and no tire wear. As NW Hobbies is still a relatively young track, the level of track build has progressed from days previous and with more experience under their belt, it's only going to get even better.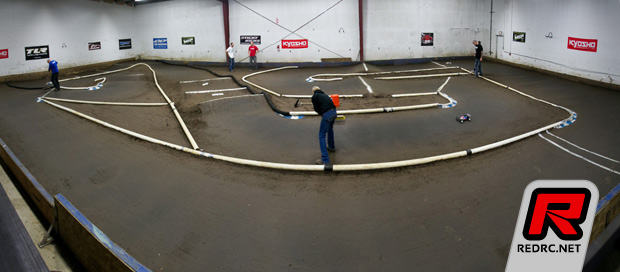 Having the most relaxed approach to racing seen in a while, Dustin Evans glued up his tires and just ran his car. It was that simple. He said that the clay was similar to TRCR so his car setup was pretty much identical to how his car was at Gold Cup. He mounted 1 set of gold Dirt Webs front and rear with Dirt Tech inserts and it lasted him all weekend long. His 2WD buggy was on point winning every round of qualifying in 2WD (as well as 4WD).
Stepping up and challenging the former national champ and narrowly missing the margin for 2WD TQ by a second was Kyosho's Tanner Day who put in the best performance to date. Securing the 2nd spot on the grid wasn't an easy feat by any means as he was constantly challenged by Kyosho's other ace, Andy Dibrino. Having to shake off a bit of ring rust was Andy's only complaint as he felt his speed was there, but said, "I'm definitely not the old me… just yet."
Having proved he has the speed to qualify just behind Dustin Evans, Kyosho's Tanner Day was set out to accomplish every local racer's fantasy…. legitimately beating a Pro driver in heads up racing. Dustin started off in his normal smooth collected self taking tight lines and not pushing too hard early on in the opening A-main and was set on just controlling the gap. Tanner would shadow his every move until lap 8, Day would make a mistake and lose 3 seconds to Dustin. With clear track ahead, it looked like Dustin would sail away and take an easy win, but on lap 12 Evans would make an uncharacteristic mistake rolling over his car that allowed Tanner to close that gap back up and be within a second. The two would trade laps for the remaining 12 laps with Tanner finishing just 1.5 seconds behind Evans when they crossed the line. Meanwhile, finishing in 3rd place was Kyosho/Orion's Andy DiBrino just 5 seconds behind the two front runners.
A2 had a much different twist. Right off the bat, a 1st lap mistake by Evans would actually cause Tanner to run into the back of him resulting in a huge pile up for the rest of the field. Luckily for Andy DiBrino and Joe Pillars, they saw this as a prime chance to capitalize on the leader's mishap and avoided the incident allowing them to get through the field in 1st and 2nd. After the dust had settled, Dustin was in 4th and Tanner in 7th on the 1st lap. Driving like a true champion, Evans would actually start to push his car and made quick work of Roger Seim who was in 3rd and slowly set his sight on JP in 2nd. Already by the 5th lap, Evans had his target set on DiBrino and it would take Evans 5 laps to close the gap up and eventually get by DiBrino. Meanwhile, the story was much different for Tanner as he fought his way through traffic and all the way back up to 3rd place. He would then engage in a 3 way battle between Pillars and DiBrino in the closing minutes. On his attempt to take over 2nd from Andy, the two would collide losing valuable time that allowed Pillars to take over 2nd while DiBrino would scramble for 3rd. Tanner would finish 4th.
Having a not so excellent A2, Day would bounce back and win A3 in style proving the 2nd spot was uncontested and rightfully his. The young 16 year old Kyosho talent has emerged from this weekend showing elite speed as well as composure by leading A3 from start to finish. This remarkable achievement, in many ways, is the start of a new chapter as he joins the NW's racing elite and proudly representing the NW in races to come. Behind Tanner in A3 was an interesting battle between Pillars and DiBrino as the two would contest for the final spot on the podium. Finishing not more that 0.2 seconds apart and racing nose to bumper for the entire 6 minutes, it would be Andy DiBrino edging out JP in what would be the race of the day. With his 2nd place finish in A3, Andy would beat out his team manager in the tie-breaker.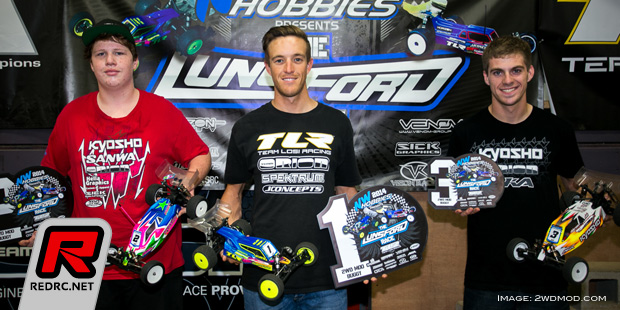 2WD Modified top 3 result:
1. Dustin Evans
2. Tanner Day
3. Andy DiBrino
More photos and results can be found over at 2wdMod.com.
Source: 2wdMod.com [2wdmod.com]
---