October 8, 2014
Tacoma R/C Raceway hosted the annual Gold Cup event to kick off the fall/winter racing season and this year's special guest was none other than former National Champion and previous Reedy Race Champion, Dustin Evans. When the JConcepts tour came into town last spring, it wasn't sure if the track ever see any other big names come back. For those who don't know, racing at TRCR isn''t easy as the local fast guys are extremely fast. Countless hours of practice results in critical knowledge of the dirt, car setup, and layout of this awesome racing facility.

Earlier in the year, the JConcepts tour brought in elite drivers like current 4WD World Champion Steven Hartson, A-Main Hobbies' ace Tyler Vik, AE team manager Brent Thielke and AE young gun Tanner Denney, TLR's JR Mitch, and MIP's Matthew Olson. All of these drivers are national caliber drivers and yet they were unable to podium at the JCon in Tacoma. Some didn't even make the A-main. With three chances in the triple A-mains, they were unable to dethrone any of the locals from the podium spots. This usually means no one wants to come b/c the advantage for the locals is so great, it's almost like they're just battling for a spot in the A. In this ultra competitive sport … everyone wants to win.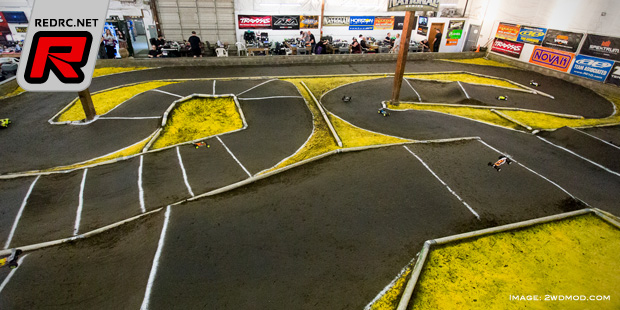 Early in the weekend, Dusitn Evans had somewhat a worried look on his face as he watched the locals practice. Maybe he was feeling pressure as he was unable to match their pace in practice. Also, haven't raced at TRCR for many years, he may had doubts to whether his tires, setup, and car would come around to battle for a podium spot … let alone win.
When qualifying came around, the worried look became reality as he wasn't able to win a round of qualifying. 2 rounds went to Team Associated's Luke Smith and 2 rounds to his good friend and teammate Michael Schoettler. It's every Pro's worst nightmare to get beat by local fast guys and this nightmare was only about to begin. The question that was on everyone's mind was, "Would Evans get smoked in the mains?".
2WD Modified A1 and TQ Michael Schoettler would slowly start to gap the field while 2nd place qualifier, Luke Smith making an uncharacteristic 1st lap crash that sent him all the way back to 8th and was basically on damage limitation for the rest of the race. Evans would inherit 2nd place and drove like a madman on a mission. For almost 13 laps he tried his hardest to pressure young Schoettler into a mistake, but the gap was slowly growing by tenths. Then it happened. On lap 14, Schoettler would traction roll in the sweeper, tumbling his car into the concrete wall. The corner marshal rushed to his car and set it back on its' wheels … however there wasn't any motion. Schoettler was done and had to watch as Evans would take the lead and cruise to a victory in A1. Luke would scramble and saved what could have been a disaster and turned it into a 2nd place drive. JC Johnson would finish just under 2 seconds behind Smith in 3rd.
A2 and Schoettler knew that the pressure was now on him for the first time all weekend, maybe all year. He knew if he made a mistake, Evans would win A2 and close out the 2WD Modified class in 2 mains. He drove the best race he had all weekend and this time, Evans would match him lap for lap keeping the pressure on the entire 6 minute main. On the 1st lap, Evans would get around Luke Smith because of another early bobble he made in the 5 pack. His car was out of position and had to slot back in into 4th. This made the entire race the Schoettler and Evans show as everyone's eyes were watching the battle in the front. After 25 laps, Schoettler would hold on for the win by 1.5 seconds over Evans. Finishing 3rd was JC Johnson putting on a fabulous drive showing he has the speed to contend for a podium spot.
This was the perfect setup for a showdown in A3. With Schoettler and Evans at a win a piece, A3 proved to be the most exciting race of the weekend as it would lead to answers previously unknown. Would Evans be able to do the impossible? Or would he fall just like many before him? In a matter of just 6 long minutes – the world would know.
Schoettler would once again lead the pack from the sound of the tone, however unlike the earlier mains, Luke Smith wasn't out of the equation on the very first lap. This time he was actually in the mix and proved to be the X-factor in the race. With a teammate in-between him and Evans, Schoettler was looking good for another victory. By the 3rd lap, Evans was all over Luke Smith and was desperately trying to find a way around so he could start his attack on Schoettler. But it was Schoettler who made 2 small bobbles on the 3rd lap and falling out of rhythm that left a door open for Luke. Having seen a narrow window and thinking if he could win A3, Luke would make it a 3 way tie with the top 3 racers having the same results of 1 win and a 2nd. As he positioned his car inside of Michael's on the table section of the track, there was no hesitation and he sent it. He would clip Michael's front wheels as he went across sending Luke straight to the pole which inadvertently piled the 2 drivers up. Dustin would benefit from their collision and sneak by and take over the lead. From there, the rest is history as Dustin crossed the line earning his 2nd win and proving that the impossible can happen.
Find more results and podium images over at 2wdMod.com.
Source: 2wdMod [2wdMod.com]
---