October 22, 2014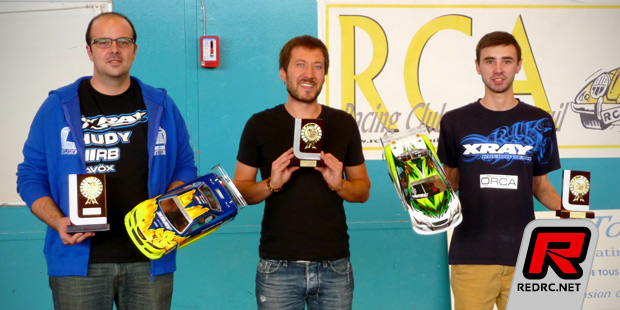 The 1st round of the French Winter Nationals was held last weekend at the Argenteuil Racing Club near Paris. The track was laid out with the famous "black" high-grip carpet used at most indoor races with the layout being very difficult to tackle the 5 minutes races without making any mistakes. In the Touring Car Modified class the fight was on between Cyril N'Diaye, Mathieu Briere and Manuel Wagner. The opening A-final was undecided until the very last minute of the race with several crashes, especially in the last lap, which handed Cyril the win in front of Manuel Wagner. A2 and it was again Manuel who grabbed the runner-up spot following a big crash in the opening lap. A3 had Mathieu Briere leading the race and he was closely followed by Manuel but the latter touched a curb some 3 minutes into the race ending his final early. The final result saw Cyril N'Diaye taking the win from Mathieu Briere and Manuel Wagner.
TC Modified final result:
1. Cyril N'Diaye
2. Mathieu Briere
3. Manuel Wagner
4. Hugo Ragaut
5. Remi Callens
6. Jeremy Limoges
7. Mathias Rascol
8. Gilles Hendrickx
In the Touring Car Stock class the opening A-final had TQ Jeremy Delalondre getting a bad start which handed Pierre Delorme the lead but he rolled his car some 3 minutes into the race which let him fall back to 2nd spot, handing Jeremy the lead and later the leg win. A2 and it was again Jeremy who won the race after Pierre was not able to follow due to some setup difficulties. After taking the overall win early Jeremy decided to sit out the final A-main to let Pierre, Mathias and Jean battle for the runner-up spot. At first Mathias looked like he would win A3 but a crash in the closing stages damaged the steering block on his car allowing Pierre to take the win while Jean also ran into trouble with a broken part. In the overall result Jeremy Delalondre took the win from Pierre Delorme and Romain Delaunay.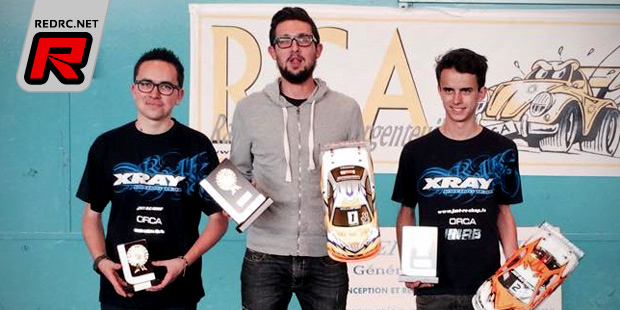 TC Modified final result:
1. Jeremy Delalondre
2. Pierre Delorme
3. Romain Delaunay
4. Jean Delorme
5. Remi Bertrand
6. Mathias Rascol
7. Jean-Batiste Janssens
8. Boris Girault
9. Vincent Cavard
10.Jeremy Deram
Source: Xray [teamxray.com]
---