October 8, 2014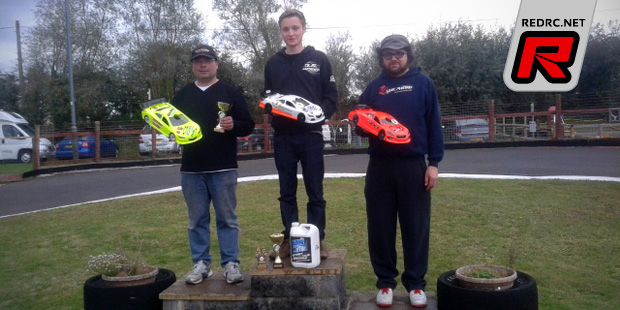 The last round of the 2014 1/10th Nitro On-road British Nationals was at the Mendip track last weekend. Saturday started out wet and it took until 2pm for the track to dry out. At the end of practice Joe Kerry was fastest in 200mm Touring with a 16.9 second laps, 0.5 seconds quicker than team mates Mark Green and Alex Thurston. Glyn Beal and Andrew Hastings lead the field in 220mm GT.

Overnight rain meant that the first 2 rounds of qualifying were damp. The weather forecast was saying that it would dry up so some drivers chose to sit out the early qualifiers. The 3rd round then was almost dry with just a few small damp patches on track but for the last round it was completely dry so the drivers would have one chance to set a good time. Joe took opportunity and the TQ with Alex narrowly beating Mark to 2nd making for an all-Serpent top 3. Andrew Hasting took TQ from Glyn Beal in the 220mm GT class.
In the 200mm Touring final Joe immediately started to pull away at the front and gradually increased the gap lap by lap. Alex and Mark were having a close race for 2nd until Alex had some problems and dropped down the order. At the end of the 30 minute final Joe was the winner some 2 laps in front of Mark Green with John Zottl coming through to take 3rd. In 220mm GT Andrew Hastings unfortunately missed the start of the final so Glyn lead from the start with Peter Hellawell taking 2nd place for a Serpent 1-2.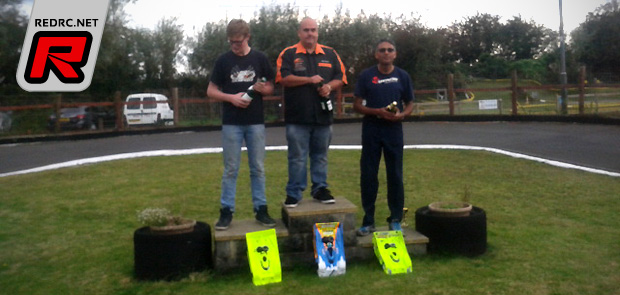 Source: Serpent [serpent.com]
---