October 27, 2014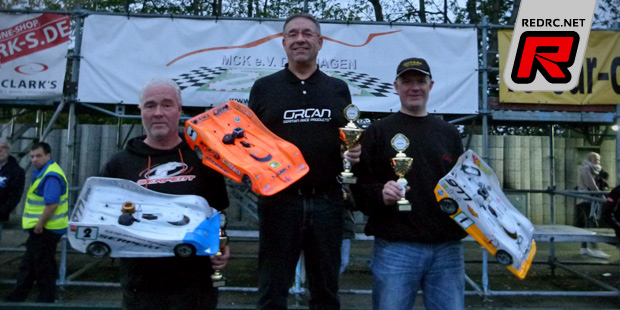 The 2014 Nitro-West Masters championship culminated at the final round, run in Dormagen, with the titles being grabbed by Uwe Baldes in 1/8th scale and René Puepke in 1/10th scale on-road as well as by Matthias Guenther and Thorsten Lewandowski in the 1/8th and 1/10th Hobby-Cup classes. A total of 109 nitro racers, compared to 91 in 2013, did attend the six races of this growing championship in Oberhausen, Dueren, Bad Breisig, Haltern, Velp (NL) and Dormagen.

The race weekend at Dormagen with 67 entries in total and perfect weather conditions started on Saturday not only with lots of intensive practice but also with a special drivers meeting to celebrate a great season and the 1/10 scale title of West division racer Daniel Thiele. The local "Koelsch" beer and the offered snacks of course were welcomed by everyone and during the meeting the drivers were told that the series is not planning any changes in terms of rules and regulations for the 2015 season.
As for the race, in the premier class of 1/8th scale Tobias Hepp (Mugen) took the pole position on the demanding 268 meter long Dormagen track, located in the North of Cologne, to make it directly into the main final as did Christian Wurst (Serpent), Uwe Baldes (Mugen) and Ralf Vahrenkamp (Serpent). From the 20 minutes semifinal A Ingo Odenthal (Serpent), Heiko Kube (Mugen), Thomas Kroeger (Serpent) and Christoph Loose (Sepent) qualified for the main, Reinhard Zick (Mugen) and Claus Nauth (Xray) stepped up from semifinal B.
Hepp then led the 30 minutes final from the start while Wurst and Baldes battled for 2nd right from the very first lap. When Wurst had a collision with Zick on lap 23, Zick's Mugen was airlifted and dropped down on the straight right onto Hepp's car. This meant the sudden end of Hepp's strong performance and his race. Wurst became the new leader with the orange Mugen of Baldes in tow. On lap 76 Wurst made a small mistake when he flipped his Serpent in the infield, allowing Baldes to take over the lead. With less than five minutes to go it started to drizzle slightly and Baldes was able to pull away and finally brought home the victory with a two lap advantage over Wurst with Vahrenkamp completing the podium. Kroeger finished 4th ahead of Odenthal and Loose while Kube, Zick, Nauth and Hepp did not make it to the checkered flag.
With a total of five consecutive podium visits in six races including two victories, Uwe Baldes, who changed from Xray/Orcan to a Rex-powered Mugen for the final two rounds, became the 2014 champion in the Nitro-West-Masters series with 597 points. Equal on points (592), Ralf Vahrenkamp made it to 2nd position ahead of Christian Wurst. Uwe Baldes and Tobias Hepp took two victories each with Frank Schewiola (Serpent) and Ralf Vahrenkamp scoring one win each in the 2014 series.
1/8th scale top 10 overall:
1. Uwe Baldes – Xray/Orcan & Mugen/Rex – 597 points
2. Ralf Vahrenkamp – Serpent/Novarossi – 592
3. Christian Wurst – Serpent/XRD – 592
4. Christoph Loose – Serpent/Novarossi – 576
5. Reinhard Zick – Mugen/RB – 574
6. Thomas Kroeger – Serpent/Novarossi – 562
7. Rainer Rosskothen – Mugen/Novarossi – 556
8. Martin Figge – Shepherd/Picco – 544
9. Ralf Wacker – Mugen/Novarossi – 544
10.Tobias Hepp – Xray/Orcan & Mugen/Picco – 464
In 1/10 scale the pole position went to René Puepke followed by Shepherd fellow Benjamin Lehmann, Daniel Toennessen (Mugen) and Daniel Thiele (Serpent). Bernd Rausch (Shepherd) won semifinal A in front of Melvin Diekmann (Shepherd) and Kristof Sielaff (KM), Dieter Fleischer (Mugen) took semifinal B ahead of Hartmut Rose (Xray) and Joerg Baldes (Serpent).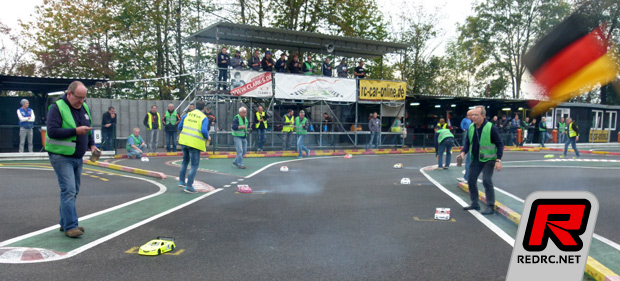 In the final Puepke went into the front from green lights to lap 7 when Lehmann took over the lead until lap 63. Now it was Puepke again who was in the 1st spot while Lehmann dropped back to 3rd behind German champion Daniel Thiele. Finally Puepke crossed the line in 3rd about 4 seconds ahead of Thiele with Lehmann 1 lap down in 3rd. Diekmann finished 4th ahead of Toennessen, Rose, Baldes, Fleischer and Sielaff while Rausch was a victim of the close racing already in the starting lap.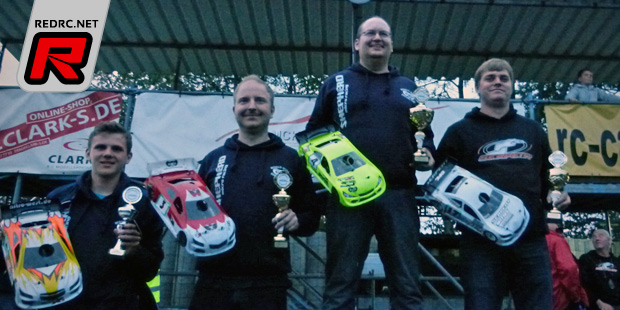 With four victories, his third in a row, René Puepke was crowned the new 1/10 champion in the Nitro-West-Masters series. With 603 points he was clearly in front of Benjamin Lehmann (592) and young Melvin Diekmann to make it a 1-2-3 for Shepherd. Beside Puepke, who took four wins, Thilo Toedtmann and Benjamin Lehmann scored a victory in the 2014 series.
1/10th scale top 10 overall:
1. René Puepke – Shepherd/Orcan – 603 points
2. Benjamin Lehmann – Shepherd/Sonic – 592
3. Melvin Diekmann – Shepherd/Sonic – 586
4. Daniel Toennessen – Mugen/RB – 584
5. Faehd Labik – Xray/Orcan – 575
6. Hermann-Josef Fuchs – Serpent/Novarossi – 559
7. Joerg Kleineberg – Mugen/O.S. – 544
8. Thilo Toedtmann – Xray & Capricorn/Orcan – 457
9. Dirk Zschaebitz – Serpent/Orcan – 432
10.Daniel Thiele – Serpent/O.S. – 345
The two Hobby Cup classes of 1/8 scale (HC8) and 1/10 scale (HC10) have become an inherent part of the Nitro-West-Masters with mandatory engines from Sonic and Novarossi. These engine packages, including pipe and manifold, mean a huge cost reduction to the racers alongside with less fuel consumption and less wear on tyres and other car components. All of that leads to cars which are easier to drive and while still being a lot of fun.
In the 1/8 scale Hobby Cup class Matthias Guenther pushed his Shepherd to pole position at the final Dormagen round and he left Detlef Spiess (Xray), Thomas Kremer (Serpent) and Waldemar Liedke (Mugen) behind. Arno Puepke was able to win the semifinal A with his Shepherd ahead of Heinz Faigle (KM), Helmut Hoessler (Serpent) and Gerhard Bemelmans (KM). From semifinal B Joachim Kuehn (Shepherd) and Jens Kopetzki (Serpent) moved up into the main.
In the final Guenther led from the start but went into trouble already in lap three. Spiess then was the new leader but only for a short time. Obviously it wasn't a good day for those who directly qualified. Guenther finally finished 4th and Kremer, Spiess and Liedke only on positions 6, 7 and 8. Already in lap 18 it was Arno Puepke who managed to take the lead with his clean and save driving. At the end of the 30 minutes race and scoring 104 laps he had a 3 lap advantage over Kuehn with Kopetzki completing the podium. Bemelmans came on 5th, while Faigle and Hoessler had to retire early. This meant it was a family affair for Puepke with father Arno and son René celebrating two out of four wins at Dormagen.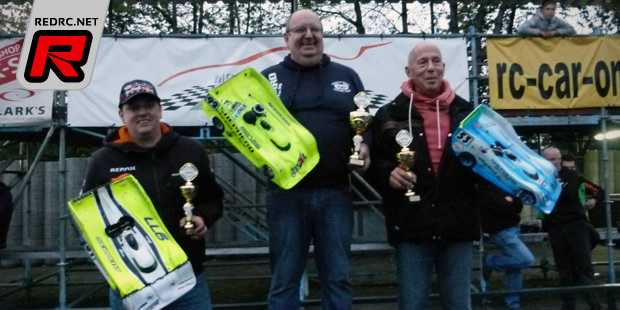 A 4th place at the final round was enough for Matthias Guenther to catch the hard-fought title in the 1/8th Hobby Cup class. He did not take a single win but jumped onto the podium three times. With 590 points he left Detlef Spiess (583) behind in 2nd and Kuehn (580) in 3rd respectively, both also not taking a single win in the 2014 campaign while the victories went to Marco Muscara, Waldemar Liedke, Christian Roenicke, Gunnar Blumendahl and Arno Puepke.
1/8th Hobby Cup top 10 overall:
1. Matthias Guenther – Shepherd – 590 points
2. Detlef Spiess – Xray – 583
3. Joachim Kuehn – Xray/Shepherd – 580
4. Gunnar Blumendahl – Mugen – 579
5. Heinz Faigle – Xray/KM – 579
6. Gerhard Bemelmans – KM – 573
7. Holger Hinnendahl – Xray – 560
8. Jens Kopetzki – Serpent – 554
9. Juergen Lehmann – Shepherd – 544
10.Klaus Kirschner – Mugen – 544
From pole position Thorsten Lewandowski led the finale of the 1/10th Hobby Cup class from tone to tone. Already four laps down fellow Xray racer Hans-Werner Dietz secured the runner-up spot on the podium which was completed by Sebastian Barlak (Serpent). Philipp Wisniewski (Mugen) finished fourth followed by Guido Burghartz (Kyosho), Wilfried Huebner (Serpent), Matthias de Keyser (Kyosho) and Werner Vogel (Kyosho) who had to retire early due to problems with his radio gear.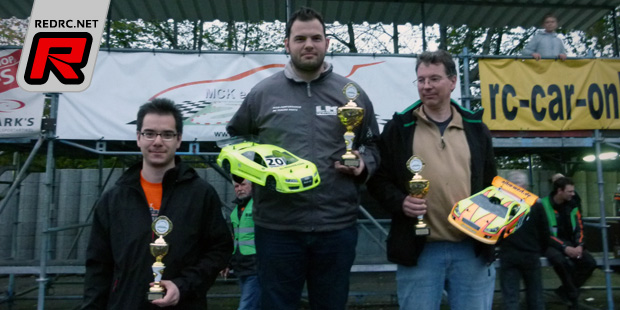 With three victories the title was an easy affair for newcomer Thorsten Lewandowski (595 points). Hans-Werner Dietz, who took one win, came in 2nd (589), with old-dude Wener Vogel (584) in 3rd. Beside Lewandowski and Dietz also Stefan Schumann (Xray) and Timo Niedling (Xray) managed to grab one victory each.
1/10th Hobby Cup top 10 overall:
1. Thorsten Lewandowski – Xray – 595 points
2. Hans-Werner Dietz – Xray – 589
3. Werner Vogel – Kyosho – 584
4. Philipp Wisniewski – Mugen – 583
5. Guido Burghartz – Kyosho – 575
6. Matthias de Keyser – Kyosho – 569
7. Timo Niedling – Xray – 473
8. Wilfried Huebner – Serpent – 452
9. Stefan Schumann – Xray – 348
10.Sures Velauthapillai – Xray – 348
The 2015 Nitro-West-Masters season will again cover sixth races and include the regular nitro on-road classes of 1/8th and 1/10th scale as well as the respective Hobby Cup classes.
Source: Nitro-West [nitro-west.de]
---