October 20, 2014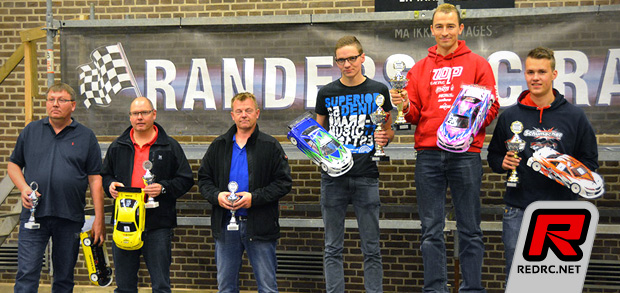 The first indoor race of the Danish electric on-road season was held in the city of Randers on a purpose-built track. The carpet used caused a lot of problems for the drivers as the long hair made for changing grip conditions and tons of broken ball bearings. In the Super Stock class it was Soren Boy Holst (T.O.P.) who was in control of things as he was quick right from the start and he also took all three qualifying rounds to grab the pole position for the finals. Niklas Engholm (Awesomatix) put his car in 2nd place while Mad Callesen (Serpent) rounded out the top 3.
Super Stock qualifying top 5:
1. Soren Boy Holst – T.O.P.
2. Niklas Engholm – Awesomatix
3. Mads Callesen – Serpent
4. Nicolai Lindegaard – Schumacher
5. Stefan Finnich – Xray
As the tyres got better and better during the race day and the carpet still lost a lot of hair but started to offer decent grip, Soren improved his times again, setting a new lap record on his way to win the opening A-main. Some 6 seconds behind Nicolai ended A1 in 2nd while Niklas came in 3rd place. For the 2nd A-main Soren decided to adapt the setup of his car a bit but this made the rear end loose, allowing Niklas to come a little closer but Soren kept everything together to take the win in A2 and also the overall victory with one leg to go. Niklas came in 2nd while Mads rounded out the top 3 for now. In the final A-main Soren was in control of things again, leaving the remainder of the field to battle for the final podium spot. At the end Niklas came in 2nd while Nikolai ended the leg in 3rd to snatch the final spot on the podium.
SuperStock A final result:
1. Søren Boy Holst – T.O.P.
2. Niklas Engholm – Awesomatix
3. Nicolai Lindegaard – Schumacher
4. Mads Callesen – Serpent
5. Thomas Larsen – Tamiya
6. Christian Lassen – Yokomo
7. Ole Strandlyst – T.O.P.
8. Stefan Finnich – Xray
Source: T.O.P. [top-racing.jp]
---