October 14, 2014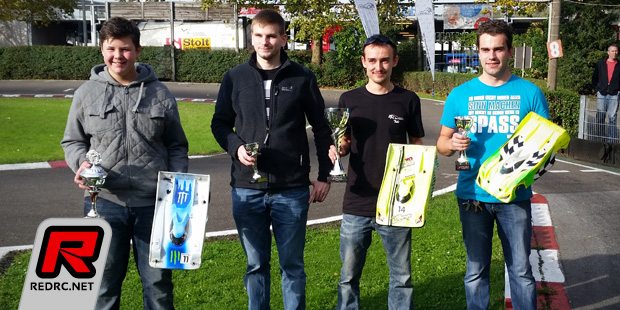 The 7th and final round of the RC Lemans took place at the prestigious MRC Oberhausen track. With the championship still open the race would decide about the overall title between last year's German Pro10 champion and RC Lemans winner, Tim Altmann and this year's German Pro10 champion, Tobias Weist. Before the event Tobias was leading the ranking by 2 points meaning the pressure was on Tim to defend his RC Lemans title after already loosing the German national title to Tobias.

Practice on Saturday started out dry but in the evening it started to rain meaning the track would be tricky on Sunday with around 70 percent dry and 30 percent wet parts, making tyre strategy crucial. Tobias Weist made the best out of the conditions and he took the TQ from Dutchman Reinder Wilms and Tim Altmann. Marc Lorenz and Marcel Ellissen completed the top 5 result.
In the triple mains Tobias quite easily won the opening leg, one lap ahead of Phillipp Paul who managed to grab the 2nd spot coming from 10th on the grid. Marcel Ellissen came in 3rd while Tim Altmann had to settle for 4th. The 2nd A-final had Tobias scoring a DNF due to a tyre gamble and Tim Altmann took the win from Marc Lorenz and Reinder Wilms. This meant the win would be decided in the 3rd and final leg. The track was now completely dry and Tobias used his pole position in the best possible way by taking the win 7/10th of a second from Marcel Ellissen and Sven Stoffels in 3rd. Tim suffered a crash and was not able to finish the race. The result handed Tobias the overall championship and his second title within 4 weeks.
Championship top 10 result:
1. Tobias Weist – VIP Performance – 497
2. Tim Altmann – Team KaTi – 490
3. Marcel Ellissen – VIP Performance – 472
4. Kai Altmann – Team KaTi – 465
5. Sven Stoffels – Team KaTi – 461
6. Marc Lorenz – Team KaTi – 458
7. Joachim Behnken – Self Designed – 452
8. Peter Pluemacher – Corally modified – 449
9. Michael Finger – Speedline – 441
10.Alfred Jendro – Corally – 438
Thanks to Tobias Weist for sending the report
---