October 8, 2014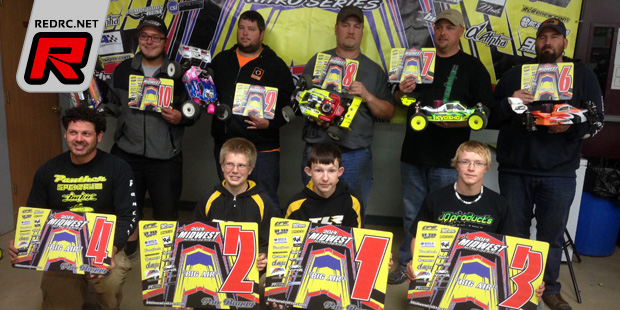 TLR/JConcepts driver Tyler Jones wrapped a very successful summer season this past weekend when the young gun attended the Midwest Nitro Series finals at Leisure Hours raceway in Joliet,IL. Rain and cold weather scared some off but still a great turnout. With the rain, the organisers were forced to run on the indoor track and the crew had a great track for the drivers. Tyler was able to TQ both the Pro Nitro Buggy and Truggy classes again, with the only 19 lap runs in Pro Nitro Buggy.

In Truggy at the tone Tyler would check out and lead wire to wire for a dominating win. Tyler only ran 3 of the races in the series in the Pro Truggy class and would have 3 TQs, 2 wins, and a 2nd place finish with zero DNFs.
In buggy at the tone Tyler would start to pull away until lapped traffic would cause issues letting the field catch up. Tyler has a couple small bobbles on his own that kept the field close. In the end, with same lapper taking him out four times, he would finish 2nd behind first place car by only couple seconds. Tyler would end up running 4 out the 6 rounds with 3 TQ's, 2 wins, and two 2nd places with zero DNF's for the series. Tyler ended up winning the points series overall in Buggy and finished 7th overall in Truggy with only running 3 races.
Source: JConcepts [jconcepts.net]
---