October 16, 2014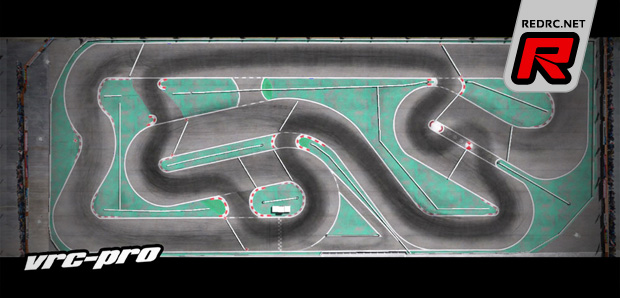 The VRC Pro RC-car simulator software just received some software and content updates. VRC now offer up to 9 other cars on the track while you practice. The cars are specially selected for you to match your skill and racing level and you can also select another level yourself, ranging from easy over medium to hard. The cars will be refreshed frequently so you could be racing with a complete different set of cars a week from now. The cars are released in random order and at random intervals each time you start your practice, so the situation is never the same.

As not all PCs are capable of running up to nine cars plus your own car, so the software will start with just three. If the frame rate drops under 60 fps VRC will automatically reduce the suggested number of cars, and if you have plenty of frame rate the suggested number of cars will go up. You can always try to reduce your graphics settings to improve the frame rate, lowering or turning of the dynamic shadows has the biggest impact. If you want to run with eight or more off-road cars VRC advise to lower the texture quality to medium, this is related to the available video memory for 32-bit applications (like VRC Pro). You don't need to do this for on-road cars.
As a default setting VRC have turned collision "on", which means you better avoid the other cars crashing in to you (they always win…), but you can also opt to turn it "off". You can also start a race with the other cars. Your car will be placed on position 1 on the grid and the others will start from the remaining grid positions. Try to beat your opponents is a great practice exercise to keep your cool and focus for a whole race! For new tracks it may take some time to have cars available in all levels, all car classes and in both directions, so you will see more and more over time.
New in-game chat
Finally you will be able to chat with all racers who are using VRC Pro at that very moment. You will see a "chat" button on the left side of your screen and you can open it by clicking on it or by using the Tab key. You can join the on-going chat as you like, but you can also search for a particular friend racer who may be on line, type is name in the input field on the right to see if he is in the game. If he is you can start a private chat with him, just between the two of you. Whenever there is a private chat message for you, you will see the chat button blinking. The in-game chat is ideal to meet other racers, discuss set-ups or ask for advice, or make appointments for a multi-player session. The in-game chat is not available when you are racing so you will not be disturbed. In multiplayer only the multiplayer chat is available also from the left side of the screen.
Menu help
If a menu or dialog has an orange "?" at the top right there will be an extra help dialog which you can open by clicking on the "?". VRC have copied over information which is also available in the user manual (which hardly anyone reads). But remember, by using the Google translate option you can read the user manual also in your own language, maybe the translation is not 100% perfect. So use the "?" button to find out more about all the special features VRC Pro has to offer. With the function key F1 you will also see special help dialogs with all the function keys you can use on the pit table and on the track.
Set-up support nitro buggies
The set-up support for nitro buggies has now been completed. When your mouse goes over the set-up parameters you will see set-up tips at the right side of the set-up dialog. For nitro buggies VRC have added suspension diagrams to explain the various options to change the roll canters and shock positions better. Setting up your buggy should be a lot more interesting now.
New medium soft buggy tires
VRC have released medium soft compounds for all AKA and Pro-Line buggy tires as an expansion on the current medium compound tires. Soft compound tires are under development and are being tested right now and may become available towards the end of the year. The new medium softs are available for our all-inclusive members right away, free-to-play members can buy them with vEuros directly in the game. Also available in the e-Shop are two expansion packs, one for AKA and one for Pro-Line with all four types of tires included, at 40% off.
New tracks
Newly released is the Harper Adams NEO14 track, home of one of the biggest off-road races in the world. The track was created in close collaboration with neobuggy.net, the organizer and promoter of this event. The NEO14 layout seems a bit easier and faster than the NEO13 layout, but still is very challenging. A great addition to the VRC Pro full-size off-road tracks. Round 3 of Season 3 buggies will be raced on this new track in just two weeks time. Round 6 short course trucks of Season 3 will also be held on this track.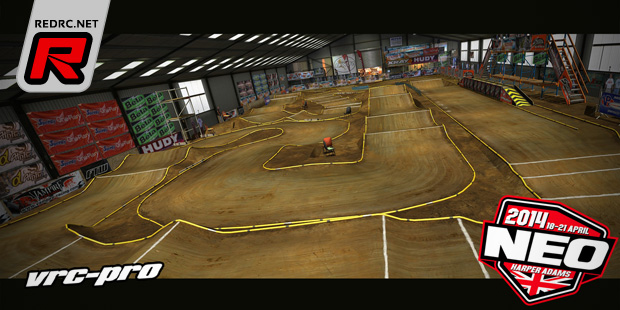 Kissimmee 04 is another new release which coincides with the IFMAR Worlds 1:10 ISTC which are being held at Kissimmee once more. However, this is the 2004 IFMAR Worlds layout. VRC may add the 2014 IFMAR Worlds layout at a later stage. This track can be used for all on-road classes. Both tracks are available for the all-inclusive members, free-to-play members can purchase the tracks in the e-Shop or with vEuros directly in VRC Pro.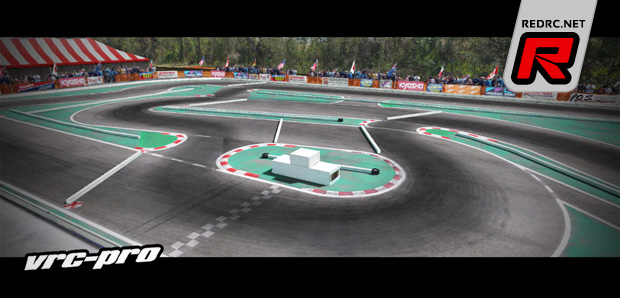 Source: VRC [vrcpro.com]
---