November 18, 2014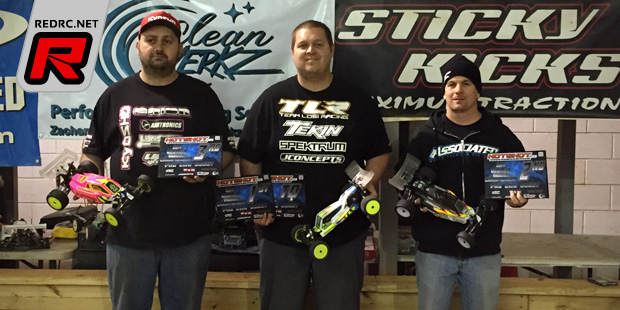 HotShots R/C Raceway played host to roughly 140 entries at the first annual Georgia Indoor Championships. The race schedule was Friday open practice with Saturday having 3 rounds of IFMAR qualifying and extended single mains with bump-ups. Carl Knight and the HotShots crew did a fantastic job providing the racers with a great layout and super consistent surface.

After lower mains were settled and bump-ups made, the extended 8 minute 2WD modified A-main got under way and saw plenty of action. TQ Max Flurer and Daimon Borkowicz both had bobbles on the first lap allowing teammate Paul Wynn to take the lead. Paul continued to lead for several minutes until he made a mistake allowing young racer Griffin Hanna to take the lead on lap 14, they both had a great battle for the next few laps as they exchanged the lead a few more times until Griffin made a big mistake. By this time Max had put on an impressive charge from 7th place to catch Paul and Robert Myer, Paul made another costly mistake and dropped to 3rd as Max took the lead. Paul would quickly get back to 2nd place behind Max and that's how they would finish; Max taking the win followed by Paul and Robert for the final podium spots.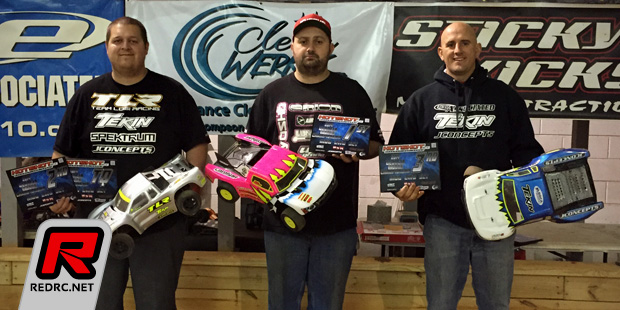 Mod 2WD SCT had another great battle, but unfortunately lap traffic had a major impact. TQ Max Flurer would lead it off early with Robert Myer in 2nd and Mark Moon in 3rd. Max was pulling away with lap times matching 2wd mod buggy until he got into lap traffic. After several crashes with lappers, Robert took full advantage and worked his way into 1st and Max now having to play catch-up. Max put on an amazing charge to put pressure back on Robert, but Robert held strong to take the win with Max 2nd and Mark taking 3rd for the final spot on the podium.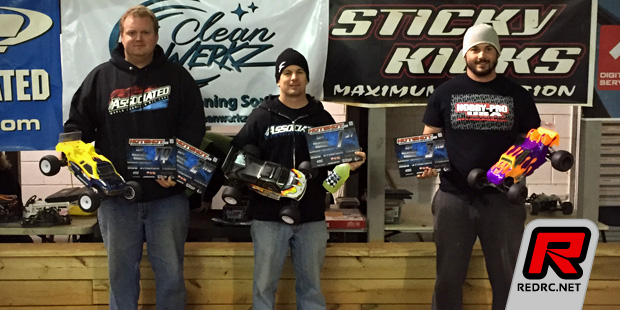 Mod truck would be up next and teammates Tim Smith and Paul Wynn were the class of the field. Paul made an early pass on the first lap to take the lead, but Tim stayed right on his bumper for the first few minutes as they matched lap for lap. Once they began to hit lap traffic, Paul was able to get through clean and Tim wasn't so lucky allowing Paul to pull away for a comfortable win. Tim would finish 2nd with Kevin Schmenk rounding out the top 3.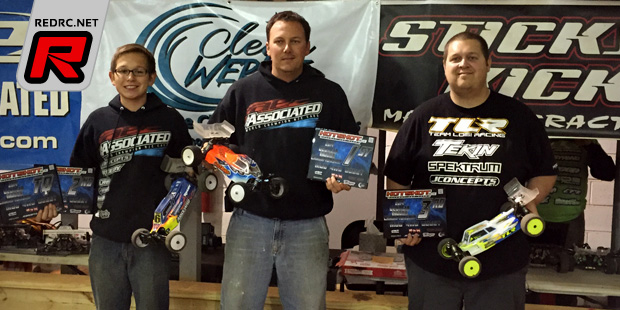 The 4WD class was very competitive as TQ man Daimon Borkowicz lead the field for the first few laps, but a big mistake by Daimon allowed Team Associated teammate Brandon Melton to take full advantage by taking the lead. Brandon would continue to lead as Daimon began to struggle with a handling issue after the big crash. Now with Max Flurer back in the action after a first lap crash, Max and Daimon would begin to battle each allowing Brandon to ride off to a flawless drive for the win. Daimon and Max would battle to the very last corner where they would have a short drag race across the finish line where Daimon finish 2nd and Max 3rd.
Source: JConcepts [jconcepts.net]
---