November 12, 2014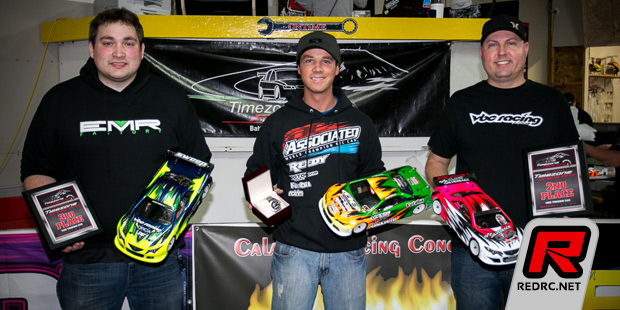 The Timezone II Grand Prix was held at La Center, Washington last weekend and has to be one of the "funnest" indoor on-road races of the year. With 120 entries and the fact that most of racers being longtime friends, the shenanigans were out of control. With a bag full of bananas, special guest and world famous announcer, Charlie Suangka, delighted the audience with his comedic style all throughout the weekend. Another guest fresh off his 2nd place finished at the IIC in 1/12 modified and his win 13.5 TC in Vegas, was non-other than Team Associated's Keven Hebert making the long journey from Quebec, Canada. Also, on hand to race as well as assist Keven was Team Associated's engineer Bob Stellflue. Another great driver making the journey from New Mexico was Max Kuenning, who just won the World GT class at the IIC in Vegas.

In the premier class of modified touring car, it was Team Associated's Keven Hebert showing his elite speed with his TC6.2 by TQ'ing all four rounds of qualifying. With each qualifier, Keven pushed the pace further from the field and the only driver in the 10 second lap times with multiple fast lap of 10.9. Team VBC Racing's Dave Ehrlich, driving the new D07, put in solid drives in all weekend and qualify 2nd on the grid. Followed by teammate Korey Harbke, piloting the D06 Dynamics, would qualify 3rd and only 1 second behind Ehrlich.
With the grid set for the single A-main showdown, it would be Hebert defending an early challenge from the VBC duo of Dave Ehrlich and Korey Harbke. With a rush attack to pressure Keven into an early mistake and their only chance to steal a victory from Hebert, the young Canadian would relish the pressure and raise his driving to another level. Slowly, he would put in fast lap after fast lap and pull away from the field. The most amazing thing about Hebert's driving was his ability to put in fast laps while going through traffic. By the end of 5 minutes, Hebert stretched out a relaxing 7 second lead and crossed the line victorious. Meanwhile, Ehrlich and Harbke would engage in a close battle for 2nd and 3rd. Ehrlich would fend of numerous charges from Harbke throughout the race as the two drag raced to the finish line. Ehrlich would finish just 0.5 seconds ahead of Harbke.
Modified TC top 5 result:
1. Keven Hebert
2. Dave Ehrlich
3. Korey Harbke
4. Korgae Scales
5. Blake Bell
Modified 1/12th scale had similar results to mod TC with AE's Keven Hebert taking TQ, VBC's Dave Ehrlich qualifying 2nd, but this time it was VBC teammate Max Kuenning in 3rd. Again, Ehrlich would attack on the start of the A-main, but the consistency of Hebert's driving was unreal. Able to place his car anywhere he wanted, Hebert would slowly pull away. However, Ehrlich was relentless and knew if he could stay close enough to capitalize on a mistake by Hebert, would give him his chance at victory. Unfortunately, the mistake did not come and after 8 grueling minutes, Hebert would finish in 1st. Finishing 2nd would be Ehrlich and Max Kuenning in 3rd.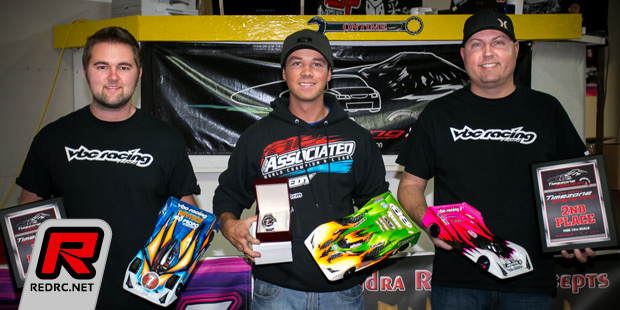 Modified 1/12th top 5 result:
1. Keven Hebert
2. Dave Ehrlich
3. Max Kuenning
4. Brian Bodine
5. Todd Mason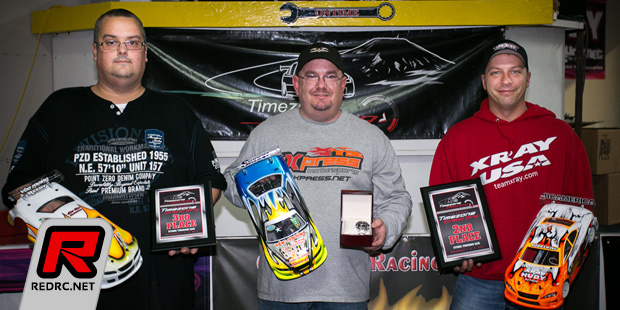 Stock Touring Car top 5 result:
1. Davin Patterson
2. Joey Krysinski
3. Frank Bortolazzo
4. Bob Stellflue
5. Luke Pittman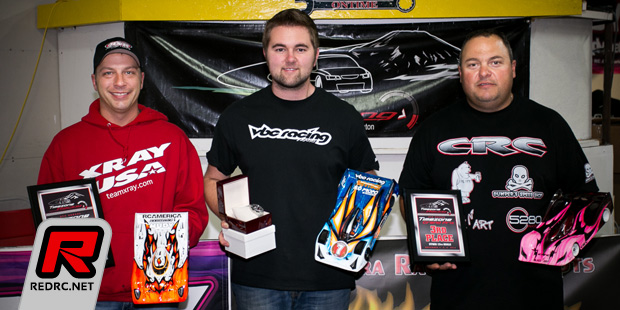 Stock 1/12th top 5 result:
1. Max Kuenning
2. Joey Krysinski
3. Mario Ficco
4. Tom Camou
5. Jim McGee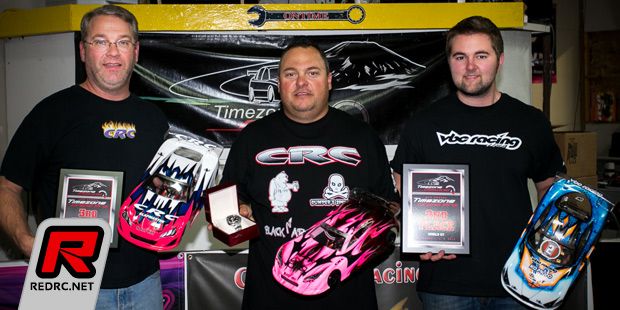 World GT top 5 result:
1. Mario Ficco
2. Max Kuenning
3. Brian Bodine
4. Korgae Scales
5. Tom Camou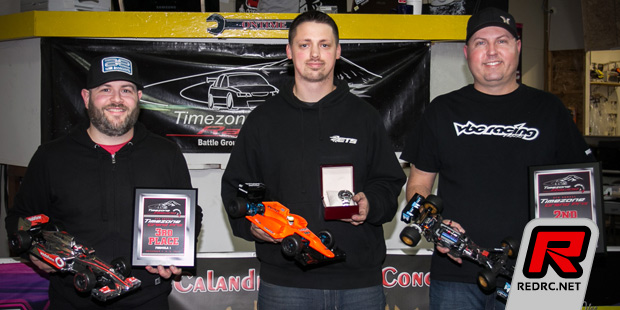 Formula 1 top 5 result:
1. Robert Bakoczy
2. Dave Ehrlich
3. Ryan Brownlee
4. Jim McGee
5. Patrick Morehead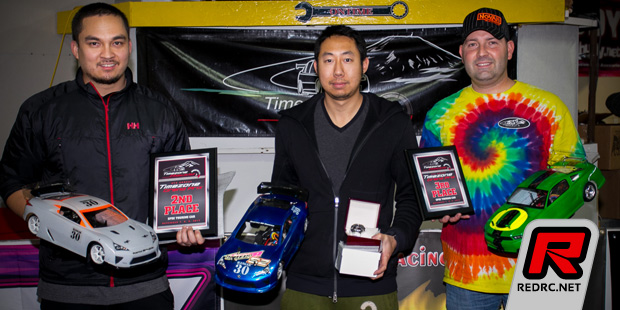 VTA
1. John Tsang
2. Jacob Reyes
3. Ryan Newbury
4. Colin Branch
5. Mike Boyle
Source: 2wdMod.com [2wdmod.com]
---