November 5, 2014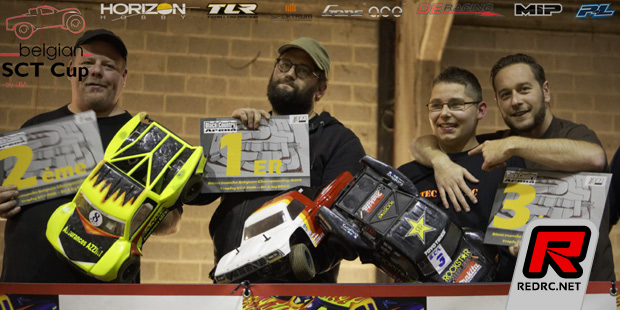 The 2014 season of the Belgian SCT Cup came to an end with the final round being held at the brand new indoor clay track of the BRCC, the first and only venue of this kind in Belgium. The new track attracted a lot of driver as the 8th round counted a new record attendance for the SCT Cup. The Pro2 class qualification then was very open with a bunch of new local drivers joining. Loic Voumard (TLR), running in a lower heat, scored the best times in the opening two rounds to take the overall TQ early while Martin Vierin (Team Associated) took the final round to start from 2nd on the grid. Behind the two Julian Andre (Team Associated), Nicolas Gandibleu (Team Associated) and Nicolas Evens (TLR) lined up tie on points.

In Pro4 Nicolas Evens (TLR) made a clean sweep to take the TQ ahead of Thierry Matthieu (Tekno), followed by Christophe Leurquin (Tekno) and Philip De Keersmaecker (Tekno).
The first leg of the Pro2 A-finals saw Martin Vierin taking the lead from start to finish, being the only driver to score 14 laps. Behind him, Julian Andre was in a good fight with Pascal Bouffioux (Team Associated) and they ended up in that order, less than a second apart. After bad luck in qualification, Pascal confirmed his great pace by taking the second final ahead of Martin Vierin and Nicolas Hammerton (Team Associated). Before the decisive third and final A-main Martin, Pascal and Julian all had a chance to take the overall win. Just as he did in A1 Martin pulled away right from the start to grab the win and the overall victory. Nicolas Gandibleu (Team Associated) had a great last final to end up second ahead of Pascal.
Pro2 top 5
1. Martin Vierin – Team Associated
2. Pascal Bouffioux – Team Associated
3. Julian Andre – Team Associated
4. Nicolas Gandibleu – Team Associated
5. Nicolas Hammerton – Team Associated
In Pro4, Nicolas Evens won the 2nd and 3rd final to take the overall win. Thierry Mathieu came out successful in the opening leg to end up 2nd overall. Before the final A-main the race was still on for the 3rd place between Christophe Leurquin and Philip De Keersmaecker as they were separated by one point only. Ultimately Christophe came in 2nd which secured him the overall 3rd place at the final round.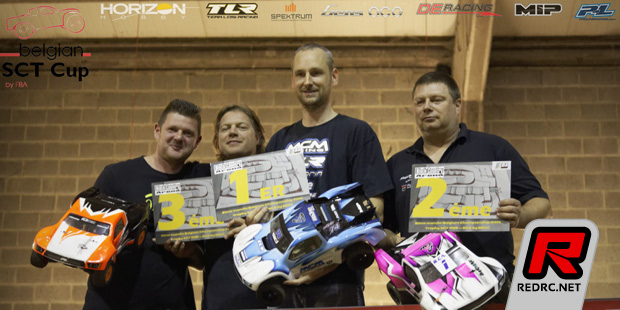 Pro4 A Final
1. Nicolas Evens – Losi
2. Thierry Mathieu – Tekno
3. Christophe Leurquin – Tekno
4. Philip De Keersmaecker – Tekno
5. Guy Pousset – Team Associated
With the 2014 titles being already decided before the final round the race was on for the following places and in Pro2 it was Julian Andre who took the runner-up spot from Philippe Gustin. Pro4 had Nicolas Evens taking the 2nd place from Christophe Leurquin
Pro2 overall top 5
1. Nicolas Evens – 696
2. Julian Andre – 692
3. Philippe Gustin – 661
4. Edouard-Benoît Michez – 658
5. Gandibleu Nicolas – 654
Pro4 overall top 5
1. Thierry Mathieu – 701
2. Nicolas Evens – 698
3. Christophe Leurquin – 682
4. Philip De Keersmaecker – 680
5. Alain Vandeuren – 668
Source: Belgian SCT Cup [belgiansctcup.be]
---