November 30, 2014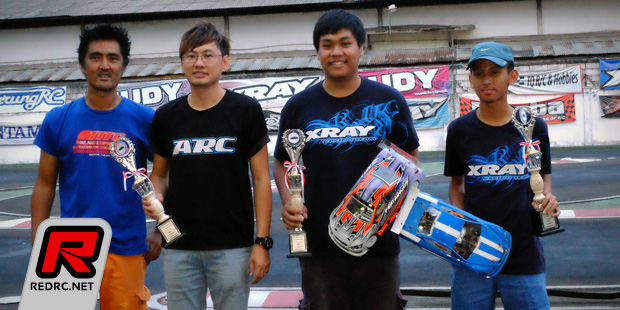 The Indonesian Electric On-Road Year End Race 2014 was held at the Sunter International Speedway, with 60 drivers competing in the premier class of 13.5T Boosted Touring Car, as well as the supporting FWD, Mini, 1/12 pan car and Scalpel classes. The weather was cloudy with a bit of rain pouring down in Saturday's qualifying but the Sunday stayed dry. In the 13.5T Boosted class, Bowie Ginting set the quickest time to secure the TQ spot in front of Muhammad Izzah, who was just 0.3 seconds behind. PY tang lined up in 3rd followed by Peter Anthonijsz and Andy Sanjaya who completed the top 5 result. In the finals Bowie scored a clean sweep all three legs, allowing him to take the overall win from Izzah and PY in 2nd and 3rd respectively.
TC 13.5 Boosted Class top 10 result:
1. Bowie Ginting – Xray/Orca
2. Muhammad Izzah – Xray/Orca
3. PY Tang – ARC/Orca
4. Peter Anthonijsz – Associated/Orca
5. Andy Sanjaya – Team Magic/Reedy
6. Ronny Suwarto – Xray/Orca)
7. Denny Pangestu – Yokomo/Orca
8. Heri Susanto – Xray/Orca
9. Suwardi Suliandy – Xray/Orca
10.Cliff Anderson – Xray/Orca
Thanks to Bowie Ginting for sending the report.
---