November 4, 2014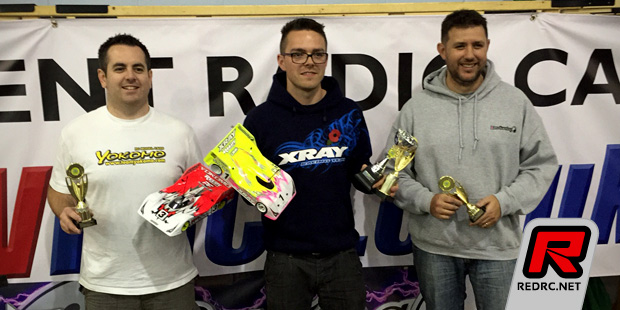 Round 1 of the 2014/15 BRCA 1/12th Scale Nationals took place at Tonbridge in West Kent last weekend. A large and highly technical track layout greeted the drivers and for the brits who attended last month's IFMAR World Championships in Florida the sight of a technical layout and good grip levels was very welcome. The weekend is split into two separate race meetings, with classes for 13.5 and 10.5 stock on Saturday and 10.5 and Open Modified on Sunday. In the 10.5 Stock class, Olly Jefferies was in commanding form driving his Reedy and LRP-powered Xray chassis. He won all four rounds of qualifying and was top qualifier ahead of reigning British Champion in this class David Spashett, driving the Zen-Racing car he has designed and developed himself. Mark Stiles was 3rd for Yokomo/Reedy.

The A-final was a lights to flag victory for Olly and he was not challenged for the duration of the 8 minute race. This was in no small part due to a great race for 2nd between Spashett and Stiles, with the pair circulating less than 0.5 seconds apart for well over 6 minutes. A number of small errors from Dave allowed Mark to continually challenge, and in the end the pressure told and Dave hit a corner marker exiting the chicane. Mark slipped through and continued to take a well-earned 2nd place, with Dave crossing the line in 3rd place.
In the 13.5 class, Keith Robertson was top qualifier driving a Reedy powered Associated 12R5.2, but in the A-final a mistake by Keith early in the race allowed Leigh Dibble to take victory at his first major meeting driving for new chassis sponsor Zen-Racing.
Sunday's Open Modified class saw a low entry of just 20 cars, but with most of the fastest drivers competing in this category it remains the class that everybody would like to win. Unfortunately that looks like being a rather tall order again this year, as Olly Jefferies was once again dominant and comfortably took TQ. Mark Stiles looked to have his Yokomo R12C3.1 chassis well dialled into the track and drove it well to qualify alongside Olly, with Dave Spashett 3rd.
The A-final was a messy affair; a number of accidents early in the race led to the field becoming very fragmented. At the 4 minute mark Olly was maintaining a 2 second advantage over Spashett with the pair having lapped up to Mark Stiles, who had recovered to 3rd after a scrappy opening 5 laps had left him well down the field. At this point in the race the carpet track surface began to lift on the fast sweeper, and after further deterioration the race had to be abandoned. A vote was taken among the drivers and it was decided to declare a result base on the running positions at that point. An unfortunate end to what was otherwise an excellent weekend.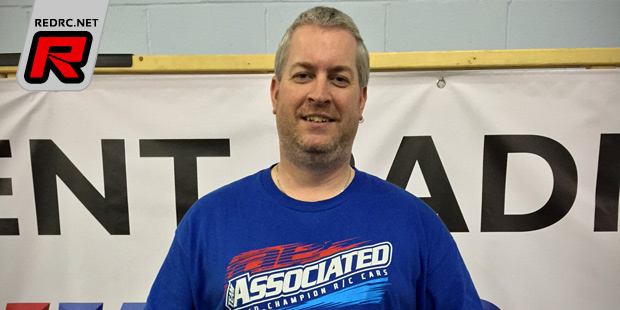 In the Sport class, Keith Robertson redeemed himself following Saturday's mistake to take the win ahead of Jim Spencer and Mark Jewitt.
Round 2 of the championship takes place at Swifts Raceway near Sheffield in 3 weeks time.
Thanks to Mark Stiles for sending the report.
---