November 19, 2014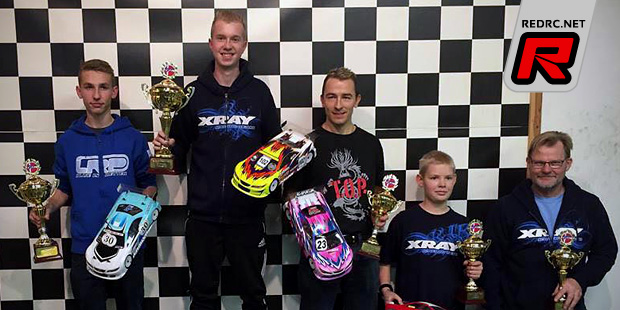 The 2nd round of the Danish DMSU nationals was held at the Broendby Racing Club in the suburbs of Copenhagen on a small and technical track in the classes of Prostock, LeMans 1/10th pan car, Formula and a FWD. The biggest classes of the weekend were Prostock and Lemans with 22 and 16 drivers respectively. In the Prostock class Mike Gosvig took the overall TQ from Patrick Folman and Soren Boy Holst. Stefan Finnich and Patrick Danielsen rounded out the top 5 result.

In the LeMans class right from the beginning it was clear that Peter Harder and Michael Johnsen would fight for the pole position. Peter took the TQ in round one while Michael stroke back in the second round. The final qualifier would decide on the pole position and it was again Michael who came out fastest with Peter Harder would start from the 2 spot while Thomas Mortensen rounded out the top 3.
The opening Prostock A-final saw Mike Gosvig taking the win from tone to tone. Behind him Soren and Patrick battled for 2nd place with Patrick being able to pull away after some time while Soren was under pressure from Stefan Finnich and Patrick Danielsen. A2 had again Mike opening a gab to Patrick right from the start with the latter also driving his own race. Soren made an early mistake that cost him about 4 seconds and that allowed Stefan to take the 3rd place. The third A-main again had Mike pulling away up front while the freight train of Patrick, Soren, Stefan and Patrick battled for the remaining top spots. Stefan could not find a way past Soren, he kept all doors shut. At the end Soren finish 3rd in this final to take the 3rd spot on the podium with Stefan right behind him.
Prostock A-final result:
1. Mike Gosvig
2. Patrick Folman
3. Soren Boy Holst
4. Stefan Finnich
5. Patrick Danielsen
6. Pelle Culmsee
7. Jack Holger Sorensen
8. Gustav Pind
The opening final of the LeMans class had Michael, Peter and Thomas pulling away soon but Peter made an early mistake that allowed Michael to cruise to the win in A1 with Peter in 2nd and Thomas in 3rd place. A2 saw again a clean start of the frontrunners and this time Peter was hot on the heels of Michael. Peter then tried to go on the inside of Michael and in a collision Michael rolled and Peter stopped his car in good sportsmanship to let Michael past again. Thomas made maximum use of the situation and jumped into the lead only to collide with a lapped car. Peter and Michael got past with Michael taking the win from Peter while Thomas had to settle for 3rd. With the win Michael took the day's win early. A3 then was just for the show and the leg saw Thomas coming in 1st from Peter and Rasmus.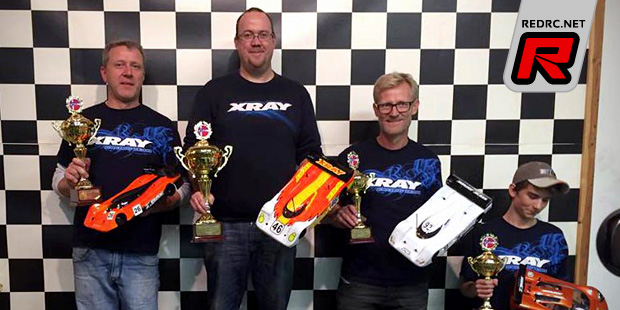 LeMans A-final result:
1. Michael Johnsen
2. Thomas Mortensen
3. Peter Harder
4. Rasmus B Nielsen
5. Steven Olsen
6. David Hansen
7. Bo Larsen
8. Henning Warner
Source: Xray [teamxray.com]
---