November 17, 2014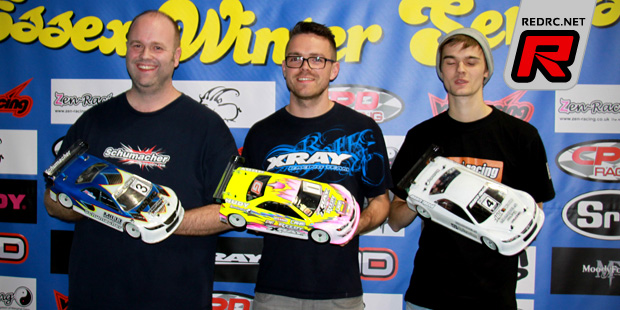 The second round of the Essex Winter Series took place this weekend.  Again, the series featured a fully-booked entry, but a few last minute withdrawals allowed the organisers to accommodate the majority of the drivers on the waiting list. One of those was current UK National Champion, Olly Jefferies. With Round 1 winner Andy Moore and expected title contender Kyle Branson at the 1/10th 200mm Worlds, championship points would certainly be up for grabs.

In the Zen Racing Modified class, it was Olly Jefferies who set the early pace, topping the opening qualifier with his Xray, ahead of now-privateer Elliott Harper and his ORCA-powered car. Former EWS Champion Paul Pinkney took third, ahead of Round 1 runner-up Stefan Chodzynski. Elliott fought back and topped the second qualifying round, ahead of Olly and Schumacher's Matthew White and Zen Racing/ARC's own David Spashett. Elliott again went quickest in the third round, ahead of Matthew and Stefan. This left the final round to decide the pole position, with Olly needing to TQ the round with a fastest time. Problems for Elliott in the early stages gave Olly a comfortable lead, and he managed to set the quickest time with the only 24 lap run of the meeting.  Matthew again took second, with team-mate Chris Grainger third. That left Olly to line up on pole position ahead of Elliott, Matthew, Stefan and Chris.
In the A-final, Olly got off to a good start, and opened a slight gap over Elliott and Matthew. But a few laps in, Elliott started to reel in Olly and by lap three was onto his rear bumper. However, as the race approached the one minute mark, Elliott took the corner leading into the fast esses slightly wrong, rolling his car but also damaging a front driveshaft. That sadly took Elliott out of the race, and promoted Matthew into second. Olly built a comfortable lead, and then turned on cruise control. Meanwhile, Stefan closed in on Matthew and the two battled for second. Despite everything Stefan had, he couldn't get quite close enough to make a serious move, and so Matthew held on to second, with Stefan taking third.
Zen Racing Modified A-final result
1. Olly Jefferies – Xray/Reedy – 23/304.31
2. Matthew White – Schumacher/Hobbywing – 23/304.63
3. Stefan Chodzynski – HB/Yokomo/Thunder Power – 23/305.75
4. Paul Pinkney – Schumacher/Hobbywing – 23/308.69
5. David Spashett – ARC/GForce – 22/300.40
6. Phil Chambers – Capricorn/Reedy – 22/303.02
7. Alan Bickerstaff – Team Associated/Reedy – 22/310.11
8. Chris Grainger – Schumacher/Hobbywing – 21/306.70
9. Max Guerola – ARC/Reedy – 17/307.59
10.Elliott Harper – -/Orca – DNF
In the VBC Racing-supported Super Stock class, the battle for the Top Qualifier position continued where Round 1 left off, with VBC's Jimmy Maddison up against the Xray's of Tony Broad and James Baker. Tony opened proceedings by topping the first round, ahead of James and Jimmy. The second round again saw Tony lead James, with problems for Jimmy leaving him well down the order, but VBC's honour was upheld with Matthew Chandler taking third. Jimmy took the third round, ahead of top Junior, Zen Racing/ARC's Will Vertigan and Luke Hobson in third. Tony wrapped up pole position by taking the final qualifier ahead of Jimmy and James. This left Tony on pole ahead of Jimmy, James, Will and Luke. A special mention for Tony here – one of EWS's longest supporters, racing in virtually all of the events in the series' three-and-a-half year history. Despite challenging for the overall championship most years, he had never secured a pole position start until today.
The A-final saw the top two break away from the rest of the field as Tony maintained a gap of around three-quarters of a second over Jimmy through most of the race.  James settled into third despite an early challenge from Will, who then had to contend with Darren Tickner in the battle for fourth.  Despite all the skill of former IIC and DHI Cup Winner Jimmy, Tony maintained his composure and didn't put a wheel wrong for the whole five minutes. Jimmy closed in during the final stages, and a last lap do-or-die move saw him launch his car off the track, leaving James to nip through and snatch second place.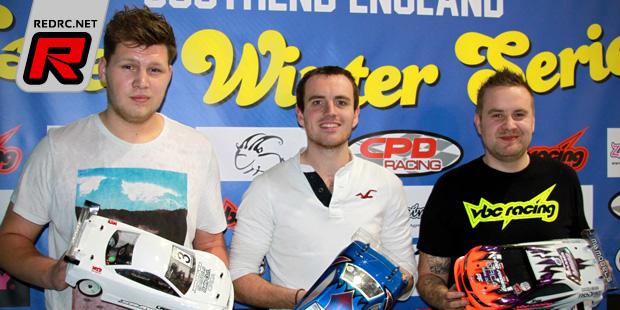 VBC Racing Super Stock A-final result
1. Tony Broad – Xray/Orca – 22/304.20
2. James Baker – Xray/LRP – 22/312.26
3. Jimmy Maddison – VBC/Orca – 21/290.81
4. Darren Tickner – Xray/Tekin – 21/300.20
5. Will Vertigan – ARC/Trinity – 21/300.38
6. Matthew Worton – ARC/Trinity – 21/300.95
7. Luke Hobson – Yokomo/Thunder Power – 21/302.67
8. Colin Gardiner – Xray/GM – 21/306.32
9. Richard Clarke – Schumacher/Trinity – 21/307.26
10.Matthew Chandler – VBC/GM – DNF
The top Juniors in the Capricorn-supported points league were, once again, Will Vertigan in Super Stock (5th overall) and Harley Eldridge in Modified (13th overall). The series continues with round 3 in December, with both Championships now completely wide open.
Thanks to Oli Meggitt for the report.
---