November 17, 2014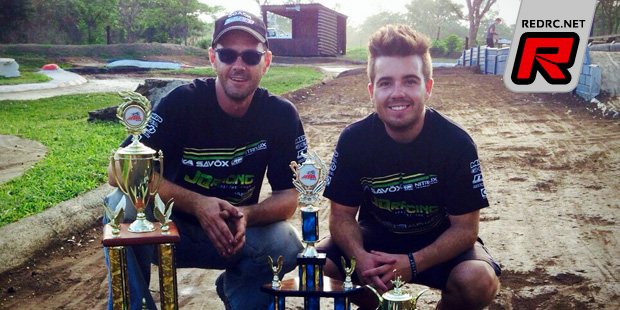 The 4th and final round of the South African 1/8th off-road championships took place at Mandalay Raceway located in Pietermaritzburg, about one hour north of Durban. The qualifying had Miguel Haasbroek took an unexpected TQ ahead of South African legend Dean Steenmans in 2nd. Warren van der Merwe would round out the top 3.

In the main Dean failed to start the race as he suffered from a technical issue in the warm up. The race got underway and Miguel took an early lead with Warren looking very racy. Miguel and Warren swapped places for the first half of the race, however, Miguel managed to pull away from Warren and never looked back ending up a lap ahead of the field. Justin van Biljon took the final podium spot.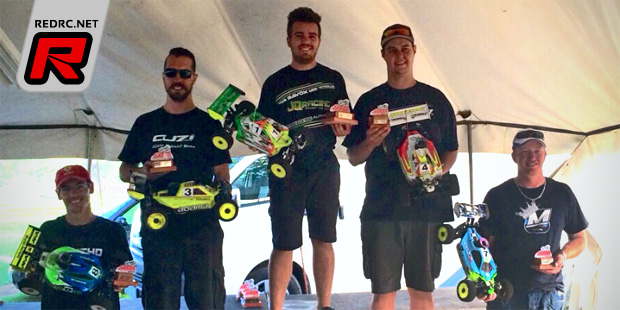 Nitro A-final results:
1. Miguel Haasbroek – JQRacing/Reds/AKA
2. Warren van der Merwe – Agama/Bullitt/AKA
3. Justin van Biljon – Mugen/Bullitt/AKA
Miguel's successful weekend would see him become South African Champion for the 3rd time. Tiaan Oelofse would finish 2nd overall with Warren van der Merwe rounding off the top 3 for 2014.
Overall top 3 result:
1. Miguel Haasbroek – JQRacing/Reds/AKA
2. Tiaan Oelofse – Sworkz/RB/RB
3. Warren van der Merwe – Agama/Bullitt/Beta
In the 1/8th E-buggy class Thomas Schmuck would take the TQ and finish 3rd in the main. This gave Thomas the overall win for 2014 and saw him win his maiden South African title in 1/8th electric.
Electric A-final results:
1. Warren van der Merwe – Agama
2. Akshay Patel – TLR
3. Thomas Schmuck – JQ Racing
Overall top 3 result:
1. Thomas Schmuck – JQ Racing
2. Christof Meyer – Xray
3. Akshay Patel – TLR
Source: JQ Racing [jq-products.com]
---