November 14, 2014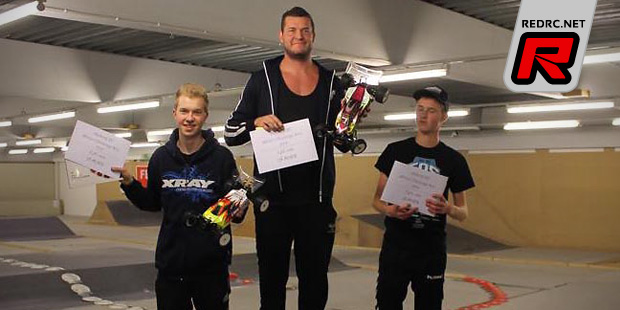 The Danish Aalborg Buggy Challenge was held at the flowing yet technical indoor track of Aalborg RC. During practice Mike Gosvig, Frederik Hovgaard, Kim Nielsen and Rene Jepsen were all showing very good pace and in the following qualifiers it was Rene Jepsen who took the overall TQ by scoring two round wins.

The opening A-final saw Rene having a good start with Frederik lining up  in 2nd place. Mike Gosvig ran into mechanical troubles at the start and found himself in 7th place but he recovered soon to start chasing the drivers up front. He was able to put some pressure on Rene and Mike ultimately jumped in front shortly after by using the large jump before the straight. With Mike in front Frederik was now in 2nd but Mike soon after made a mistake and he got stuck in a track barrier and this allowed Kim to take the lead and later the win of the first A-main. Mike came in 2nd while Rene rounded out the top 3.
The second final had Rene and Mike pulling away in front and after a couple of laps Mike found a way past Rene who then had to defend himself against Kim who tried to storm towards the front end of the pack. Kim later passed Rene and he started to chase Frederik Hovgaard and Mike Gosvig but the latter was able to defend the lead to take the win in A2.
The third and final A-main would then decide the overall result. After a good start Mike was in 2nd place behind Rene, with Frederik in 3rd. After few laps Mike tried to overtake Rene but he overjumped, flipped his buggy and needed to be marshalled. Now Kim was in the lead with Frederik in the 2nd spot and Rene in 3rd. Mike tried to recover but ended the race in 3rd place to take the runner-up spot. Up front Kim Nielsen took the overall win with Frederik Hovgaard rounding out the podium in 3rd.
Top 6 result:
1. Kim Nielsen
2. Mike Gosvig
3. Frederik Hovgaard
4. Rene Jepsén
5. Morten Krogh
6. Peter Svensson
Source: Xray [teamxray.com]
---