November 13, 2014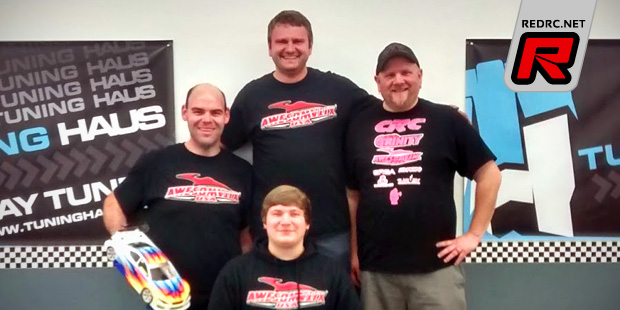 The annual Halloween Classic was held at The Gate and in the largest class, 17.5 Touring Car, Kyle Klingforth TQ'd and lead into the A-main. During the main, Kyle Klingforth and Mike Hanulec broke out into the lead while the pack behind was lead by Manny Flores in 3rd. Kyle lead until lap 26 when he closed on the trailing pack and attempted to put racers a lap down. He was taken out by the "failnado" happening at the back of the pack. Hanulec was promoted into the lead and he drove the heads up race, avoid the "failnado" while managing the gap back to second. At the end Hanulec came in 1st fooled by Brain Winn and Ronal Goetter.
Touring Car 17.5T result:
1. Michael Hanulec
2. Brian Wynn
3. Ronald Goetter
4. Jim Piersol
5. Kyle Klingforth
6. Chris Vogan
7. Brent Klingforth
8. Steven Stewert
9. Cody Woods
10.Manny Flores
In Modified Touring Car, Josh Cyrul mounted a tremendous run in the 4th qualifier to put himself 3rd on the grid and be separated by less than a second between Andrew Hardman (TQ) and Keven Hebert. On the start, Andrew, Keven, Kyle and Josh broke out into the lead pack, while behind other battles continued to rage. After 6 minutes of racing Andrew would convert his TQ into a win, followed by Keven 2 seconds behind, and Josh another 2 seconds behind.
Touring Car Modified result:
1. Andrew Hardman
2. Kevin Hebert
3. Josh Cyrul
4. Paul Ciccarello
5. Josh Hohnstein
6. Cody Woods
7. Michael Hanulec
8. Brent Klingforth
9. Kyle Klingforth
10.Mike Wise
In the sparse 13.5 Touring Car class, Mike Hanulec TQ'd the class, and took the win after a good battle with Michael Jones after tapping out of the lead. Once Hanulec returned to the lead he cruised to the win. Zac Donathen rounded out the top 3.
Touring Car 13.5T result:
1. Michael Hanulec
2. Michael Jones
3. Zac Donathen
4. Mike Pavlick
5. Phil Vertrees
6. Jim Wu
7. Adam Russell
In the Vintage TransAM class, Mark Tiamson would qualify 2nd behind Chris Vogan. In the main Vogan and Tiamson would both have a rough start, but by lap 5 Mark Tiamson would take the lead and soon open up a large lead over eventual 2nd place finisher Chuck Mackin. Mark would lap the entire field on the way to the win.
USVTA result:
1. Mark Tiamson
2. Chuck Mackin
3. Pat Barber
4. Zack Schuttenberg
5. Geoff
6 Dave Kuhart
7. Jeffrey Moczynski
8. Corey Groves
9. Tony Williams
10.Chris Vogan
In USGT, Brian Wynn would TQ the class over Chris Vogan. At the start Brian would run into troubles handing the lead over to Chris Vogan would would run away with the race. Brian would recover for second with Rob King rounding out the top 3.
USGT result:
1. Chris Vogan
2. Brian Wynn
3. Rob King
4. Jerry Birchfield
5. Adam Hutchison
6. Steve Schuttemberg
7. Nate Wagner
8. Von Perry
9. Bill Eisenhard
10.Manny Flores
Source: Awesomatix [awesomatixusa.com]
---