November 18, 2014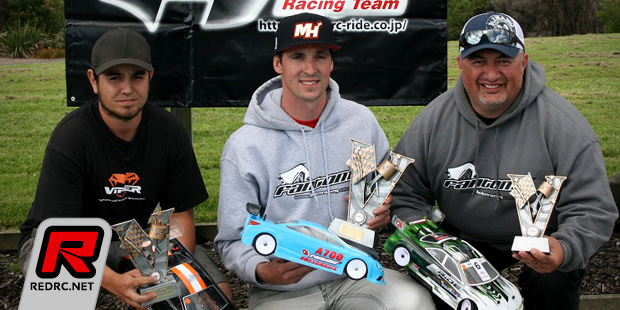 The 2014 Edition of the New Zealand North Island EP Champs took place at the North Harbour RC Car Club Track which is situated at the most Northern part of the country's biggest city Auckland. The event was somewhat of a sombre affair on the knowledge that the track was ear marked to be redeveloped into a swimming complex in a short few weeks after the event. Come qualifying, the weather played ball after months of rain in the region, the sun was out, and so were all challengers for this event.

As to be expected locals would show the way during qualifying and the visiting drivers would having to play catch up on a very green surface. Qualifying would be single best race time over three rounds and the TQ in the ISTC Touring and 13.5T Touring class went to Simon Noton while in 21.5T Rob Stephens lead the class. The pan car classes of 1/12th scale, Pro10 and Formula were lead by Nigel Bish while the Mini class had Stephen Lee taking the pole position for the finals.
Finals day would be the standard triple mains, using IFMAR points to determine the overall winner. In ISTC Touring local Simon Noton would set the pace during qualifying, but come finals he could not convert his TQ into a win, but did manage to retain a 3rd place on the podium for the weekend. Rob Stephens would take P1 for this class, with Tarankai driver Daniel Burrows taking second.
ISTC top 3 result:
1. Rob Stephens
2. Daniel Burrows
3. Simon Noton
In 13.5 Boosted Touring Simon would redeem himself with two very convincing wins, followed by Shane Mangu and Anthony Mara.
13.5 Boosted top 3 result:
1. Simon Noton
2. Shane Mangu
3. Anthony Mara
The biggest class of the weekend, 21.5T Blinky Touring, would be taken out by local ace Rob Stephens with two very dominate finals to take the crown. Newcomer to the class Shane Mangu kept him honest all weekend taking 2nd for the weekend.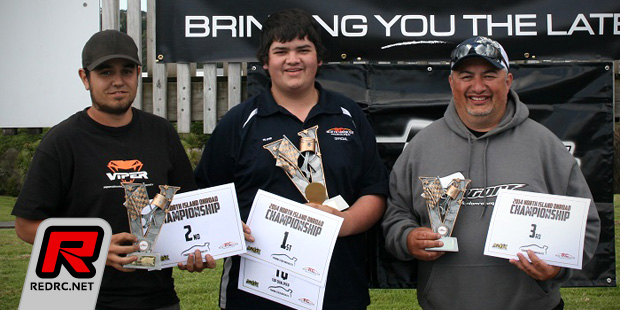 21.5 Blinky top 3 result:
1. Rob Stephens
2. Shane Mangu
3. Anthony Mara
Pan class TQ driver Nigel Bish would prove to be unbeatable across all three classes, and turned his TQs into wins in all three races, and he did this with all three of his rides being borrowed from fellow competitors. Finally the Mini Class would be taken out by Neville Bishop who drove faultlessly in all three finals.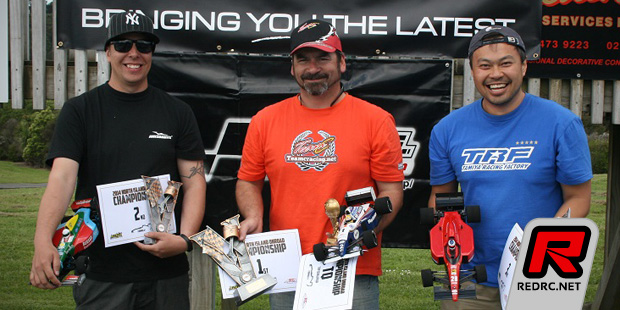 As a bit of novelty for this event – Race Director & Sponsor Darryl Maslin put on the Ride Cup Top 10 shoot out during the lunch break. Top 10 entrants were based on racers single fastest lap time during qualifying. These ten drivers would get a single lap shoot out, starting from slowest through to fastest for winner takes all. The field consisted mainly of ISTC Touring Cars plus one 13.5 Boosted TC a Pro 10 and Pro 12. With the pressure of putting in one blinding lap, most people though the Pan cars would take it, as they did not need to warm their tyres. Nigel Bish running his Pro12 would be the most spectacular, with a massive flip down the back straight, leaving most thinking it was Mark Webber running a Mercedes at Lemans. But unlike Mr Webber Nigel would land on his wheels and continue on. The top 5 cars would be separated by three hundreds of a second over the lap. It was a local affair for the results with 3rd Shane Mangu, 2nd placed Simon Noton and Rob Stephens in first.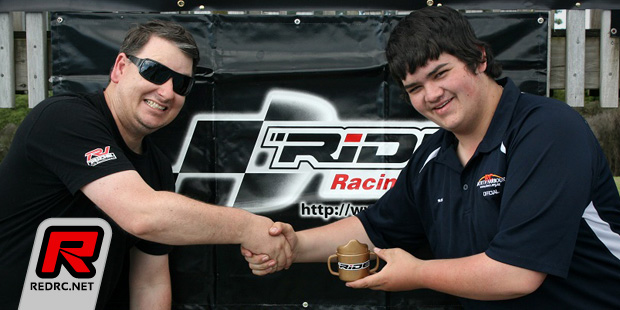 Source: M Branz [mbranz.co.nz]
---