November 4, 2014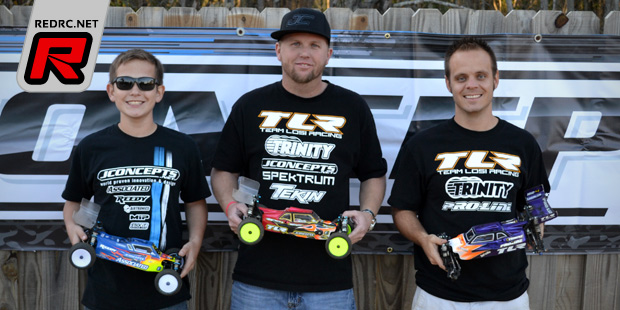 It was a picture perfect day in sunny Florida at the Hurricane Off-road RC Track located inside Lake Park just outside of Tampa for the 3rd round of the Super Cup Championship Series. The brutal summer weather had taken its toll on the historic track and it took tons of hard work from the entire group of volunteers as the racing surface was primed for great outdoor racing. When Practice began Friday, racers searched for tire combo and setups for the changing track surface as it began to burn a groove in. At daybreak on Saturday racers filled into the park and we all were very excited about track conditions. The crew laid down Calcium on the track the night before and a small rain shower in the night wet the surface perfectly. The groove that had begun to show in practice was still there and more defined than when we left. Practice ended race morning just before 9am as the heat sheets filled with 132 entries from as far away as Tifton Ga.

4wd Modified Buggy was the largest class on the day reaching a C main which had Kevin Welfey and Jamie White bump to the B. There would be 3 different leaders of the B main and looked as Jeremy Harris was going to race into the A, until a break halfway through that allowed AJ Marasco and Riker Gatenby to take the final bumps. The TLR 22-4 driven by Leon McIntosh set a blistering TQ pace in quals to lockdown P1 for the start. JConcepts and fellow TLR teammate JR Mitch pushed his 22-4 to the limit and took the lead at lap 5. Leon would run to a 2nd place finish with Daimon Borkowicz edging out Ryan Eckert for 3rd with Eckert taking 4th. 5th would go to B main runner up AJ Marasco.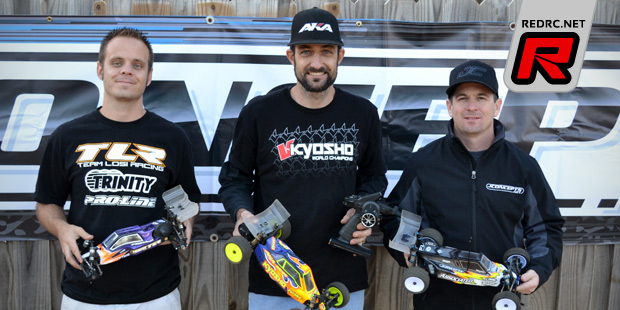 Modified 2wd Buggy continued the trend on the day with amazing racing. Ryan Eckert and his Kyosho RB6 dominated quals to ensure a top starting spot. Peyton MacDonald led every lap of the B main along with Collin Cabre 2nd with them racing to the A main. Ryan Eckert displayed a clinic of accuracy along with Leon McIntosh and Paul Wynn that took 1st, 2nd and 3rd but the action mid pack was intense. Jader Lopez, Peyton MacDonald, Collin Cabre and JR Mitch, changed places so many times that it was near impossible to keep track. Back and forth they battled for the entire 5 minute main. Lopez put a lot of pressure on Peyton and made a final pass to hold on for 4th as Peyton fished 5th. Cabre and Mitch swapped 5 times at the line and many more on the track. Cabre, right at the very end way able to hold on for 6th.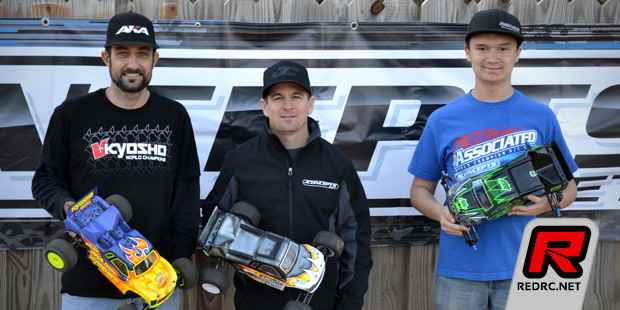 In Modified Truck, JConcepts Paul Wynn powered his Team Associated CT4.2 conversion to the top starting spot. Ryan Eckert put the pressure on Paul at the start and the two traded places a few times, but as time was winding down on the race clock, Paul held Ryan's last lap charge for the win. Ryan was 2nd with Riker Gatenby 3rd, AJ Marasco 4th and Dan Witkoski 5th.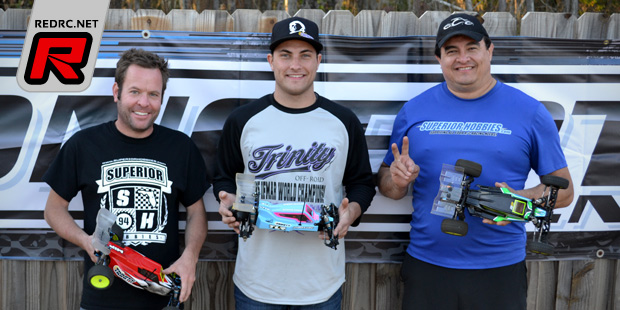 2wd Expert Stock Buggy once again provided some exciting racing in both quals and mains. Recently crowned National Champion, Jeremy Harris won both of the quals locking up the number 1 starting spot. It was a great battle for the rest of the starting positions as it came down to tie breakers in the qual points format. Jonathon Paulk and Robert Molina would start 6th and 8th for the B main but both drove hard to make the dance as they finished 1-2. Harris lead the field at the tone but snagged a pipe on lap 1 and fell back, Ruffy Rios would take over the lead as TJ Bradley kept tight to his rear bumper. Robbie Michaels worked his way forward from 6th to 3rd. With several position changes during the first 3 laps, Harris had made his way back to 2nd about 4 seconds behind Ruffy. 3 laps later Harris had made up the gap as he attached to the rear of Rios' TLR 22 2.0. One lap later Jeremy made a clean pass to the top spot and put his TLR to P1 but Ruffy wasn't going away quietly. Rios kept pace with Harris until the final lap finishing only .5 seconds back. Robbie Michaels was 3rd as TJ Bradley 4th and Ryan Rios rounded out the top 5.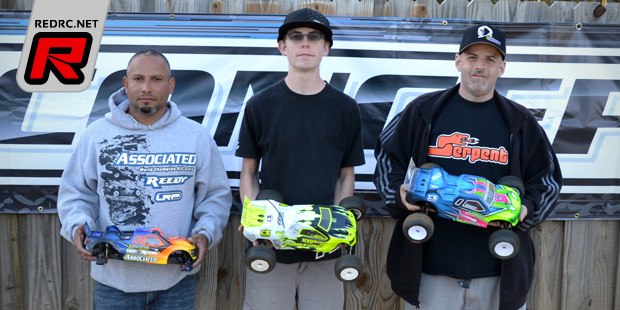 Stock Truck qualifying was controlled by Tilar Pollock wheeling a Kyosho RT6 winning both rounds. JConcepts Team driver Walter Cruz fined tuned his Team Associated T4.2 for the A main and pulled off a pass at the start and looked to run away with the race, but Tilar regained his composure after the bobble and moved back to the rear of Walter and quickly moved back into the lead were he never looked back. Walter held the number 2 spot as Erik Everett reeled him in for a last lap pass to finish 2nd. Walter would cross the line 3rd. Joe Barbera from the B main had a great consistent run for 4th as Aaron Sikes was 5th.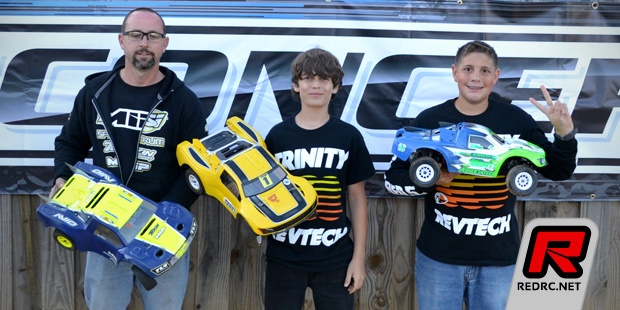 John Prickett was the top qualifier for Stock Short Course, but it was a pair of teenagers that stepped up for runs to the front. Jeff Lynn had a nice top 5 run and Jonathon Paulk gained 2 places at the start for 4th overall. TQ holder John Prickett would race to a 3rd at the tone as Robert Molina drove his heart out from 8th starting position to a final 2nd place finish. It once again was a very special day for a young and very fast Trey Roberts as he started 3rd with his eyes focused on the prize. On lap 1, Trey moved to 2nd just off the leaders' rear bumper. Trey was buying his time until lap 5 and it was the TLR 22SCT and its strong yellow paint black stripes that moved to the top spot. Trey led the remaining 4 laps for his first ever Super Cup win.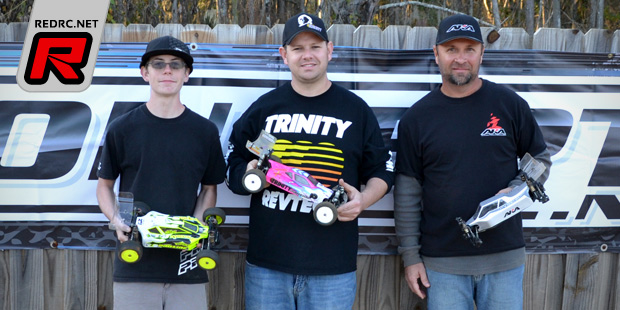 13.5 4wd Buggy TQ was held by Tilar Pollock piloting a Kyosho Lazer. Tilar fell back at the start, but was still very close to Kevin Abbott and Ken Bills that were running 1-2. Iy only took Tilar 1 lap and he was atop where he started. Kevin Abbott sat 2nd right in Tilar tracks. On lap 5, Kevin made his move and took the lead back from Tilar. Abbott's Trinity powered TLR 22-4 was on rails, glued to the racing surface and near flawless as he nailed every corner for the win. Pollack was a close 2nd. With Ken Bills 3rd, Dan Witkoski 4th and George Gatenby 5th.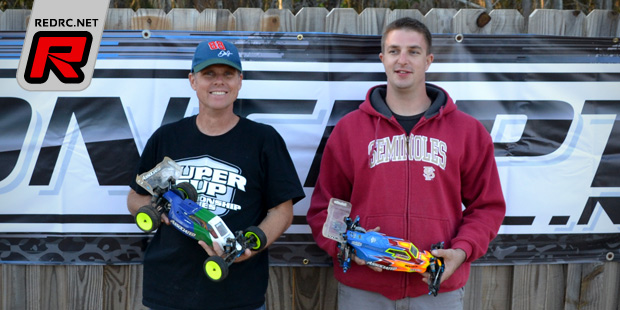 Independent 2wd Stock Buggy had a great Cinderella story finish. For the B main, Shawn Proctor would make a late pass on Chris Menar as the pair took the final 2 bump spots for the A main. Matt Kepple fought hard in the 2 rounds of qualifying and took the TQ spot. It was all out war in the main with lead changes and racers fighting for every inch. Cole Cabre took the early lead until lap 4 and longtime racer, Tracey Proctor sat atop the leader board. Walter Lafleur V jumped from 4th to 2nd in one lap as the racing continued behind. Matt Kepple and Cole Cabre went back and forth for the final 4 laps with Kepple holding on to 3rd and Cole 4th. Chris Menar from the B battled to a great top 5 finish. Walter tried to find a way past Tracey for the race lead as the pair put on a great race up front. Tracey was near perfect with his racing lines making Walter take risks to pass. Walter was high, low, inside, outside and just unable to find a way past. One last effort from Walter caused a small bobble and he lost touch with Proctor. Tracey Proctor crossed the line all alone for a final victory lap. Tracey has always been a great pleasure to be around, race with and he has now earned his first ever Super Cup win with a great display of composure and ability.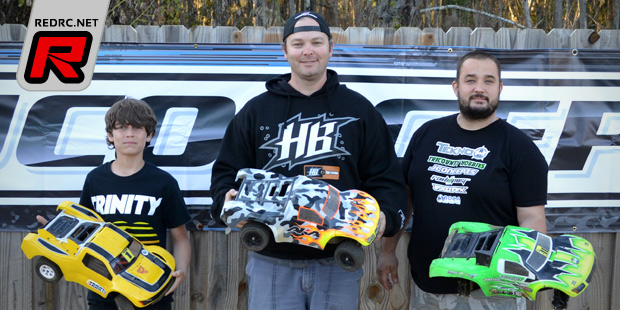 Intense 4WD Short Course action saw TQ holder Scott Johnson fall from P1 to 4th at the start. Janos Lazar and Trey Roberts would try to pull away from the pack as those behind would shuffle around the leader board for the first couple of laps. Scott regained control of his truck and began a charge back forward; by lap 4 he had retaken the lead and began to drive away. Lazar and Roberts had a good fight for 2nd but Lazar found a rhythm and moved away to hold 2nd place. Trey would finish 3rd and Cole Cabre from 8th on the grid moved to 4th overall as Tom Allen rounded out the top 5.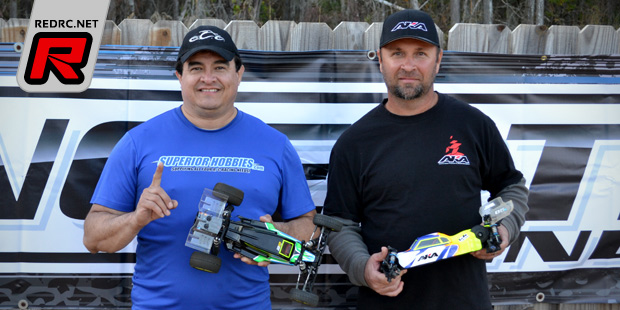 The 40 and Over Open 2wd Buggy class saw Ruffy Rios in complete control taking the TQ and win. Brian Geist had a great start as he drove from 4th to 2nd for the full 5 minute main. Ken Bills fell to the middle of the pack, then made his way back to 3rd. Dan Witkoski started 6th and ran up to finish 4th, with Jim Hess in tow for 5th.
In Novice, Walter LaFleur would start P1 for the mains. Young AJ Reynolds would jump to the lead at the start and never looked back leading every lap of the main. Walter would drop to 4th on lap 2, but made his way back to second at the end of the 4 minute main. Ethan Kepple fought his way up to 3rd from the 6th staring spot. Collin Bunn would race home to 4th as Justin Barbera was 5th and Seth Watford 6th.
Source: JConcepts [jconcepts.net]
---