November 14, 2014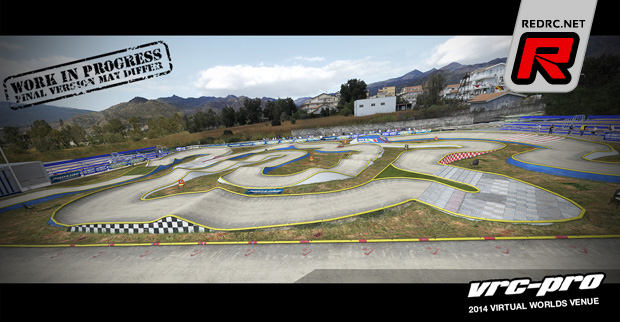 In the latest instalment of their VRC Pro column Virtual Racing Industries introduce the VRC Worlds schedule and they show how realistic the RC car simulator is. Starting with the VRC Worlds schedule, six major events on three exciting tracks lay ahead. Yes, just three tracks because this year VRI have combined classes to race on the same track, just like what happens at real events. Last year, 2654 racers participated in the various classes including some really big names for the real RC racing scene, like Ronnefalk, Joor, Wollanka, Craig, Gillespie, and Lutz.
This year VRI are looking to more than double this number with the addition of the Spec classes, making the 2014 VRC Worlds by far the biggest RC happening in the World. Don't be surprised to see more big names appearing in the 2014 VRC Worlds – many have been invited.
The nitro buggies and short course trucks will be racing on the Naxos 2014 IFMAR Worlds track. This new track will be released two weeks before the VRC Worlds to give everyone an equal chance to practice for the event. The nitro buggies will race in the normal (counter clockwise) direction like at the real IFMAR Worlds, and will feature a gruelling 60 minute main final. The short course trucks will be racing in reversed direction and feature a 15 minute final, meaning at least one battery change during the final.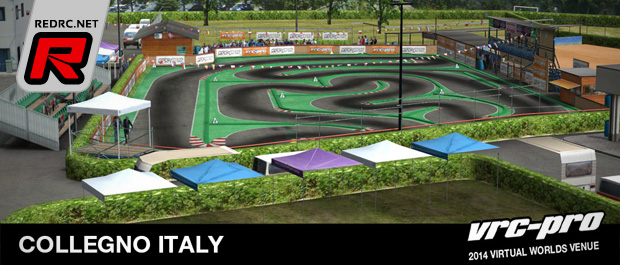 1:10 and 1:12 Electric will be racing at Collegno, Italy, host of the 2006 IFMAR Worlds. 1:10 ISTC will be racing the normal direction (counter clockwise) and will feature a 15 minute final, requiring two pit stops for a battery change. 1:12 Sportscars will be racing in reversed direction and will also have a 15 minute main final. The extended main finals are a "worlds first" for electric racing. A battery change takes about 15 seconds and this will throw in a completely new strategic dimension for these classes. Motor selection and gear ratio will become even more important.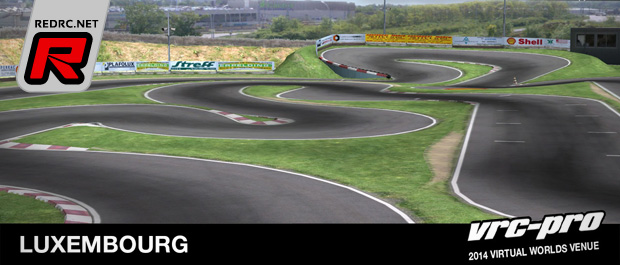 1:8 and 1:10 nitro on-road will visit the spectacular Luxembourg track for their Worlds contest. 1:8 sportscars will race the normal counter clockwise direction and will have a one hour main final, while the 1:10 200mm sedans will race in the opposite direction and will also feature a 60 minute main final.
All Worlds events will start with free practice (not mandatory to participate), a six runs qualifying round, a two runs semi final, and a one run main final. The Worlds will be split up in Pro, Sport and Club classes.
The three Worlds tracks will be free for all members from 1 week before the event until a few days after the event is finished giving everyone equal chances to practice on these tracks, develop good setups and most important of all, good rhythm!
2014 VRC Worlds schedule
SC Trucks – Naxos – Dec. 3rd till Dec. 17th 2014
1:12 sportscars – Collegno – Dec. 3rd till Dec. 17th 2014
1:10 200mm nitro – Luxembourg – Dec. 3rd till Dec. 17th 2014
1:8 nitro buggies – Naxos – Dec. 17th till Dec. 31rd 2014
1:10 ISTC onroad – Collegno – Dec. 17th till Dec. 31rd 2014
1:8 nitro sportscars – Luxembourg – Dec. 17th till Dec. 31rd 2014
Adaptor with 1 month free all-inclusive
Get our unique VRC-3NT USB adaptor now and get a month of absolutely free access to all available content, all tracks, all cars and all components. With the USB adaptor hooked up to a spare receiver you get the best control of your virtual RC car you can imagine: your own transmitter. Make all the adjustments you want on your own transmitter, like exponential steering or throttle, adjust servo end points, whatever. Everything you adjust on your transmitter will affect the virtual car in exactly the same way as it would affect your real car. The special December offer starts November 15th, so take advantage now. Allow one to four weeks for the adaptor to arrive, depending on your country.
Virtual vs. Real
VRC Pro is a simulation of RC racing. The question always is: how realistic is it? VRI have conducted two video studies of real events and virtual events which took place on the same tracks. The first one was the NEO14 main final raced earlier this year, and the Grand Opening race at the virtual NEO14 track raced in October. Choosing similar camera angles and zoom as the in the video produced by neobuggy.net VRI were able to show the first laps of both races side by side, and not to their own surprise, they came out incredibly close. Racing lines, speed, air time, all looked amazingly similar. And so were the lap times. You can find the comparison video here.

The second study was between the Euro Nitro Series final at Fiorano Italy and the virtual equivalent raced at the same weekend. Again we were able to capture our footage at about the same angles and zooming and the similarity between virtual and real was just amazing, once more. VRI even compared slip angles of the cars by rewinding a part in slow motion as this shows slip angles better than at high speed going forward. Again, an astonishing similarity between virtual and real. Nothing fixed or manipulated, this was just a plain comparison. Click here for the video. A sim is as good as it feels. RC racing is all about feel, expecting a certain reaction of your car depending on the input on your radio. We have spent 13 years to develop the worlds most advanced physics and vehicle dynamics engine for r/c cars, recognised by sim experts as perhaps even "the best physics" of all racing sims.
Source: VRC [vrcpro.com]
---