December 3, 2014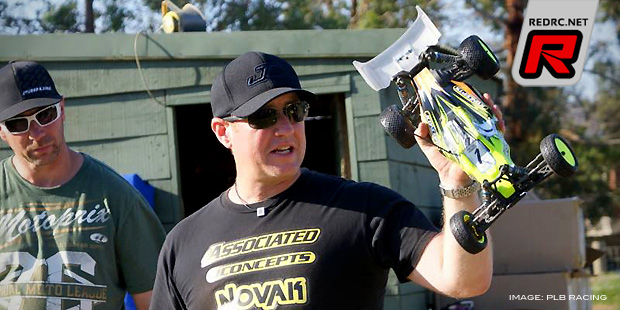 Held at the Knox track in the Eastern suburbs of Melbourne, the 2014 Victorian State Titles was the final major race of the year in Australia and it saw over 160 entrants treated to a fast, flowing and fun natural dirt track in high temperature summer conditions. Control tyres for the event were JConcepts 3Ds in blue compound for the rear, and JConcepts Bar Codes in blue compound for the front of the 4WD vehicles. 6 national classes were on offer, with 2WD and 4WD buggy in both Modified and 17.5T, 2wD SCT and Stadium Truck. Victoria also runs 21.5T 2WD and 4WD buggy classes which this year saw many junior drivers racing against the adults.

Josh Pain, fresh from his double TQ and 4WD Open win at the Nationals a month prior, had made the trip over from the West Coast for the event adding to the depth in the Modified classes. This event was also the first Mod race for newly crowned 4WD 17.5T national champ young gun Cameron Zammit. In 2WD Modified Ray Munday (Team Associated) was untouchable all weekend, TQ'ing 3 out of 4 rounds and winning the first two finals to take the title. Josh Pain took 2nd after winning A3, and track builder Simon Heally an impressive 3rd in a tough field. Cameron Zammit (Team Associated) impressed with an A final in his first mod race, showing he will be a force in the future.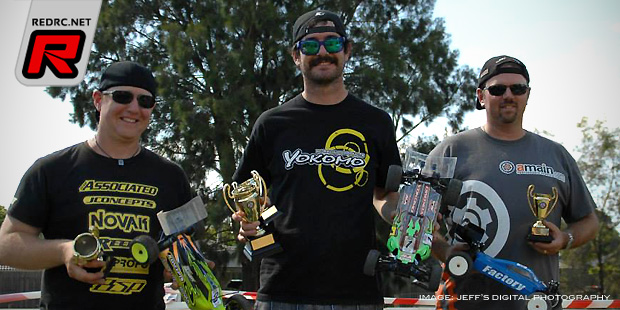 In a reversal of 2WD, Josh Pain (Yokomo) TQ'd 3 out of 4 rounds in 4WD and won the first two A-finals to take the title from Ray Munday (Team Associated).  A1 was a very close race though, with the lead swapping several times before Josh successfully passed Ray on the last lap for the victory. Ray won A3 to seal 2nd overall, with Andy Bishop (Xray) in 3rd after a massive battle including Ash Peeler, Simon Healy and Andrew Selvaggi.
Local racer Andrew Crowe (Kyosho) TQ'd 2WD Stock but had a terrible run in the finals, leaving Simon McHugh (Kyosho) to take an impressive win from multiple national champ Scott Giles (Schumacher) and the very impressive 11 year old Carter Sims (Kyosho) making it three winners from 3 finals in this tough class.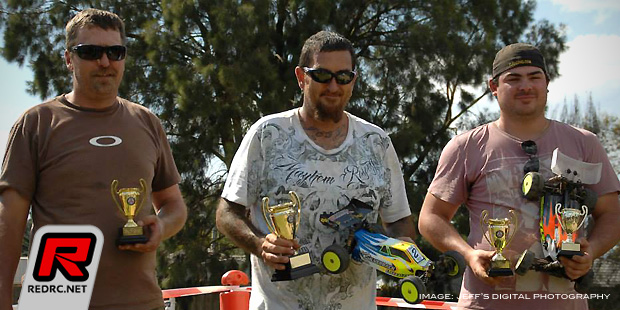 In 4WD Stock Kyle Sanders (TLR) took the TQ against a tough field, but it was Andrew Crowe who took the title with wins in A1 and A2. Kyle narrowly missed the win for 2nd, with Andrew Adamic (Team Associated) in 3rd.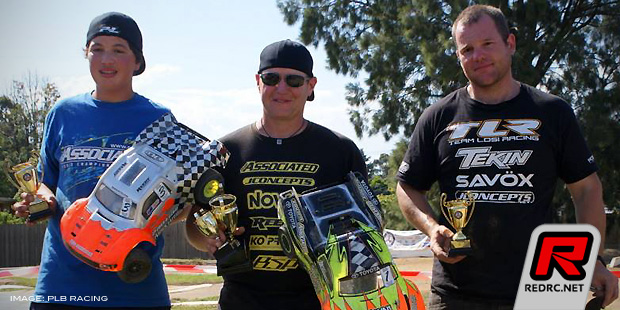 The SCT class had 2013 national champ Ash Peeler (TLR) TQ-ing round 1 but Ray Munday (Team Associated) then took the next three rounds and the first two finals to take the title after some very close racing. Cameron Zammit (Team Associated) finished a very impressive 2nd overall from Ash Peeler (TLR), who suffered in A1 and A2 but won A3. Mark Rogers was an unlucky 4th.
In Stadium Truck Ash Peeler showed why in this meant to be a truck specialist in Australia, with a clinical demolition of the field. He won A1 and A2 by 10 seconds with his mid motor TLR truck to take the title from Scott Cameron (Team C) and Andre Morton.
2wd 21.5T is a well supported class in Victoria, with close to 20 entries at this event. With regular winner John Wiggins not able to enter the event, it was anyones race. Roger Fong (Team Associated) had been practicing hard and took TQ and first, but was pushed hard by 10 years old Michael West (Team Associated) with Corey Gillet from Wodonga finishing 3rd.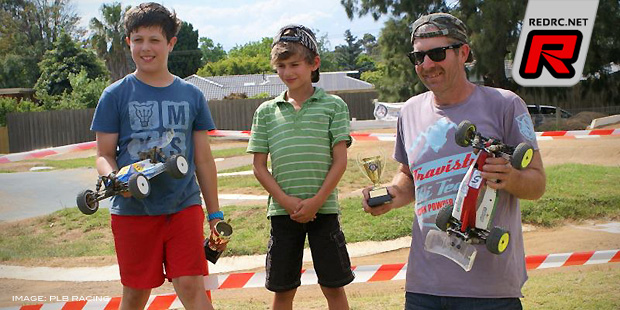 4WD 21.5T was all about the young guns. 6 out of the A-finalists were under 12, and it ended up being a race between 2 of them, Michael West and 11 years old Lachlan Salvatore. Lachlan won A1, Michael A2 with Michael then winning the A3 showdown after a very close race to take the win – a fantastic result for him and the sport. Ash Gephart took 3rd, with 2WD winner Roger Fong an unlucky 4th after DNFs in the finals.
Thanks to Ray Munday for the report.
---