December 15, 2014
Round 3 of the 2014/15 BRCA 1/12 Scale Nationals took place at Tamworth near Birmingham last weekend. The flowing track layout provided some excellent racing across the field throughout the 2-day event. There was additional coverage of the event in the form of a live radio broadcast provided by Downforce Radio. The race commentary can be played back by following the links on their homepage or downloaded as a podcast by searching for 'downforce radio'. The weekend is split into two separate race meetings, with classes for 13.5 and 10.5 Stock on Saturday and 10.5 and Open Modified on Sunday.

In Saturday's 10.5 Stock class, Olly Jefferies was in his usual form driving his Reedy and LRP powered Xray chassis. However, a new challenger came to this event in the form of German driver and current European 1/12 Stock Champion Markus Mobers. Markus drove his Orion powered On-Point car to an impressive TQ which brought to an end an impressive run for Jefferies which has seen him display the number 1 on his car for a continuous period of well over a year. David Spashett would line up 3rd for the A-final ahead of Mark Stiles, who overcame some early morning struggles to complete the second row.
The A-final was a gripping spectacle for those watching and a brilliant race for those taking part in it. Beforehand the question was asked about Olly's ability to race closely with other cars in a heads up race, mainly due to the fact that he has completely dominated the season so far and in most of the races has been way out ahead on his own and under minimal pressure. The answer came in the form of a breath taking pass for the lead which drew a gasp from the watching crowd. Markus ran ever so slightly wide exiting a chicane, and Olly capitalised on what may have been his only opportunity to get into the lead to position his car inch perfectly and squeeze though a gap of barely two car widths wide. A better pass you are unlikely to see anywhere; it required surgical precision and mutual respect between the two drivers. The pair raced closely for the entire 8 minute race and crossed the finishing line a fraction of a second apart. Elsewhere in the race there were other battles raging, including that between Mark Stiles and Chris Kerswell for 3rd place. Mark managed to keep his cool despite sustained pressure from Chris and they finished 3rd and 4th respectively ahead of David Spashett, who dropped to 5th following an earlier mistake whilst running in 3rd place.
In the 13.5 class, Keith Robertson was top qualifier driving his Reedy powered Associated 12R5.2 and converted that to the class win. Leigh Dibble finished 2nd with an Orca powered Zen Racing chassis.
After the superb racing on Saturday's event, everyone was looking forward to faster motors and more grip on Sunday. There were a few bleary eyed races in the pits on Sunday morning following the annual BRCA 1/12 section Christmas party where several of the revellers remained in a cocktail bar until the early hours of the morning.
In Open Modified battle was once again waged between Jefferies and Mobers, but this time it was Olly who came out on top and would line up at the front of the A-final grid. Markus was 2nd ahead of Adam Walker-Catchpole, who was benefiting from the technical assistance of his Mobgums tyre sponsor Mobers and put in a superb run in the last qualifier. Mark Stiles was 4th on the grid again ahead of the guy he's spent most of this season racing with, David Spashett.
The A-final was once again a cracker, with Jefferies and Mobers pulling away from the field and totally dominating the race. In fact by the end they had lapped the entire field, such was their relentless pace during the race. Despite a few minor errors and having a car that by his own admission was not as good as he'd had in qualifying, Olly held on to take the win. Markus remained close enough for a last gasp attempt at passing Olly into the last corner, but he was unsuccessful and had to settle for 2nd place. David Spashett was and excellent 3rd ahead of Mark Stiles, who was running strongly and had pressure David for a large portion of the race before falling back after a mistake in the closing stages. Andy Murray had a consistent run to finish in 5th place.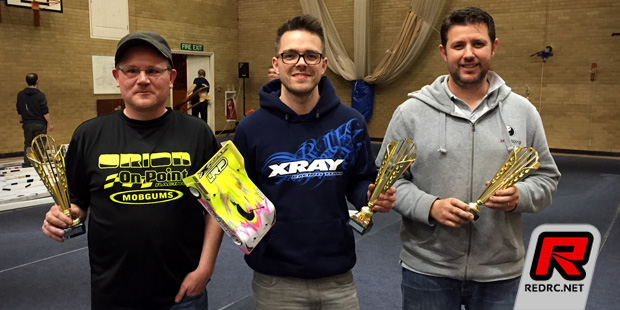 The sport class was dominated by an in-form Jim Spencer. He drove his Reedy powered Red Mosquito chassis to a comfortable TQ by a full lap over David Gale, and then the A final win. A solid run from Serpent's Tim Wood saw him finish 2nd ahead of championship leader Keith Robertson.
Round 4 takes place at Crewe in January, where a podium result will wrap up the championship for Olly Jefferies with 2 rounds to spare.
Thanks to Mark Stiles for the report.
---