December 10, 2014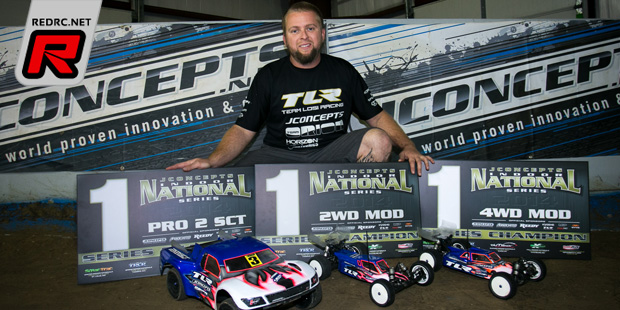 Sunday, December 8th, 2014 marked the final day of the JConcepts Indoor National Series with the tour making its' final stop in Omaha, Nebraska. The INS is a 5 race series that travels the nation throughout the year elevating the indoor off-road scene wherever it goes. This evening the series crowned its' 2014 overall champions in all the respective classes. The competition was one of the strongest seen to date attracting racers from coast to coast to meeting in the middle at the world famous Hobbyplex. Current INS Champion, TLR's/JConcepts Ryan Maifield, was there to defend his crown from other elite drivers like current 4WD World Champion and Team Associated/JConcepts driver, Steven Hartson. Other notable heavy hitters were Team Associated/JConcepts' Spencer Rivkin, Daimon Borkowicz, the Horne family, Cole Tollard, TLR/JConcepts Cody Hollis and Taylor Larsen, and Kyosho/Orion's Jared Tebo. The field was stacked.

In the Modified Short Course class, the 'King of Short Course' Ryan Maifield won all three rounds of qualifying over Kyosho's Jared Tebo by the slimmest of margins. With the SC main being a single 8 minute main, these two world class drivers captivated the crowd for the entire duration. From tone to finish, Tebo would play the chaser and ride Maifield's bumper until the 7th lap. Tebo would roll in the sweeper which gave Maifield a comfortable 3 second gap. Maifield then masterfully controlled the gap back to Tebo and crossed the line taking the win by a margin of just 1 second.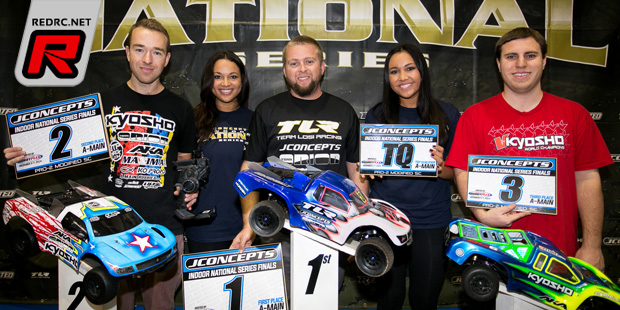 Modified Short Course results:
1. Ryan Maifield
2. Jared Tebo
3. Derek Wood
4. Tom Rinderknecht
5. Austin Horne
6. Zach Edenburn
7. Wyatt Anderson
8. Dylan Rief
9. Dillan Voelker
10.Clayton Wittmayer
In the 4WD Modified class, A1 was a showdown with Tebo utilizing his TQ spot to control the field. After a few laps the top 3 cars would break away from the pack with the order being Tebo, Maifield, and Hartson. The three would demonstrate top level racing for the full entire 5 minutes. On the last lap, Tebo would made a mistake landing on a pipe that allowed Hartson to take over the lead. However, on the very next jump Hartson would make the same mistake and hand the lead back to Tebo with 1 corner to go. Tebo goes on to take A1 with Hartson 2nd and Maifield 3rd.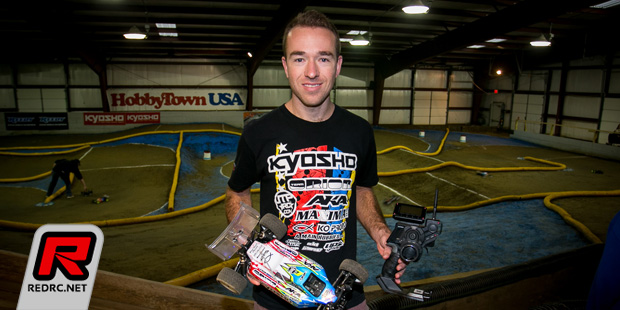 4WD A-main 1 results:
1. Jared Tebo
2. Steven Hartson
3. Ryan Maifield
4. Taylor Larsen
5. Spencer Rivkin
6. Daimon Borkowicz
7. Michael Twilling
8. Cody Hollis
9. Aydin Horne
10.Cole Tollard
11.Trevor Naut
In A2, Maifield started his attack early and by the fourth lap put an amazing pass on Tebo by diving on the line as Tebo went just a hair wide. While chasing on the 11th lap, Tebo wrecked out and recover to remain second for the remainder of the race as Maifield pilots his TLR 22-4 to victory. Showcasing his driving talent and moving from the bump position was TLR's/JConcepts' Cody Hollis finishing 3rd.
4WD A-main 2 results:
1. Ryan Maifield
2. Jared Tebo
3. Cody Hollis
4. Cole Tollard
5. Taylor Larsen
6. Michael Twilling
7. Steven Hartson
8. Trevor Nault
9. Aydin Horne
10.Daimon Borkowicz
11.Spencer Rivkin
The final main would come down to a duel between Tebo and Maifield for the win. Both drivers would push extremely hard early on and gap the field to enter into their own battle. Maifield would stay right on Tebo's bumper searching for openings that didn't exist. Bumper to bumper for almost 10 laps, Maifield would eventually catch a nasty jump on the straightaway table that required him to be cornered from a long distance away. Losing almost 6 seconds to Tebo on that lap made it was impossible for Maifield to recover. That gave Tebo a comfortable margin to cruise to an A3 victory and take the 4wd win. Maifield would fall to 3rd, but battle back to finish 2nd and Hartson in 3rd.
4WD A-main 3 results:
1. Jared Tebo
2. Ryan Maifield
3. Steven Hartson
4. Taylor Larsen
5. Daimon Borkowicz
6. Michael Twilling
7. Cody Hollis
8. Aydin Horne
9. Trevor Nault
10.Cole Tollard
11.Spencer Rivkin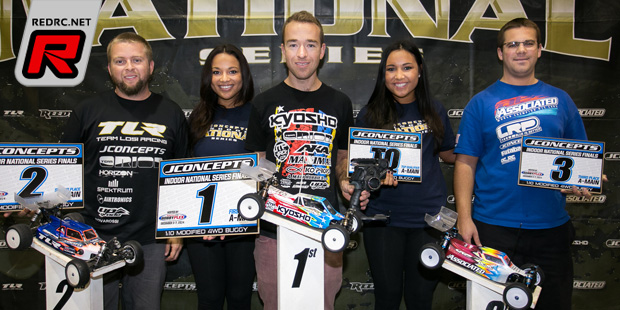 4WD overall results:
1. Jared Tebo
2. Ryan Maifield
3. Steven Hartson
4. Taylor Larsen
5. Cody Hollis
6. Daimon Borkowicz
7. Michael Twilling
8. Cole Tollard
9. Spencer Rivkin
10.Aydin Horne
11.Trevor Nault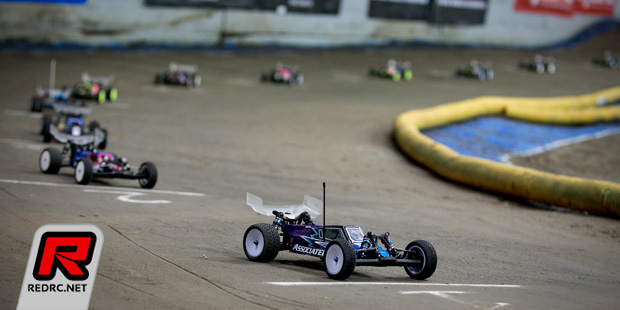 Proving to the world that he has the speed to TQ the ultra competitive 2WD Modified class, Team Associated/JConcepts' young ace, Spencer Rivkin would lead the stacked field of elite drivers in A1. However, the nerves were a bit much for the future star, Rivkin would fall to the back early in the race. This allowed Hartson to move into 1st. On the 8th lap, a bit of mayhem ensued as the top 3 drivers would make mistakes that allowed Maifield to come out with the lead and followed by Tebo and Hartson. The order would remain the same until the very last lap. A costly mistake by Tebo allowed Hartson through to take 2nd.
2WD A-main 1 results:
1. Ryan Maifield
2. Steven Hartson
3. Jared Tebo
4. Alex Sturgeon
5. Taylor Larsen
6. Cole Tollard
7. Cody Hollis
8. Spencer Rivkin
9. Daimon Borkowicz
10.Allen Horne
11.Neil Feneis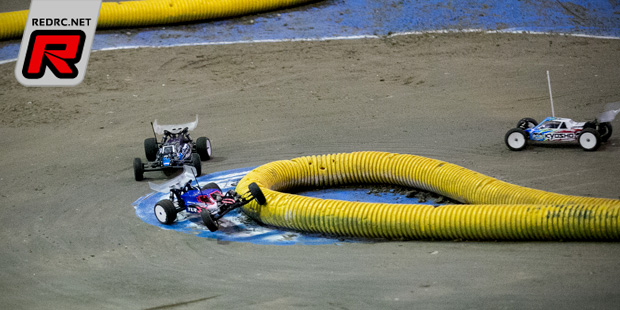 A2 was a much different story for Rivkin. He drove like he wanted to win and to his full potential. After Maifield made a costly error on the 2nd lap, it allowed everyone through including Tebo. Taking advantage of the gift, Tebo started to make his attack on Rivkin. Pressuring him at every corner, the youngster from Arizona did not crack under pressure. For 10 laps, Rivkin defended Tebo's attack until he crossed the line to take the win by just a second. Tebo would settle for 2nd and Taylor Larsen would fend off Maifield for 3rd.
2WD A-main 2 results:
1. Spencer Rivkin
2. Jared Tebo
3. Taylor Larsen
4. Ryan Maifield
5. Steven Hartson
6. Cole Tollard
7. Alex Surgeon
8. Daimon Borkowicz
9. Allen Horne
10.Neil Feneis
11.Cody Hollis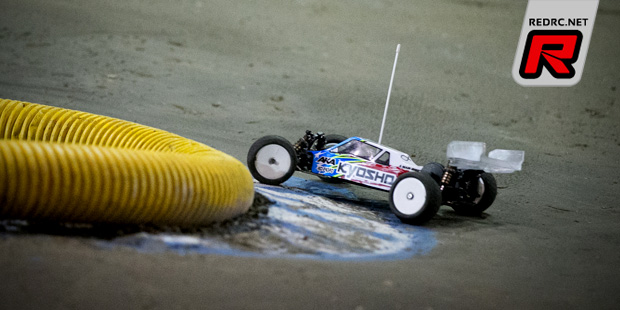 With the last race of the event, the 2WD win was still up for grabs. When the tone went off, Tebo would make a brave move and positioned his car just inside of Hartson's as they came around the spine forcing Hartson to give up his position. Next lap, Maifield pulled an identical move on Rivkin at the same spot and took over the lead and started to drive away. Knowing that he could let Maifield run away, Tebo put on a charge. On the 5th lap, Tebo sent it on the inside of Maifield by the finish line jump and the two would touch, but Tebo maintained his car and took over the lead. Maifield wouldn't give up and stayed on Tebo's bumper as the two put on an amazing show. With a fatal crash on the table-top jump going on the straight, Maifield would have to settle for second while Tebo takes the win. TLR/JConcepts' other young talent,Taylor Larsen, would put in a great drive and finish 3rd.
2WD A-main 3 results:
1. Jared Tebo
2. Ryan Maifield
3. Taylor Larsen
4. Spencer Rivkin
5. Steven Hartson
6. Allen Horne
7. Cody Hollis
8. Daimon Borkowicz
9. Cole Tollard
10.Alex Sturgeon
11.Neil Feneis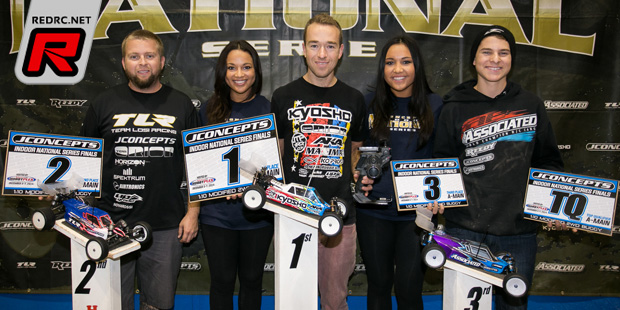 2WD overall results
1. Jared Tebo
2. Ryan Maifield
3. Spencer Rivkin
4. Taylor Larsen
5. Steven Hartson
6. Alex Sturgeon
7. Cole Tollard
8. Cody Hollis
9. Allen Horne
10.Daimon Borkowicz
11.Neil Feneis
Thanks to Thomas Tran for the report.
---