December 7, 2014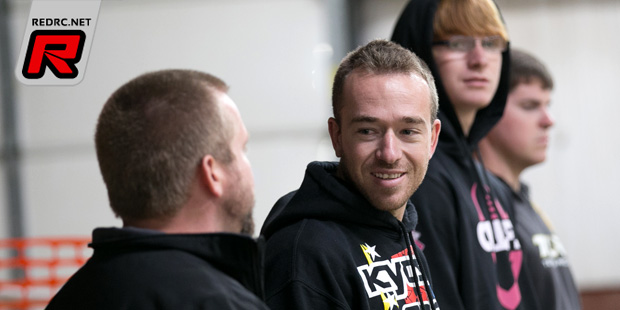 With qualifying underway at the JConcepts Indoor Nationals Finale race, it would be Kyosho/Orion's Jared Tebo striking first by taking TQ in round 1 of qualifying in the 4WD Modified class with 14 laps 5:05.4 After 5 minutes of qualifying, Tebo edged out Team Associated's young gun Spencer Rivkin by 0.7 seconds and TLR's Ryan Maifield by 1 second. With the field closely packed together, the 4WD Modified class will be an intense race from start to finish in every round.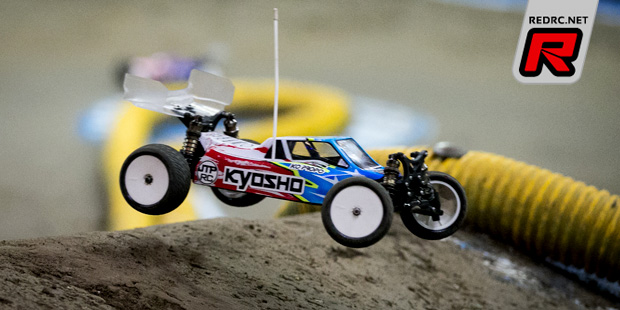 Having said his ZX6 felt "really good," Tebo said that club racing more has helped him figure out his car setups and for the next round he planned on, "Leaving my 4WD exactly the same."
The talent that never stops impressing, Spencer Rivkin had the fastest lap and the only 4WD to hit the 20 second lap time. Rivkin said his 4WD was getting better and only plans to clean up his driving. Just 1 second from TQ, Ryan Maifield made a last minute adjustment to his 22-4's rear diff hoping it would be easier to drive, but instead made it more unpredictable. He plans to freshen the shocks and put his diff back to the way it was for seeding and hopes to take TQ in round 2.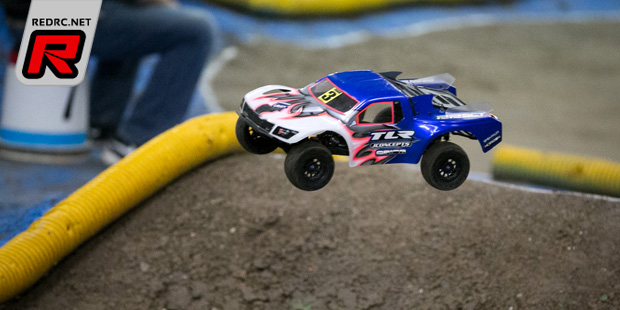 Modified SC is a classic showdown between 2 of the world's best drivers piloting short course trucks, Ryan Maifield and Jared Tebo. As the 2 superstars go head to head in round 1, TLR's Ryan Maifield wins their first encounter as Tebo made 2 crashes and was never able to battle back to contest Maifield for the round win. As a testament to how close these two are in speed, their fast laps were only different by .005 seconds! Round 1 goes to the King of Short Course Ryan Maifield.
The premiere class of 2WD Modified buggies showcases some of the finest driving of the day with all the top drivers at this event competing for the coveted title. Looking to defend his INS championship from last year, TLR's Ryan Maifield put his official stamp on the field by taking the 1st round TQ by 2 seconds with a 14 lap 5:12.1. Looking to dethrone the current champion is former INS champion, Steven Hartson, who finished strong by setting the 2nd fastest time for the first round. "Leaving the car the same and just going to clean up my driving for the next round," was Hartson's plan for round 2. Making his way into the top 3 was Kyosho's Jared Tebo and his RB6 putting in a solid first run and hoping to better his results throughout the day. Tebo felt as if he let one get away with a "horrible, horrible lap" and is going to make a rear sway bar and camber link change for round 2.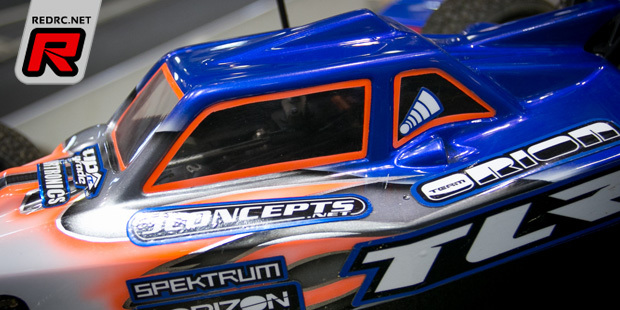 After making adjustments to his car from round 1 of qualifying, TLR's Ryan Maifield came out swinging with redemption and showed the field a bit of his hand. Earning fastest time, fastest lap, and setting a new standard in the 4WD Modified class and the only driver to turn 15 laps in qualifying. Right behind Maifield was round 1 TQ, Jared Tebo with a 14 lap 5:01.9. Saying that his car is really good, but only having a few "trouble spots" if he pushes too hard, Tebo is going to a stiffer gold rear spring for the next round to keep the rear end a little more stable.
Posting the 3rd fastest time was the current 4WD World Champion, Steven Hartson, with a 14 lap 5:03.6. Hartson said he is happy with his car and feels he has the speed to compete with the top 2 drivers and only going to focus on his driving for the final round of qualifying. With Maifield taking round 2, he and Tebo are tied at 1 round a piece.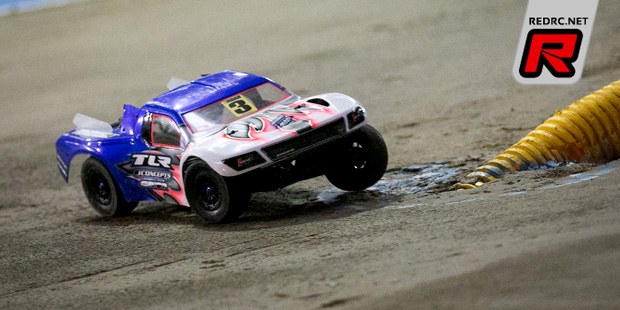 Modified SC was once again a great battle between Tebo and Maifield. These two drivers put on a terrific show on the clock as they competed for the fastest indoor SC truck in the nation. Round 2 goes to TLR's Ryan Maifield as was able to drive consistent fast laps the entire 5 minutes without any crashes. Unfortunately for Tebo, who had a crash on his 8th lap that would seal the deal for round 2 and give the round to Maifield. For the final round of qualifying, Tebo is going to freshen up his diff and transmission along with heavier shocks oils to get his SC truck to handle speed a bit better as grip is starting to increase.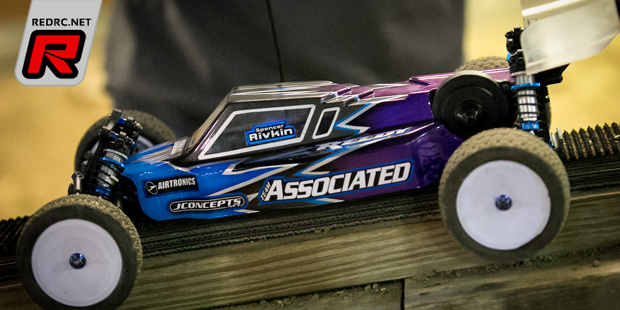 The ultra competitive 2WD Modified class is starting to heat up as the top 8 drivers are all able to run 14 laps and hit mid 21 second fast laps. Taking advantage of Maifield's mistake, Team Associated/JConcept's driver Spencer Rivkin rises to the challenge and earns his first TQ run of the event and positions himself to take the overall TQ for tomorrow's mains. Putting down a 14 lap 5:08.4 and taking the fast lap as well, young Rivkin drove an aggressive race and showed that he has the speed as well as the ability to deal with the immense pressure.
Even with a few minor mistakes, Ryan Maifield was able to put together a run that earned him 2nd fastest for the round with a 14 lap 5:10.9. Team Associated/JConcepts' Steven Hartson would finish 3rd quickest in round 2 with a 14 lap 5:12.8. Hartson would state that he feels he is "cruising around and playing it too safe" and will "turn it up" a notch in the next qualifier.
With Maifield and Rivkin with a win a piece, the last qualifier will prove to be crucial for tomorrow's starting grid. Not only is it just about the starting position, but also to gain the mental edge over the competition. However, as they say in formula 1, the race isn't won on Saturday, what matters is who wins on Sunday.
Thanks to Thomas Tran for sending the report.
---