December 5, 2014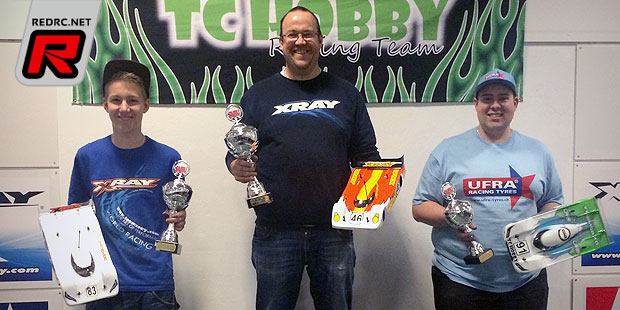 The 3 round of the Danish DMSU series was held at MMRC Club in Toelloese on a freshly laid out carpet track with 60 drivers competing mainly in the Touring Car Pro Stock and growing Le Mans pan car classes. Fastest Le Mans driver on Saturday was Thomas Mortensen with a 11.7, followed by Claus Ryeskov and Michael Johnsen with a 12.02 and 11.99 respectively. The controlled practice on Sunday morning saw Michael Johnsen setting the fastest time, closely followed by Thomas and Peter. In qualifying it was again Michael Johnsen who set the pace, but now Rasmus B Nielsen had found some speed and he came in 2nd with Peter Harder in 3rd. Thomas started to have problems with the grip, mainly because the carpet was getting soaked in tyre additive.
Qualifying top 8 result:
1. Michael Johnsen
2. Rasmus B Nielsen
3. Peter Harder
4. Steven Olsen
5. Thomas Mortensen
6. Claus Ryeskov
7. Robert Hansen
8. Jesper Folman
The opening final saw polesitter Michael Johnsen getting it all wrong in first chicane and he went down the field and a couple of laps later he completely messed things up due to a crash. Up front it was Peter who took the win from Steven and Rasmus. The second leg had Michael learning from A1 and he brought home the win from tone to tone with Steven and Rasmus in 2nd and 3rd respectively. The 3rd final would then decide on the winner with the top 4 drivers could all take the overall win. Again Michael made small error in the first chicane, but he recovered fine to hunt down the three drivers in front. Small errors of Steven and Thomas allowed Michael to go on the hunt for Rasmus. With 30 seconds to go Michael did a side by side move on Rasmus only to have the outside line in the next turn, so the was Rasmus in front of Michael and Steven. When the dust settled Michael took the overall win from Rasmus and Steven.
Le Mans A-final result:
1. Michael Johnsen
2. Rasmus B Nielsen
3. Steven Olsen
4. Peter Harder
5. Thomas Mortensen
6. Claus Ryeskov
7. Jesper Folman
8. Robert Hansen
Source: Xray [teamxray.com]
---