December 17, 2014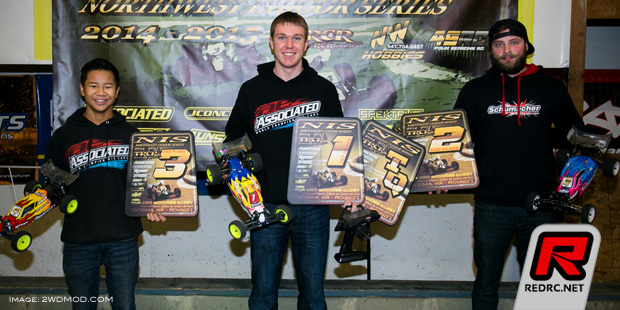 Last weekend kicked off the first round of the Northwest Indoor Series in Tacoma, Washington at Tacoma R/C Raceway. A race series that wasn't supposed to exist, but with a last minute decision by Scott Brown and a little help from the community … the most competitive off-road racing series in the pacific northwest is back. This unique event caters to all the passionate off-road racers in efforts to unite the community for a weekend of friendship, competition, and fun.

The series starts out with round 1 at TRCR with a track layout so awesome, it was praised by everyone at the event. The words, "best track ever at TRCR" and "this layout is soooo dialled", was buzzing around in the pits and one couldn't agree more with the compliments to the track. The flow was great and the mix of jumps and elevations changes made for fun, challenging laps. The feature was undoubtedly the raised elevated chicane that went into a serious triple that flowed into a left hander. Once in a while you get to race on what one would consider as the pinnacle of off-road track designs and this event, the racers were treated with such a layout.
This 4 race mini series is a testament to those who like to travel and compete. There are no drops and a racer must attend all 4 rounds to be considered for the overall. However, it is encouraged for racers to just race what fits their budget/schedule and to just have a great time with friends. The format is 3 quals with best 2 of 3 using qual points to setup for triple A-mains for ALL classes.
In the 2WD Modified class, it was Team Associated/JConcepts, "Michael Schoettler Show" as he dominated qualifying by winning all three rounds with fastest 5 minute times as well as the fastest lap and was untouchable by the competition all weekend long. On another level, Schoettler's hometrack advantaged proved to be too much for his competitors as he would take top honors in qualifying and finish 1st in both A1 and A2 sealing up his 2WD Mod victory. Qualifying 2nd and finishing 2nd, was Schumacher's Mikey Brown who put solid runs and earned a hard fought 2nd place finish against raging competitors like Kyosho's Tanner Day and Team Associated/JConcepts' Harley Yoshii. Young Harley Yoshii would qualify 4th on the grid but with strong finishes in the triple A-mains with a 3rd, 4th, and 4th would net him 3rd overall for the class.
The full report can be found here.
Source: 2wdMod [2wdmod.com]
---