December 15, 2014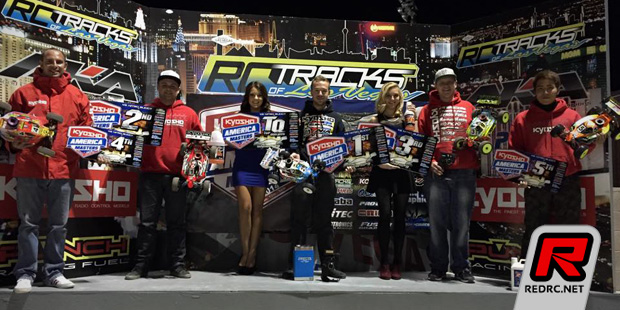 The 2014 Kyosho Masters USA was held this past weekend at RC Tracks of Las Vegas, host of the 2016 IFMAR 1/8th Buggy World Championships. Held in the classes of 1/8th Nitro Buggy and 1/8th E-Buggy the event saw the attendance of World Champions like Jared Tebo, Cody King and Yuichi Kanai alongside Europe's Elliott Boots and Jerome Aigoin and other swift Kyosho drivers. The weekend was dominated by the battle between Jared Tebo and Elliott Boots as both chased for the top positions in the Nitro and Electric classes. In E-Buggy Elliott took an early overall TQ by winning three out of four qualifiers with Jared Tebo taking the final round Sunday morning.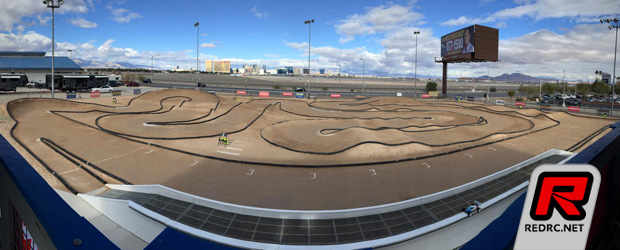 In a reverse of the events Elliott stole the final round of Nitro qualifiers from Jared who dominated the class until round 4. The round win handed Elliott the Nitro class overall TQ and it looked like he would be in control of things in the finals also. The Nitro Buggy mains, that where run in an electric triple A-main format, saw Jared Tebo taking the opening final from TQ Elliott Boots while Cody King had to settle for 3rd. The second Nitro A-main then had Elliott defending the top position while Jared struggled as he had to let Jerome Aigoin by. The third and final A-main would then decide on the overall win and at the end it was Jared Tebo who came out successful with the overall victory from Elliott Boots and Cody King. Frenchman Jerome Aigoin came in 4th whole Wataru Takashiro rounded out the top 5.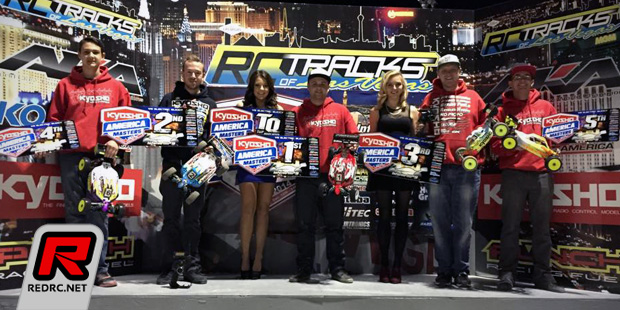 The E-Buggy mains were a much easier affair for Elliott who took the overall win early after winning A1 and A2. Behind him Jared Tebo and Cody King battled for the runner-up spot that ultimately went to Jared who left Cody behind in 3rd. Justin Fales came in 4th while Mikey Bustamente completed the top 5.
Thanks to Joe Pillars for the report.
---