January 28, 2015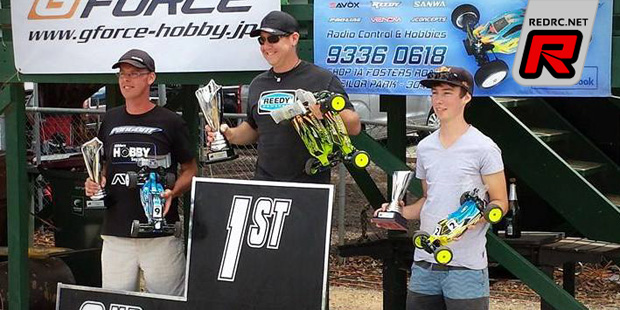 The 2015 GForce Keilor Invitational was hosted by the famous Keilor club in Melbourne, Australia. Held on the same weekend as the world famous Reedy Race, the GForce Keilor Invitational is a similar Invite style all-buggy event for the top racers in Australia to compete head to head in a pointscore race. Unique to this event, there is also an Invite class for the ultra competitive 17.5T scene. "Open" classes for Modified and 17.5T were offered, with the winners receiving direct invites to the 2016 edition of the event. The format for the Invite racers was five heats of head-head 2WD racing on Saturday, and another five heats of 4WD on Sunday. The four best results from each class were used to determine the overall winner. Open class racers had four qualifiers Saturday, with a final chance qualifier Sunday morning before the triple A-finals.

All racers were treated to a new track which the hard-working Keilor club members had prepared over the summer break. This was a treated dirt surface with a flowing outfield, technical infield and some big jumps to reward the brave. To keep it fair for all, the track was closed until midday of Friday practice, with racing starting midday Saturday and finishing Sunday. A "semi-control" tyre format was used with Invite racers could choose from the JConcepts Bar Code, Pro-Line Suburb or AKA Rebar in any compound, but were limited to 3 sets each day and had to nominate their brand in advance.

In the Modified Invite class Ray Munday was the defending champion and the Team Associated/JConcepts factory driver opened his account with a big win in 2WD round 1. Glen Bonetti (Team Associated/JC) took out round 2 from Ray, with Andrew Selvaggi (Team Associated/JC) taking out round 3 from the super consistent Mark Rogers (Team Associated/AKA). In round 4, Mark led from the start until the final lap, a small mistake letting Ray through for a crucial win in the final pointscore. In round 5 of 2WD, young gun Cameron Zammit (Team Associated/Pro-Line) took a very popular win, the 14 year old 17.5T national champ showing immediate speed and maturity in Modified.  After the 2WD section was completed, Ray Munday held a slender overnight lead with 8 points from Mark Rogers (9 points) and the super impressive "CamZam" in 3rd.
Round 1 of the 4WD day was all Ray, starting from pole and not looking back. Round 2 saw the super fast Tasmanian Sam Wells (Xray/Pro-Line) take the win from Ray, and he repeated that with another victory in round 3 – the only driver to win 2 races in a row. Jody Denner (Yokomo/AKA) was very unlucky with a mechanical issue on the last lap after leading the entire race, still managing a 3rd place on 3 wheels. Mark Rogers took out round 4, his string of top 3 results taking the result down to the final race of the day. Leigh Cheeseman (HB/AKA) was off pole for this race and led for the first few minutes with Glen Bonetti and Ray Munday immediately behind.  Eventually at 2:30 Glen and Leigh had a slight touch, allowing Ray through to the lead which he held to the end, sealing the overall title with 16 points. Mark Rogers finished 2nd overall, with Glen Bonetti securing a Team Associated podium lockout. Sam Wells was an impressive 4th and Cameron Zammit an equally impressive 5th.
The 17.5T scene is super competitive in Australia, with the Keilor club having one of the strongest fields in the country. There was a lot of anticipation for the first Stock 17.5 invitational in Australia and it was a very open field. Round 1 of 2WD saw Simon McHugh (Kyosho), surprise winner of the 2015 17.5 Victorian titles in 2WD, take a big win from Adrian Spinazzola (TLR) and Andrew Crowe (Kyosho). In round 2, it was Kyle Sanders (TLR) taking the win from multi-time 17,5 national champ Scotty Giles (having his first race as a TLR driver), Andrew Crowe again on the podium.  In round 3, it was McHugh again, this time from NSW 17.5T champ Christian Homann (Team C).  Round 4 saw Kyle Sanders 1st with McHugh 2nd, and in round 5 it was Andrew Crowe finally taking the win, this time from young star Carter Sims (Bezerk Kyosho) who is only 11 years old. McHugh was the overnight leader on 7 points, Crowe 2nd on 10 points and Sanders a close 3rd on 11 points.
Round 1 of 4WD saw McHugh take an unexpected win with his ageing XX-4 buggy, Sanders 2nd in his more modern 22-4 version. In round 2 it was bad news for McHugh, suffering terminal damage to his XX-4, allowing Sanders to take the win and begin his fightback with a hat-trick of wins in rounds 2, 3 and 4. A sporting gesture by the father of one his competitors allowed McHugh to continue with a borrowed 22-4, putting up a good fight with 2nd places in rounds 4 and 5, but it was not enough to keep Sanders from tieing with McHuhg for the overall lead. Christian Homann took out the final race.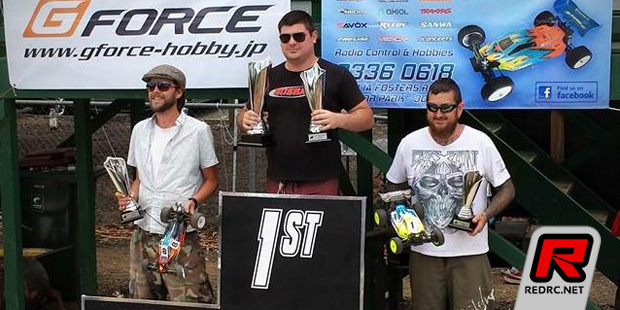 After a tiebreak of most number of wins, Kyle Sanders was awarded the victory, his first major after a year of pushing very hard to better himself. Simon McHugh was an unlucky 2nd but showed that he is a new force in 17.5, whilst Andrew Crowe completed the podium from Christian Homann in 4th.
The Modified "Open" classes were all about Matt Kellet. The former on-road champion showed that he is quickly developing into a formidable off-road racer by TQ-ing and winning both the 2WD and 4WD Modified classes easily from Alex John and Tony Perreiro. Matt set times that were close to those in the Invite class, and will be a tough competitor in the 2016 event.
The 17.5T Open 2WD class turned out to be a very close race between Glenn Wilson (Team Associated) and Brad Portelli (Schumacher). Brad, a multi-time national champ in the mini class, showed that a rear motor car could still be competitive by taking TQ, and then winning A1 and A2 to seal the title and the 2016 Invitation. Glenn Wilson was 2nd, with 3rd overall to a very happy Paul Slifka (Team Associated) who has come along way in the past 12 months.
After losing the 2WD class, Glenn (Kyosho) made sure the same wasn't going to happen in 4WD taking TQ and the first two finals to clinch the trophy.  2nd and 3rd were good mates Gary Caverjal and Jin Guida (B44.1), who have both put in a lot of laps on the Keilor track lately and their practice paid off.
Thanks to Ray Munday for the report.
---