January 30, 2015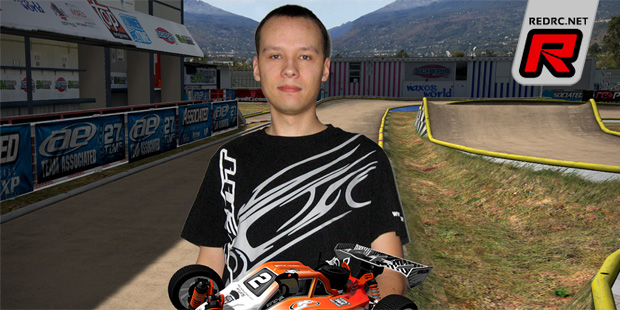 Marcin Malinski has won the VRC Worlds Open Class nitro buggy title. The 25 year old Polish Team Serpent racer was the big surprise in the A-Main final as he did not compete in 2014, had no ranking and set an incredible pace right from the start of the Worlds, giving hot favourite David Ronnefalk a hard time. His 3rd place at the 2013 VRC 1/8th Nitro Buggy Worlds should have been a warning to all and his pace was so fast that there was a lot of gossip about him cheating the system. Even his result in the 60 minute A-Main was disputed five times by other racers which lead to automatic disqualification. After investigation of these protests the race director reversed the disqualification which means that the young Pole has earned his first official VRC World title. Newly signed HB team driver David Ronnefalk finished 2nd, 13 seconds behind Malinski, and the other Swede and winner of the 2014 Season 3 series, Tobias Isaksson came in 3rd, another 10 seconds down with the top 3 scoring an incredibly fast 96 laps at the difficult Naxos Worlds track in Sicily.

The A-Main was very much a two horse race between Malinski and Ronnefalk, with Isakson on the waiting seat just a few seconds back waiting for the front runners to make mistakes. And there were plenty – by everyone. Naxos is a very tricky track, something that was already experienced during the real IFMAR Worlds late September 2014. Ronnefalk was the early leader, Malinski controlled mid race with Ronnefalk fighting back lap after lap. With 6 minutes to go the Swede had hunted Malinski down once more and took a 1 second lead after the last pit stops. Ronnefalk made a series of very unusual mistakes though, 4 in a row costing him 14 seconds and the VRC Worlds title. Malinski kept his cool all the way till the finish line to become the next VRC World Champion 1:8 nitro buggies Open class.
2014 VRC Worlds Buggy Open Class A-Main result
1. Marcin Malinski – PL – 96L 60:13.626
2. David Ronnefalk – SE – 96L 60:26.603
3. Tobias Isaksson – SE – 96L 60:36.494
4. Markku Honkanen – FI – 93L 60:03.837
5. Fredrik Boden – SE – 93L 60:08.997
6. Björn Engman – SE – 93L 60:20.351
7. James Le Pavoux – GB – 93L 60:35.749
8. Marvin Fritschler – DE – 91L 60:02.645
9. Nicolas Loriot – FR – DNS
10. Anthony Bruyer – FR – DNS
In the Nations Cup with four Swedes in the Open Class A-Main it is no surprise that the scandinavian country came out on top with a huge margin over France in 2nd and Germany in 3rd. So European countries dominated the 2014 VRC Worlds with the absence of a strong contingent of US and Asian racers. The remainder of Europe with the UK (7th), Italy (14th) and Spain (16th) disappointed.
1. Sweden – 712 – D. Ronnefalk (1.), T. Isaksson (2.), F. Boden (4.), B. Engman (5.), R. Bagger (16.)
2. France – 461 – N. Loriot (9.), A. Bruyer (10.), T. Nuzzaci (15.), Q. Le Gall (17.), J. Ribeiro (19.)
3. Germany – 383 – M. Fritschler (7.), M. Krüger (18.), L. Kruger (38.), Y. Grieger (44.), M. Dirks (46.)
Source: VRC [vrcworld.com]
---