January 29, 2015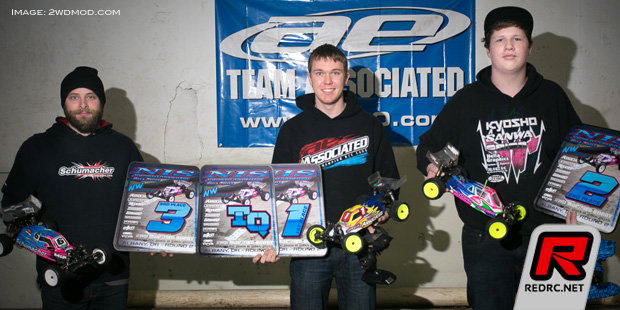 The action packed Northwest Indoor Series continued its 2nd round in Albany, Oregon at Northwest Hobbies and Raceway. This four race series attracts the region's best to three different tracks between Oregon and Washington with the ultimate goal to find out who is the fastest in each respective class. There are no drops and with each race being a month apart, planning and scheduling is a must.

The doors opened for controlled practice on Saturday at 8am, which proceeded until 2:30pm. From there, a short drivers meeting and then straight into two rounds of qualifying. On Sunday, morning practice started at 7am for an hour and then directly into the final round of qualifying. Taking only the best 2 of 3 runs to set up the triple A-mains for all the classes, the event was destined to find some great racing all weekend long.

This round's track layout was harder than it looked. At first glance, the subtle jumps aren't intimidating and the features appear quite simple, but to get the dialed tenths, the risk factor grew exponentially. With the track being tacky and the fast tire of choice being slicks, edgy cars and traction rolling became an issue the harder you started to push. Some racers would play the safe card and choose to go with low treaded tires for a safer, but slower car. There was a fine line between attacking with consistency and all out speed and those who were able to master these conditions … did very well.
Round 1 winner, Team Associated/JConcepts' Michael Schoettler, made his presence felt early on as he took his B5M to the top by TQ'ing rounds 1 and 3 in qualifying of 2WD Modified Buggy. Giving a valiant effort, Kyosho/Orion's Tanner Day would put in a terrific run in round 2 and stole the round away from Schoettler and prevented him from sweeping all rounds of qualifying. Day would end up qualifying 2nd with TLR's Casey Vitale in 3rd.
At the start of A1, Schoettler would slowly gap the young 16 year old, Tanner Day, as Day drove with a little nervousness and was not able to get in a comfortable groove. Schoettler, not holding back, would slowly drive away uncontested and win A1 without a fight. Day would finish strong in 2nd ahead of Schumacher's Mikey Brown, who finished 3rd in A1 coming all the way from 6th on the grid.
A2 was much the same with Schoettler on point once again from the sound of the tone. This time, however Tanner Day would suffer a mechanical on the 2nd lap and would have to DNF the round. With his closest competitor out early in A2, Team Associated's Michael Schoettler would cruise to an easy victory and win A2 and the overall for the 2WD Modified class. From 6th on the grid and taking advantage of Day's misfortune, once again Mikey Brown would sneak his way up and place his Schumacher KF 2nd in A2 with a fabulous drive. Improving on his unfortunate run in A1, Casey Vitale would round out the top 3.
Having won A1 and A2, Schoettler was able to skip A3 and watch his competitors battle for 2nd and 3rd on the podium. The pressure was on Day as he already had to use his throw out for his DNF run in A2. Another bad run would keep him off the podium, but as the tone went off, Day was determined to shine and drove to near perfection as he built a comfortable lead from his competitors. After 6 minutes was done, Day crossed the line with a convincing win followed by Mikey Brown and Kyosho's Roger Seim in 3rd.
2WD Modified top 3:
1. Michael Schoettler
2. Tanner Day
3. Mikey Brown
More results can be found here.
Source: 2wdMod.com [2wdmod.com]
---