February 10, 2015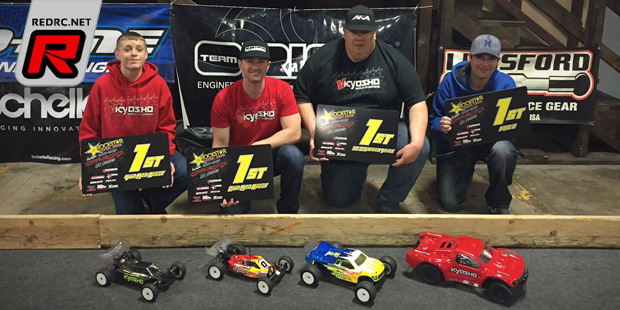 The 2014/15 Rockstar Winter Off-Road Series was hosted by Premier R/C Raceway in Portland, Oregon. This six race series started in November and just recently came to an end. Each driver's four best rounds out of the six would be used to determine the Champion in each class. The three month series averaged an impressive 60+ entries. With the ease of a carpet track and pre-made jumps, new track layouts were done the day of each series race in only 30-minutes to level the playing field for all drivers. When the dust had settled, Kyosho was left standing on top by taking four Modified class Championships.

The 2WD Modified Buggy class would see a great battle for the overall win between:Kyosho America/Team Orion USA Team Manager Joe Pillars, Kyosho's Thomas Tran, and Kyosho's Tanner Day. The series would come down to the 6th and final round where Pillars would end up taking the win and wrapping up the overall Series Championship by a 2-point margin. Tran was only able to attend four out of the six races due to scheduling conflicts with other racing events, but showed great pace to finish a well deserved 2nd overall. Tanner Day is becoming more well known as a great young talent in the North-West with next level speed. Day was able to TQ a few rounds during the series and bring home 3rd overall.
2WD Modified Buggy top 3:
1. Joe Pillars – Kyosho
2. Thomas Tran – Kyosho
3. Tanner Day – Kyosho
The 4WD Modified Buggy class would see a great battle throughout the series between another two young talents in the North-West; Kyosho's Jackson Andres and Schumacher's Elijah Gibbs. Andres would end up taking the overall series win by a 5-point margin over Gibbs to give Kyosho there 2nd Series Championship.
4WD Modified Buggy top 3:
1. Jackson Andres – Kyosho
2. Elijah Gibbs – Schumacher
3. Eloy Gomez – Team Associated
The 13.5 Stadium Truck class was a battle all the way through the series between Kyosho drivers Lance Norton, Jared Cozzocrea, and Mo Hille. Norton was able to secure the overall Series Championship by finishing 1st in round 5. This ended up giving Norton a 1-point overall win for the series and Kyosho's 3rd Series Championship.
13.5 Stadium Truck top 3:
1. Lance Norton – Kyosho
2. Jared Cozzocrea – Kyosho
3. Mo Hille – Kyosho
The Pro 2 class was all about Ryan Chew and his Kyosho SC6. Chew was consistently the fastest driver in this class and went onto take the overall Series Championship by a staggering 8-points. This would give Kyosho its 4th Series Championship.
Pro 2 top 3:
1. Ryan Chew – Kyosho
2. Chris Huddleston – Team Associated
3. Bruce Lawson – TLR
Thanks to Joe Pillars for sending the report.
---