February 3, 2015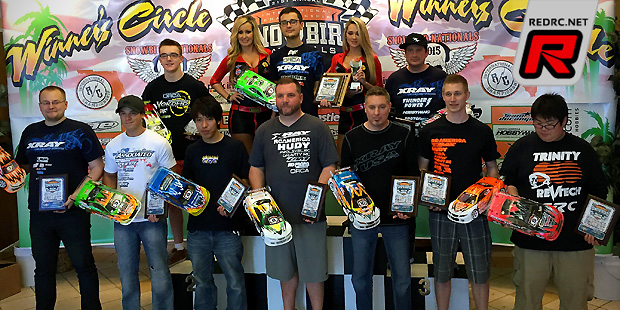 The annual Snowbird Nationals held at the Park Inn by Radisson, in Orlando, Florida, is one of the biggest RC events in the US, if not the World. With a total of 290 entries in on-road only, it can really be considered as the "Superbowl of RC". The 2015 track layout was a mirrored version of the one used at the previous IFMAR 1/12th Worlds and traction levels became very high only after the first day of practice. In the Modified TC class Alexander Hagberg managed to take a convincing TQ position in front of team mate Paul Lemieux. In the single main Alexander lead from tone to tone with Paul Lemieux loosing a place to finish in 3rd while Andrew Hardman moved up to 2nd spot.
Modified Touring Car result:
1. Alexander Hagberg
2. Andrew Hardman
3. Paul Lemieux
4. Jan Ratheisky
5. Keven Hebert
6. Yugo Nagashima
7. Drew Ellis
8. Ralph Burch
9. Hayato Ishiyoka
10.Robbie Dodge
In the Super Stock Touring Car class Jan Ratheisky went from 3rd on the grid to win overall after a perfect last lap pass on Keven Hebert. Cory Parsons would finish 3rd to round out the podium.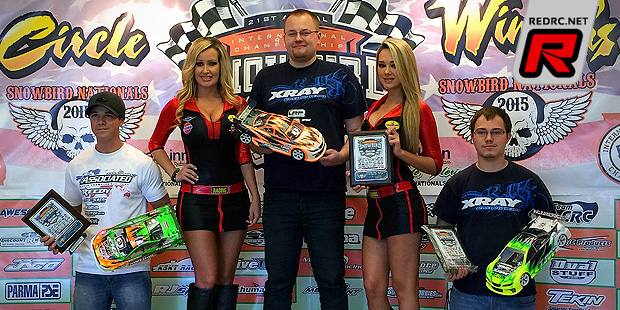 Super Stock Touring Car result:
1. Jan Ratheisky
2. Keven Hebert
3. Cory Parsons
4. Mike Gee
5. Drew Ellis
6. Robbie Dodge
7. Kyle Klingforth
8. Art Scrimo
9. Andrew Hardman
10.Eric Anderson
In the 17.5T Stock Touring Car class Jan Ratheisky took a tone to tone finish from his TQ position, and held on to the lead even after a hard charging Eric Anderson, who was catching him in the last few laps of the race.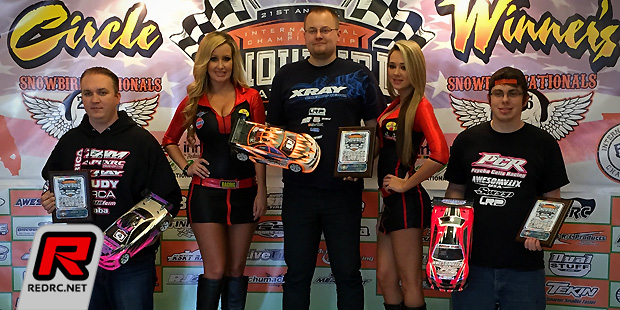 Stock Touring Car result:
1. Jan Ratheisky
2. Eric Anderson
3. Mike Gee
4. Robbie Dodge
5. Craig Xavier5
6. Mark Burt
7. Cory Parsons
8. Art Scrimo
9. Monti Panzica
10.Michael Herald Jr.
The Amateur TC class was won by the young and talented Matt Lyons from Nashville. He drove to a great win in that category after a nice fight with the 2nd placed Brian Card.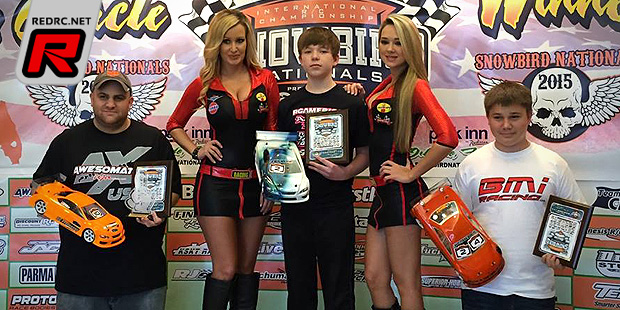 Amateur Touring Car result:
1. Matt Lyons
2. Brian Card
3. Jarrett Parsons
4. Jerry Birchfield
5. Jared Mowery
6. Isaac Morgan
7. Kyle Rumple
8. Blake Ryan
9. Darryl Bingner
10.Jose Moreno
In the growing Formula class, Jan Ratheisky dominated qualifying and the main final as well. Hayato Ishiyoka came in 2nd, Brian Wynn rounded out the podium in 3rd.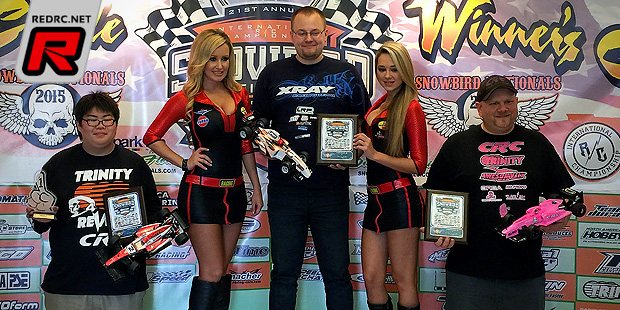 Formula result:
1. Jan Ratheisky
2. Hayato Ishiyoka
3. Brian Wynn
4. Henrik Heitsch
5. Drew Ellis
6. Kazuki Endo
7. Ralph Burch
8. Mario Ficco
9. Mark Burgess
10.Yugo Nagashima
In 1/12th scale Modified Alexander dominated qualifying by winning all rounds and taking TQ by almost a lap. The main final proved to be much closer though, as Alex was fighting with Josh Cyrul for the win until the very last corner. The Swede managed to hold on to the lead over the finish line for a convincing win.
1/12 Modified result:
1. Alexander Hagberg
2. Hayato Ishiyoka
3. Josh Cyrul
4. Yugo Nagashima
5. Andrew Knapp
6. Keven Hebert
7. Max Kuenning
8. Donny Lia
9. Paul Lemieux
10.Dave Ehrlich
Source: Xray [teamxray.com]
---