February 9, 2015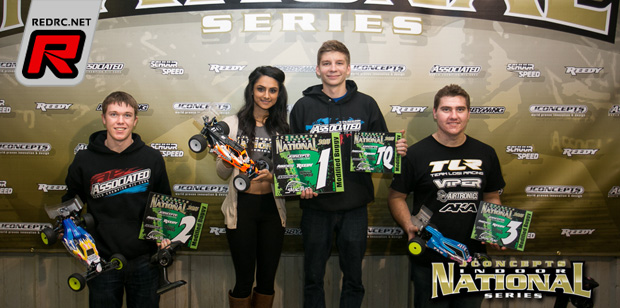 The 2WD Modified Winter Indoor National Champion of the premier class came down to the final race between AE/JConcepts' Michael Schoettler and AE/JConcepts' Nick Gibson. With Gibson having a win and a 3rd and Schoettler with a win and a 2nd, A3 would decide who would be crowned the new champion. Once again, Nick Gibson would attack right from the start and put the pressure on the rest of the field as he would try and repeat his perfect run in A2. Gibson's fast pace was hard to match lap for lap as TLR's JP Richards would push hard to keep the Kansas City native within striking distance. On the 7th lap, Richards was unable to maintain Gibson's pace and a mistake would allow Schoettler and Kyosho/JConcepts Mitchel Gardner through to see if they could chase down the leader.

For almost 10 laps, Schoettler would slowly catch Gibson to make it a battle down to the wire. With the lead now cut down to 1.7 seconds, on the 3rd to last lap Gibson would make contact with lap traffic that had the audience holding their breath. Fortunately for Gibson, he was able to recover before Schoettler could seize the moment and stay ahead with the lead now down to less than a second. With 2 laps to go, Gibson would maintain his composure and put in 2 solid laps that didn't allow Schoettler to attempt a pass and drove to the finish line for the win in A3. As the two drivers walked off the driver stand both smiling and congratulated each other on a fun, intense battle.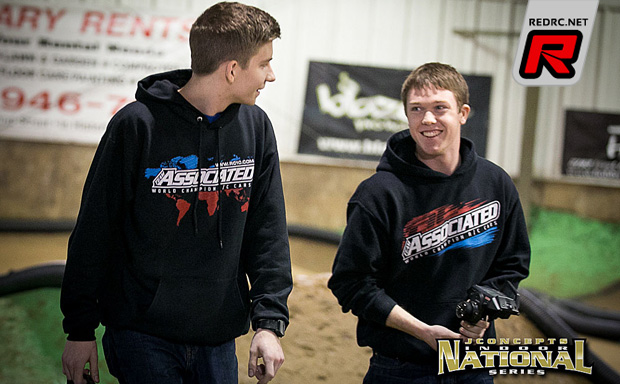 2WD Modified Buggy results:
1. Nick Gibson
2. Michael Schoettler
3. JP Richards
4. Michel Gardner
5. Brent Thielke
6. Cody Hollis
7. Justin Driemeier
8. Luke Richards
9. Brad Dean
10.Al Horne
11.Brad Shear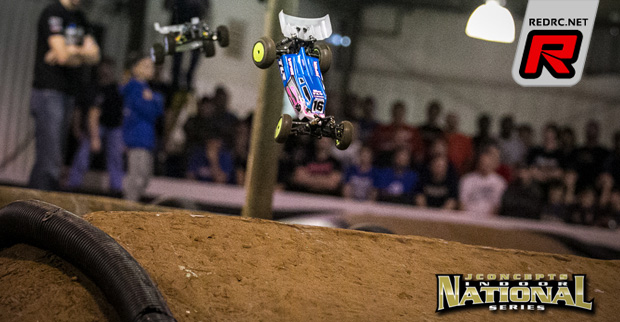 In the 4WD Modified class, Schoettler would have the luxury to sit out and watch the action from the sidelines having won A1 and A2. This time, JP Richards would start on point in A3 and maintain his lead from start to finish while his teammate Cody Hollis and AE/JConcepts' Michael Twilling would together mount a charge to battle Richards on the last 3 laps. The two drivers would close the distance to Richards and the three drivers would drag race down the straight away on the final lap and finish less than .2 seconds apart. Richards would hold off Hollis for the win and Hollis would fend off Twilling for 2nd.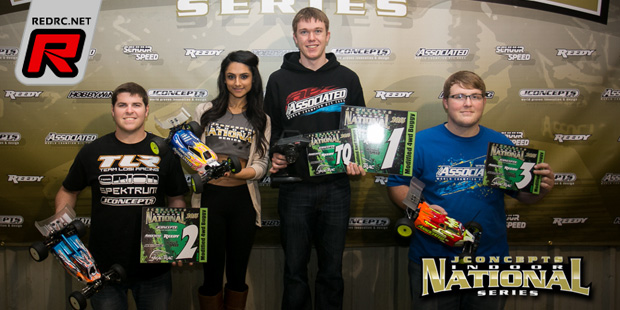 4WD Modified Buggy results:
1. Michael Schoettler
2. Cody Hollis
3. Michael Twilling
4. JP Richards
5. Mitchel Gardner
6. Brad Dean
7. Daimon Borkowicz
8. Colton Kruse
9. Zach Phillips
10.Chris Baumgartner
11.Brad Shear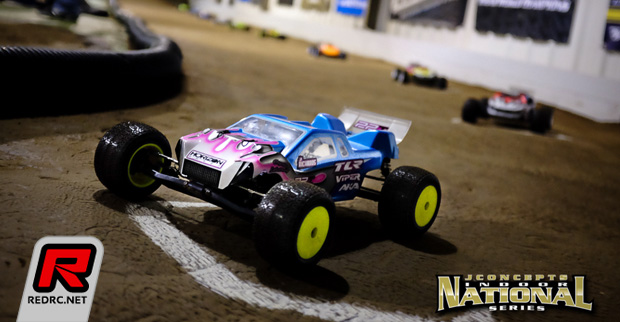 There was no doubt the Modified Truck class has captured the interest of many with two new truck releases by TLR and Team Associated. It was a 'new truck' showdown between the 22T 2.0 driven by TLR's Frank Root and top qualifier JP Richards, while the T5M was piloted by Team Associated's team manager Brent Thielke who qualified 2nd. From the sound of the tone, Thielke would immediately start to pressure Richards, but calm and collected, Richards would slowly inch away in this single 8 minute main event. The two drivers would trade laps running almost identical lap times. As Thielke would make a mistake, Richards looked like he was going to run away with the race. Eventually, Richards would give that time back after having a rough lap towards the last half of the race, but in the end it would be Richards who would emerge victorious. Thielke would finish 2nd and AE/JConcepts' Nick Gibson finishing 3rd.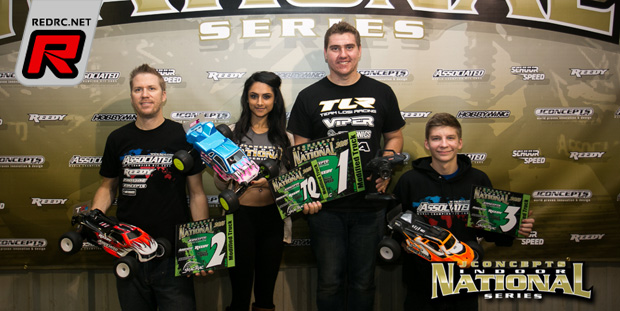 Modified Truck results:
1. JP Richards
2. Brent Thielke
3. Nick Gibson
4. Justin Driemeier
5. Rod Rippee
6. Frank Root
7. Adam Rayls
8. Austin Horne
9. Ben Ellis
10.Josh Wiechens
Source: 2wdMod.com [2wdmod.com]
---