February 7, 2015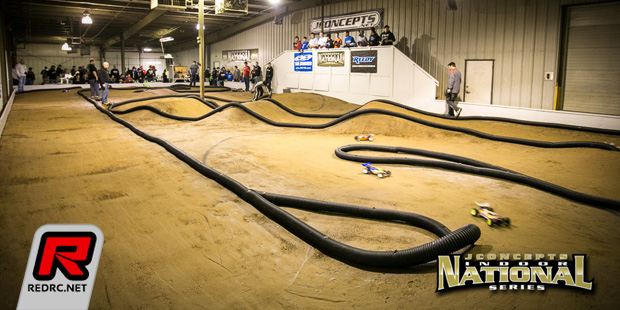 Round 1 of the 2015 JConcepts Indoor National Series takes place this weekend at Smactrac in St. Louis, Missouri. The 2015 edition is even better with the addition of the 13.5 modified 4WD class to broaden the class range for more competitive racing and round 1 is only the beginning of an ultra competitive 5 race series. First of all congratulations to last year's INS overall champions, including TLR/Orion/JConcepts star driver Ryan Maifield, who looked nearly invincible last year and took home 3 Modified titles including the highly coveted 2WD title as well as 4WD and SC. Also congrats to Kyosho/Orion/JConcept's Thomas Tran for winning the Modified Truck title along with TLR/Trinity/JConcepts JR Mitch for winning the Modified 4×4 SC class. Also, congrats to Kyosho's Dustin Delaney for winning the ultra competitive 2WD Stock class. However, this year's title race starts over on a clean slate and looking to crown new Champions in all classes.
The race format is unchanged from previous years with Friday open practice and seeding in the evening to set up for 3 quals on Saturday based on best 2 of 3. This sets the stage for an exciting A's for the modified classes on Sunday. With practice currently underway and most racers starting to find their groove, seeding tonight will be a sneak peak at this weekend's action packed racing.
Making his first trip to Smactrac and all the way from the Pacific NW is AE/Reedy/JConcept's Michael Schoettler. Other notable names at this event is AE team manager, Brent Thielke, JConcepts' mastermind Jason Ruona, the Horne family, Luke and JP Richards, TLR's product manager Frank Root, and Cody Hollis to name a few.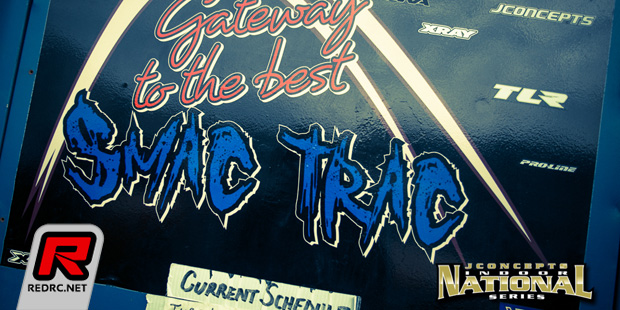 With almost 330 entries for the event, Smactrac has once again kicked off the 2015 JConcepts Indoor National Series in style. With seeding wrapped up for the day, racers have headed home to recharge their batteries for tomorrow's intense 3 rounds of ultra competitive qualifying. The layout has been challenging to all racers of all skill levels. One of the more difficult things to time is the cambered turns that mistakenly lead drivers right into the pipe. In addition, with no sauce allowed, traction has been hard to come by as all drivers are currently searching for more overall grip. However, the cream will always find its way to the top as seeding will give a sneak peak to how qualifying will go. With only 3 minutes to set your 3 consecutive fast laps in a heat of 10 cars, the challenge was definitely obvious.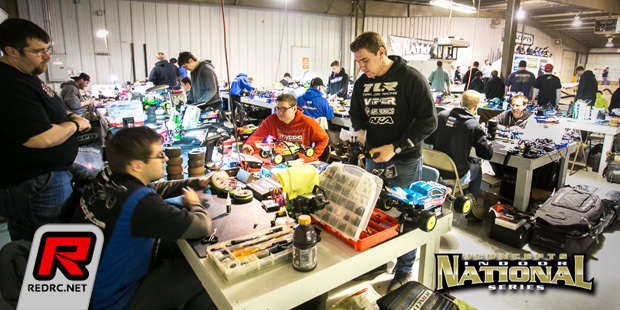 Taking top seed honors in the Modified Truck class was TLR's JP Richards piloting his 22T 2.0. From Reedy race to the Indoor National Series, Richards is in top form and going to be a contender at this event. In the 4WD Modified class, it would be Xray's Nate Jaskot setting the fastest 3 consecutive laps with his XB4 by just .014 seconds over Zach Phillips. Jaskot had a great run in the 2WD Modified class as well finishing 2nd by just .05 seconds behind TLR/JConcepts' Cody Hollis' 22 2.0. Improving with every race he entrees, Hollis has been on fire and proving he has the speed to fight for the win.
Source: 2wdMod.com [2wdmod.com]
---