February 17, 2015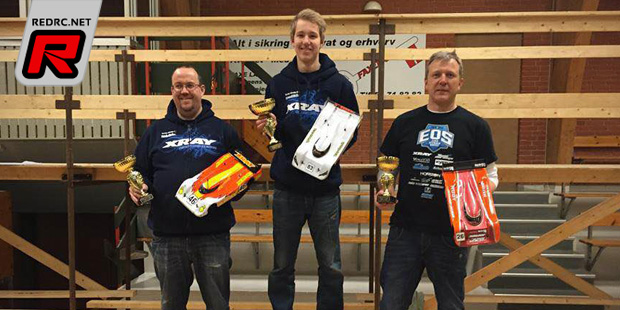 The Danish DMSU DM5 Nationals race was held at the Faxe Og Omegns Motorklub in the 1/10th pan car class. On Saturday almost all drivers took the change to practice with Michael Johnsen being the fastest driver with a lap of 12.3, followed by Rasmus B. Nielsen with a 12.4. During qualifying it became clear that the race for the TQ position would be between Michael and Rasmus, while Thomas Mortensen and Claus Ryeskov battled it out for the 3rd place on the grid. At the end of the three qualifying rounds Rasmus came out successful in front of Michael and Thomas.
Qualifying top 10:
1. Rasmus B. Nielsen
2. Michael Johnsen
3. Thomas Mortensen
4. Claus Ryeskov
5. David Hansen
6. Rene Kjellerup
7. Robert Hansen
8. Jesper Folman
In the opening A-final Rasmus easily pulled away and he took an undefeated win in front of Michael and Claus. The second final again had Rasmus having a clean start and easy win with Michael being hot on his heals while Thomas came in 3rd. The third and final leg was pretty much the same story up front. Rasmus and Michael took it easy and they cruised home to take the 1st and 2nd place respectively while Thomas in 3rd rounded out the all-Xray podium.
Final result:
1. Rasmus B. Nielsen
2. Michael Johnsen
3. Thomas Mortensen
4. Claus Ryeskov
5. David Hansen
6. Robert Hansen
7. Rene Kjellerup
8. Jesper Folman
Source: Xray [teamxray.com]
---