March 9, 2015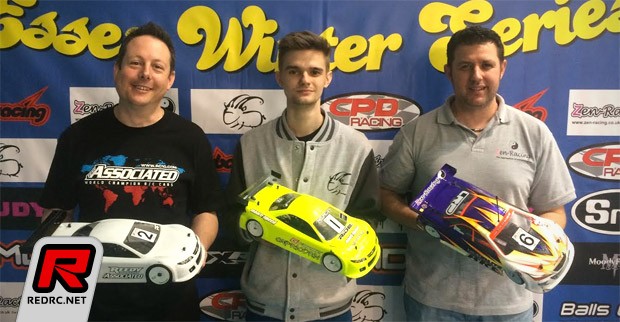 The final round of the Essex Winter Series took place this weekend. With both championships up for grabs in the UK's most popular on-road championship, the finale promised to be a fitting end to a great season. In the Zen Racing Modified class, Stefan Chodzynski had one hand on the title, with his Capricorn team-mate Kyle Branson needing to take a maximum points haul, and Stefan to struggle at this final meeting, for the title to go any other way. In the VBC Super Stock standings, Jimmy Maddison needed to TQ and Win the meeting to prevent Tony Broad taking his first EWS title.
The Capricorn drivers kicked their battle off in the first round of qualifying, with Stefan setting the fastest time ahead of Kyle, Schumacher's Elliott Harper and the Associated pairing of Chris Grainger and Matthew White. The second round also went to Stefan, with Elliott second and David Spashett taking his ARC to third. Stefan essentially sealed the title in the third qualifier by again setting the best time, Kyle back to second and David again third. Chris Grainger then surprised everyone, including himself, by TQ'ing his first ever qualifying round on carpet by setting the fastest run in the final round, narrowly ahead of team mate Matthew. EWS stalwart Ashley Wiffen took third to secure himself an A Final place, with EWS team-member Richard King taking fourth in the round to similarly make it into the main show. Therefore, Stefan lined up on pole, Chris second and Kyle third.
Stefan led the A Final off, with Chris in second and Kyle dropping back into the chasing pack. Elliott was therefore up to third and endured a long fight with Chris over the second spot, with Elliott briefly taking the position before Chris took it back following a mistake from Elliott coming onto the main straight. David Spashett then battled with Chris for second, but the Associated driver held on to the second spot until the buzzer. Stefan therefore had a tone-to-tone lead to take the final race of the series and secure the overall championship title.
ZEN Racing Modified A Final Result
1 (1) Stefan Chodzynski – Capricorn/GForce – 25 / 307.72
2 (2) Chris Grainger – Associated/Reedy – 25 / 310.35
3 (6) David Spashett – ARC/GForce – 25 / 310.98
4 (3) Kyle Branson – Capricorn/Reedy – 25 / 314.39
5 (4) Elliott Harper – Schumacher/GForce – 24 / 302.66
6 (5) Matthew White – Associated/Reedy – 24 / 305.93
7 (10) Paul Pinkney – Schumacher/Hobbywing – 24 / 306.15
8 (7) Ashley Wiffen – Xray/ORCA – 24 / 306.59
9 (8) Max Guerola – ARC/Reedy – 24 / 307.35
10 (9) Richard King – Awesomatix/Hobbywing – 23 / 304.08
This meant that with Stefan confirmed as the champion, his team mate Kyle made it a Capricorn 1-2, with Team Associated drivers Chris Grainger and Matthew white finishing up third and fourth, just in front of Schumacher's Elliott Harper.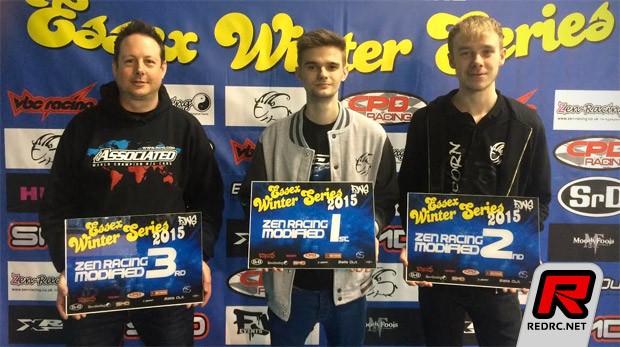 ZEN Racing Modified Overall Championship
1 Stefan Chodzynski – 598 points
2 Kyle Branson – 590
3 Chris Grainger – 587
4 Matthew White – 578
5 Elliott Harper – 578
6 Paul Pinkney – 574
7 Alan Bickerstaff – 573
8 David Spashett – 573
9 Ashley Wiffen – 569
10 Phil Chambers – 569
Tony Broad knew that if he could secure pole position that would be enough to deny Jimmy Maddison the Super Stock title, and set about that task by taking his Xray to the best time in the opening round. Jimmy, now running without a chassis sponsor, took second ahead of Will Vertigan's ARC. Tony moved a step closer to the title by again topping the second round, Jimmy was again second after a few small mistakes kept him off the top of the timesheets. Andrew Carter took third and Darren Tickner fourth. The championship battle continued as Jimmy then rebounded to set the best time in the third qualifier, with Will setting the second best time and Matthew Chandler taking third. The final qualifier saw Jimmy needing to repeat that feat, and a thrilling five minute battle took place between Jimmy, Tony and Matthew. Despite doing all he could, Jimmy wasn't able to quite take the round, with Matthew putting on a perfect display of driving to set the best time, beating Tony into second and Jimmy to third, all by less than one second. That meant Tony would line up on pole position and had officially clinched the title, Jimmy would start second and Matthew third.
Even though the championship was decided, the Super Stock A Final was one of the highlights of the whole year, with everyone wanting to end the series on a high. A five-way battle raged for the entire five minutes of the race as Tony initially led from Jimmy and Will, before Jimmy briefly took the lead, but then dropped to third as Will took over second. Tony was next to blink, falling to fifth and now allowing Andrew up to third as Jimmy also re-passed Will and thus took the lead. Jimmy and Will held on to the top two places, but the battle now was between Andrew and Matthew for the final podium place. Matthew passed Andrew with just 45 seconds to run and held on to the buzzer. Rightfully so, the whole A Final received a huge round of applause from the crowd as the five minute tone sounded.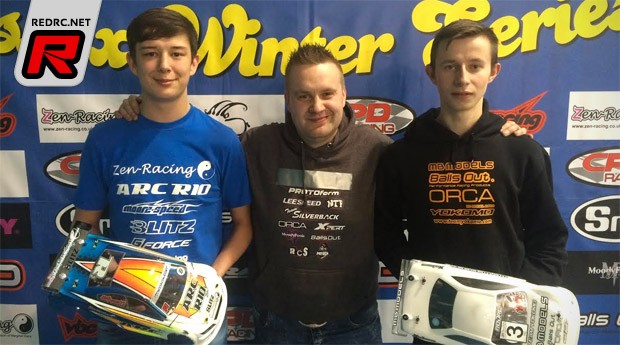 VBC Super Stock A Final Result
1 (2) Jimmy Maddison – Yokomo/ORCA – 23 / 303.88
2 (4) Will Vertigan – ARC/Trinity – 23 / 304.29
3 (3) Matthew Chandler – Yokomo/ORCA – 23 / 304.55
4 (5) Andrew Carter – Yokomo/Hobbywing – 23 / 305.70
5 (1) Tony Broad – Xray/ORCA – 23 / 306.52
6 (6) Darren Tickner – Xray/Trinity – 23 / 310.87
7 (9) Nathan Wilson –Yokomo/Trinity – 23 / 312.39
8 (10) Matt Quinlisk – Xray/LRP – 22 / 310.27
9 (8) Mason Weston –Xray/Trinity – DNF
10 (7) Gavin Clinch – ARC/GForce – DNF
The result confirmed Jimmy as second overall in the Championship, ahead of Will Vertigan, James Baker and Darren Tickner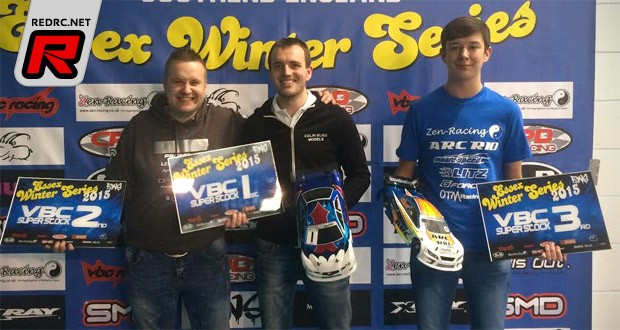 VBC Super Stock Overall Championship
1 Tony Broad – 600 points
2 Jimmy Maddison – 598
3 Will Vertigan – 586
4 James Baker – 585
5 Darren Tickner – 570
6 Matthew Chandler – 560
7 Gavin Clinch – 555
8 Nathan Morgan – 549
9 Colin Gardiner – 548
10 Matthew Worton – 542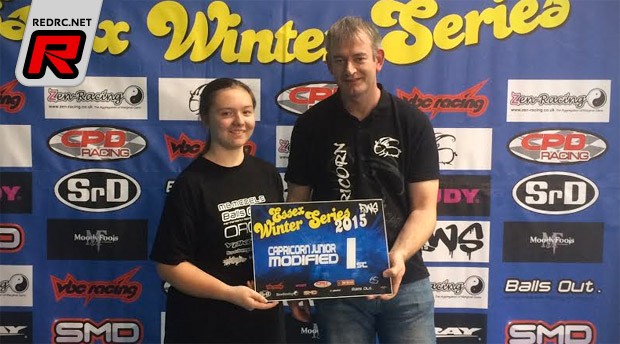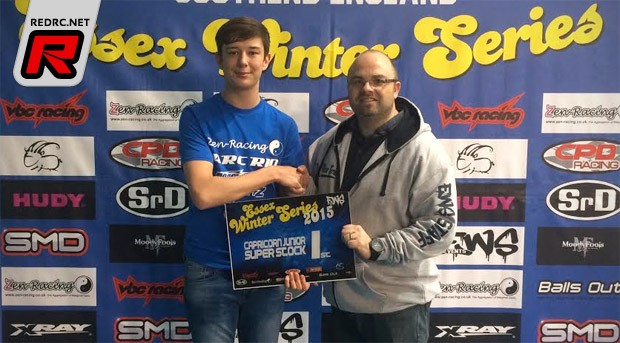 Alongside the two championships, Capricorn and CPD Racing supported the Junior titles, which went the way of Will Vertigan in Super Stock and Harley Eldridge in Modified.
The EWS team would like to thank all the racers for supporting the series, along with all the series sponsors – Zen Racing, VBC, Capricorn, CPD Racing, Hudy, Xray, SMD, Strawberry Racing Designs and Moody Fools. The series will return in October this year for the fifth season of competition.
---