March 3, 2015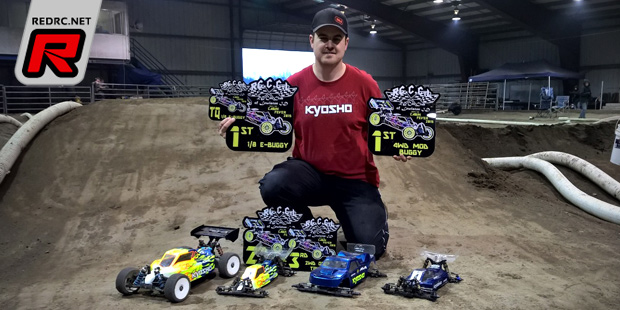 The 2015 Cabin Fever Classic was held this past weekend at the Lewiston Round-up Fairgrounds in Lewiston, Idaho. This annual event is typically the first major event in the Pacific Northwest each year. This year's event attracted racers from Washington, Oregon, Idaho, Montana and even Canada. Friday consisted of open practice, Saturday had 3 rounds of qualifying using the qual points format, and Sunday was triple A-Mains for electric and 30-45 mains for nitro.

In 1/8 Pro Electric Buggy Kyosho's Jesse Munn took the round 1 TQ and scored a 2nd place in round 2 to take the overall TQ in this class. In the first of the triple 10 minute A-mains Jesse had to come back from deep in the field following early mistakes but he was fortunate enough to take the win pretty comfortably. A2 started out much the same with Jesse making early mistakes again on the difficult track. Tyler Wilbur checked out and took the win but Jesse secured a 2nd place with a last corner pass on Lee Hackney. In A3, with finishes of 1-2 in the bag, Jesse knew that he just needed to not have Tyler win A3 if he could not win it himself. Nick Buechler ended up with the win while Tyler and Jesse battled nose to tail the whole race a few spots back. With scoring a 1st and 2nd Jesse wrapped up the overall win in front of Tyler Wilbur and Lee Hackney.
1/8 Pro E-Buggy top 3 result:
1. Jesse Munn – Kyosho
2. Tyler Wilbur – Kyosho
3. Lee Hackney – TLR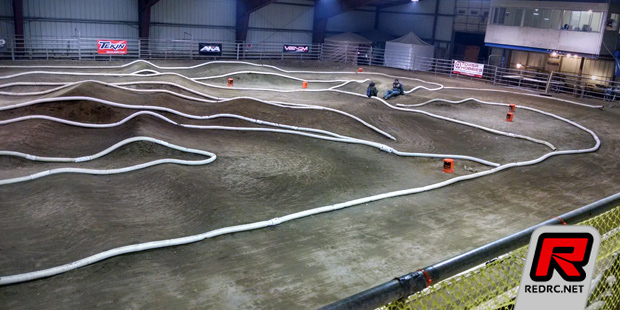 For the 1/10 4WD Modified Buggy class the track was brutally tough for smaller 1/10th scale class. Nick Buechler (HB) would make less mistakes than anybody else and take both of the first 2 rounds of qualifying, leaving Jesse Munn and Kyosho teammate Taylor Wonders to battle it out for 2nd and 3rd on the starting grid during the 3rd round of qualifying. Taylor started strong in Q3 but had a little bad luck. Jesse charged back towards the end and took the round TQ to qualify 2nd overall. The opening A-main started great for Jesse and he passed Nick for the lead early. After building a decent lead Munn started making little mistakes and was having a hard time with the weird angles of the track on the center jump sections. Jesse dropped back and Nick took A1. A2 was a different story as Jesse had a clean run and took a comfortable 10 second win to force a deciding A3. The final main started out the same as the first 2 with Munn getting an early lead. Buechler came charging back at the end but Jesse held on and took the win in A3, along with the overall.
1/10 4WD Buggy top 3 result:
1. Jesse Munn – Kyosho
2. Nick Buechler – HB
3. Taylor Wonders – Kyosho
In the 1/8 Pro Nitro Buggy class Keith Hadley borrow the Kyosho from fellow racer Jesse Munn and Keith was dialed all weekend and went onto take the overall win.
1/8 Pro Nitro Buggy top 3 result:
1. Keith Hadley – Kyosho
2. Nick Buechler – HB
3. Ryan McCreary – HB
Thanks to Joe Pillars for sending the report.
---